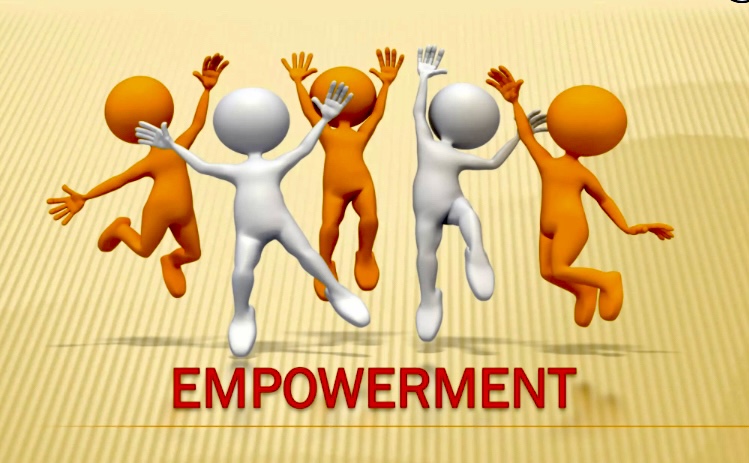 The Holy Spirit Our Source of Empowerment
Quote: "Instead of making the Christian life better, the Holy Spirit makes it possible. We cannot live the life that God has called us to without the Holy Spirit. He is a wonderful friend as well as a source of empowerment."
I was thinking over the past two days about how we perceive God the Father, God the Son and God the Holy Spirit. It occurs to me that many of us living in today's world, both in the Church and out of it still have a lot to learn about the Holy Spirit.
It's true that we have an understanding of the essence and personhood of God the Father. We understand Jesus as the Son that doesn't present any difficulties for us. However, when it comes to the Holy Spirit, though? When attempting to describe him and the role he plays in our lives, we have a tendency to hum and haw and struggle to look for the right words.
It's possible that the very phrase (Holy Spirit) presents some of the difficulties experienced. In talking about God as the Spirit? The word to many seems mysterious perhaps even mystical.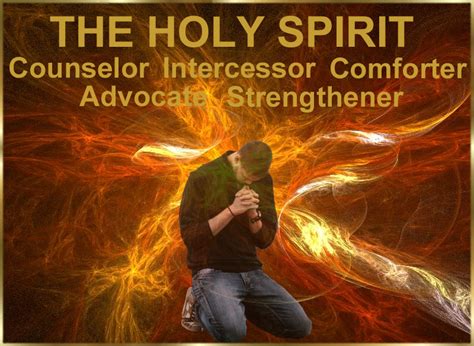 So, what about it? Well! The Holy Spirit is not some distant, inactive entity, but rather, as the Bible shows, a living, breathing person who is constantly present and involved in our daily lives. He ministers to us in many capacities, including as a teacher, an enabler, an intercessor, a bringer of peace, a leader, an anointer, and a convictor, and He also bestows divine gifts upon us. Wonderfully, God has not abandoned us to our own devices.
This is what Jesus said before going back to Heaven – "If you love me, show it by doing what I've told you. I will talk to the Father, and he'll provide you another Friend so that you will always have someone with you. This Friend is the Spirit of Truth. The godless world can't take him in because it doesn't have eyes to see him, doesn't know what to look for. But you know him already because he has been staying with you and will even be in you!" – "John 14: 18-20" The Message
God has not abandoned us in a helpless and defenceless state. Instead, what Jesus sees for us is a Companion who is capable of taking us through all of life's hardships. Therefore, we should take courage and be fortified by the knowledge that we are no longer travelling this road of faith by ourselves! We can put a stop to bearing burdens that were never meant for us to shoulder!
The time has come to take pleasure in the presence of the Holy Spirit and to partake of the life that he has to offer. It is time to make use of his strength and acknowledge that His assistance is always at hand.
I utilised the term "Empowerer" in respect of the Holy Spirit. And one of the of the most important skills He provides for us all as children of God relates to both our personal and professional ministry to others in the capacity to give others a sense of agency.
The Holy Spirit enables us to work with and through other people and when we become the agency of the Holy Spirit, we become empowerers. When we do so will also accomplish much more than we could ever imagine.
How do we do and see it? Well! we make it possible for others to achieve the greatest heights of success in their personal, professional and spiritual growth. If we are comfortable enough to delegate authority or responsibility to another person or group in order to foster personal or organisational development, we are empowering them.
We empower when we provide the act of making ourselves available to others, including our influence, position, power, and opportunities, with the intention of making an investment in their lives so that they can perform at their highest possible level. It's then that we see the potential in other people, giving them access to the resources we have, and letting them know that we have entire faith in them.
You and me when we by the Holy Spirit empower others, we both stand to benefit from the empowering, and it is a circumstance in which everyone involved comes out ahead.
The delegation of our authority to other people is not analogous to the gifting of an object, such as our car. If we give away our car, we simply won't have any transportation options. We will restrict perhaps even no longer be able to travel by any means. However, the result of sharing information with others is the same as that of empowering people by giving them our authority: we haven't lost anything. We have simply improved the capabilities of others without impairing our own.
There will be occasions when we either feel unsettled or fall short of our divine potential and the divine goals that have been laid forth for us. There will be moments of doubt and uncertainty most certainly. Or our divine purpose can just be incompatible with the ways that other people go about accomplishing their goals. The path of becoming an empowerer is not an easy one as we are so protective of ourselves, I know it has not been an easy one for me to travel it's been and continues to be a challenging path for me.
However, it is what we are called to do and can do – Why? Because the Holy Spirit Himself empowers us to do so.
Bless You, as you this coming week empower others. Do consider helping our ministry activities by – Subscribing to our YouTube Channel, Praying and even if you feel led by the Holy Spirit to empower us by a financial donation.
Albert
www.worldwidechristianministries.org
www.youtube.com/c/AlbertMMartinWWCM
________________________________________

Portuguese
O Espírito Santo Nossa Fonte de Capacitação
Citação: "Em vez de tornar a vida cristã melhor, o Espírito Santo a torna possível". Não podemos viver a vida para a qual Deus nos chamou sem o Espírito Santo. Ele é um amigo maravilhoso, bem como uma fonte de empoderamento".
Nos últimos dois dias estive pensando sobre como percebemos Deus Pai, Deus Filho e Deus Espírito Santo. Ocorre-me que muitos de nós que vivemos no mundo de hoje, tanto na Igreja como fora dela, ainda temos muito a aprender sobre o Espírito Santo.
É verdade que temos uma compreensão da essência e da personalidade de Deus, o Pai. Entendemos Jesus como o Filho que não apresenta nenhuma dificuldade para nós. No entanto, quando se trata do Espírito Santo… Quando tentamos descrevê-lo e o papel que ele desempenha em nossas vidas, temos a tendência de cantarolar e de gritar e lutar para buscar as palavras certas.
É possível que a própria frase (Espírito Santo) apresente algumas das dificuldades experimentadas. Ao falar de Deus como o Espírito? A palavra para muitos parece misteriosa, talvez até mesmo mística.
Então, o que acontece? Bem! O Espírito Santo não é uma entidade distante e inativa, mas sim, como mostra a Bíblia, uma pessoa viva, que respira e está constantemente presente e envolvida em nossa vida diária. Ele nos ministra em muitas funções, inclusive como professor, capacitador, intercessor, portador de paz, líder, ungidor e condenado, e Ele também nos concede dons divinos. Maravilhosamente, Deus não nos abandonou a nosso próprio capricho.
Isto é o que Jesus disse antes de voltar para o céu – "Se você me ama, mostre-o fazendo o que eu lhe disse". Eu falarei com o Pai e ele lhe dará outro Amigo para que você tenha sempre alguém com você". Este Amigo é o Espírito da Verdade. O mundo sem Deus não pode acolhê-lo porque não tem olhos para vê-lo, não sabe o que procurar. Mas você já o conhece, porque ele tem ficado com você e até estará em você". – "João 14: 18-20" A Mensagem
Deus não nos abandonou em um estado indefeso e indefeso. Em vez disso, o que Jesus vê para nós é um Companheiro que é capaz de nos levar através de todas as dificuldades da vida. Portanto, devemos ter coragem e ser fortalecidos pelo conhecimento de que não estamos mais percorrendo este caminho de fé por nós mesmos! Podemos pôr um fim aos fardos que nunca nos foram destinados a suportar!
Chegou o momento de ter prazer na presença do Espírito Santo e de participar da vida que ele tem a oferecer. É hora de fazer uso de sua força e reconhecer que Sua assistência está sempre à mão.
Utilizei o termo "Empoderador" em relação ao Espírito Santo. E uma das habilidades mais importantes que Ele proporciona a todos nós como filhos de Deus relaciona-se tanto com nosso ministério pessoal quanto profissional aos outros, na capacidade de dar aos outros um sentido de agência.
O Espírito Santo nos capacita a trabalhar com e através de outras pessoas e quando nos tornamos a agência do Espírito Santo, nos tornamos capacitadores. Quando o fizermos, também conseguiremos muito mais do que jamais poderíamos imaginar.
Como fazemos e vemos isso? Bem! tornamos possível que outros alcancem as maiores alturas de sucesso em seu crescimento pessoal, profissional e espiritual. Se nos sentirmos confortáveis o suficiente para delegar autoridade ou responsabilidade a outra pessoa ou grupo, a fim de promover o desenvolvimento pessoal ou organizacional, estamos dando-lhes poder.
Damos poder quando proporcionamos o ato de nos tornarmos disponíveis aos outros, incluindo nossa influência, posição, poder e oportunidades, com a intenção de fazer um investimento em suas vidas para que eles possam atuar em seu nível mais alto possível. É então que vemos o potencial em outras pessoas, dando-lhes acesso aos recursos que temos, e deixando-os saber que temos toda a fé neles.
Você e eu quando nós, pelo Espírito Santo, damos poder aos outros, ambos nos beneficiamos do poder, e é uma circunstância em que todos os envolvidos saem à frente.
A delegação de nossa autoridade a outras pessoas não é análoga à doação de um objeto, tal como nosso carro. Se entregarmos nosso carro, simplesmente não teremos nenhuma opção de transporte. Talvez até não possamos mais viajar por qualquer meio. Entretanto, o resultado de compartilhar informações com os outros é o mesmo que dar poder às pessoas, dando-lhes nossa autoridade: não perdemos nada. Simplesmente melhoramos as capacidades dos outros sem prejudicar as nossas próprias capacidades.
Haverá ocasiões em que nos sentiremos inseguros ou ficaremos aquém de nosso potencial divino e dos objetivos divinos que foram estabelecidos para nós. Haverá momentos de dúvida e incerteza, com toda certeza. Ou nosso propósito divino pode simplesmente ser incompatível com a maneira como outras pessoas realizam seus objetivos. O caminho para nos tornarmos um capacitador não é fácil, pois somos tão protetores de nós mesmos, eu sei que não tem sido fácil para mim viajar, tem sido e continua a ser um caminho desafiador para mim.
Entretanto, é o que somos chamados a fazer e podemos fazer – Por quê? Porque o próprio Espírito Santo nos capacita a fazer isso.
Abençoado sejais, pois esta próxima semana dareis poder aos outros. Considere ajudar nossas atividades ministeriais – assinando nosso canal no YouTube, orando e mesmo que você se sinta guiado pelo Espírito Santo para nos capacitar através de uma doação financeira.
Albert
www.worldwidechristianministries.org
www.youtube.com/c/AlbertMMartinWWCM
________________________________________
French
Le Saint-Esprit, notre source de pouvoir
Citation : "Au lieu de rendre la vie chrétienne meilleure, le Saint-Esprit la rend possible. Nous ne pouvons pas vivre la vie à laquelle Dieu nous a appelés sans le Saint-Esprit. Il est un ami merveilleux ainsi qu'une source d'autonomisation."
Ces deux derniers jours, j'ai réfléchi à la manière dont nous percevons Dieu le Père, Dieu le Fils et Dieu le Saint-Esprit. Il me semble que beaucoup d'entre nous vivant dans le monde d'aujourd'hui, que ce soit dans l'Église ou en dehors, ont encore beaucoup à apprendre sur le Saint-Esprit.
Il est vrai que nous avons une compréhension de l'essence et de la personnalité de Dieu le Père. Nous comprenons que Jésus est le Fils, ce qui ne présente aucune difficulté pour nous. Mais lorsqu'il s'agit du Saint-Esprit, par contre ? Lorsque nous essayons de le décrire et de décrire le rôle qu'il joue dans nos vies, nous avons tendance à fredonner et à chercher les mots justes.
Il est possible que l'expression même (Saint-Esprit) présente certaines des difficultés rencontrées. En parlant de Dieu en tant qu'Esprit ? Pour beaucoup, ce mot semble mystérieux, peut-être même mystique.
Alors, qu'en est-il ? Eh bien ! Le Saint-Esprit n'est pas une entité distante et inactive, mais plutôt, comme le montre la Bible, une personne vivante qui respire et qui est constamment présente et impliquée dans notre vie quotidienne. Il exerce son ministère auprès de nous à bien des égards, notamment en tant qu'enseignant, facilitateur, intercesseur, apporteur de paix, leader, ointurateur et convictor, et il nous accorde également des dons divins. Merveilleusement, Dieu ne nous a pas abandonnés à notre sort.
Voici ce que Jésus a dit avant de retourner au Ciel : "Si vous m'aimez, montrez-le en faisant ce que je vous ai dit. Je parlerai au Père, et il vous fournira un autre Ami afin que vous ayez toujours quelqu'un avec vous. Cet Ami est l'Esprit de Vérité. Le monde impie ne peut pas l'accueillir parce qu'il n'a pas d'yeux pour le voir, il ne sait pas ce qu'il doit chercher. Mais vous le connaissez déjà parce qu'il a séjourné avec vous et qu'il sera même en vous !". – "Jean 14, 18-20" Le Message
Dieu ne nous a pas abandonnés dans un état impuissant et sans défense. Au contraire, ce que Jésus voit pour nous, c'est un Compagnon capable de nous faire traverser toutes les épreuves de la vie. Nous devons donc prendre courage et nous fortifier en sachant que nous ne parcourons plus seuls ce chemin de la foi ! Nous pouvons cesser de porter des fardeaux qui n'ont jamais été conçus pour nous !
Le temps est venu de se réjouir de la présence du Saint-Esprit et de prendre part à la vie qu'il a à offrir. Il est temps d'utiliser sa force et de reconnaître que son aide est toujours à portée de main.
J'ai utilisé le terme "Empowerer" en ce qui concerne le Saint-Esprit. Et l'une des compétences les plus importantes qu'il nous fournit à tous en tant qu'enfants de Dieu concerne notre ministère personnel et professionnel auprès des autres, à savoir la capacité de donner aux autres un sentiment d'autonomie.
Le Saint-Esprit nous permet de travailler avec et par d'autres personnes et, lorsque nous devenons l'agent du Saint-Esprit, nous devenons des agents d'autonomisation. Lorsque nous le faisons, nous accomplissons aussi beaucoup plus que nous ne pourrions jamais imaginer.
Comment le faisons-nous et le voyons-nous ? Eh bien ! nous permettons aux autres d'atteindre les plus hauts sommets de la réussite dans leur développement personnel, professionnel et spirituel. Si nous sommes suffisamment à l'aise pour déléguer une autorité ou une responsabilité à une autre personne ou à un groupe afin de favoriser le développement personnel ou organisationnel, nous leur donnons des moyens d'action.
Nous donnons du pouvoir lorsque nous nous mettons à la disposition des autres, y compris par notre influence, notre position, notre pouvoir et nos opportunités, avec l'intention d'investir dans leur vie afin qu'ils puissent atteindre le meilleur niveau possible. C'est alors que nous voyons le potentiel des autres, que nous leur donnons accès aux ressources dont nous disposons et que nous leur faisons savoir que nous avons entièrement foi en eux.
Vous et moi, lorsque nous donnons du pouvoir aux autres par le Saint-Esprit, nous en bénéficions tous les deux, et c'est une circonstance dans laquelle toutes les personnes impliquées en sortent gagnantes.
La délégation de notre autorité à d'autres personnes n'est pas analogue au don d'un objet, tel que notre voiture. Si nous donnons notre voiture, nous n'aurons tout simplement plus aucune possibilité de transport. Nous nous restreindrons peut-être même à ne plus pouvoir nous déplacer par quelque moyen que ce soit. Cependant, le résultat du partage d'informations avec d'autres est le même que celui de l'autonomisation des personnes en leur donnant notre autorité : nous n'avons rien perdu. Nous avons simplement amélioré les capacités des autres sans altérer les nôtres.
Il y aura des occasions où nous nous sentirons déstabilisés ou en deçà de notre potentiel divin et des objectifs divins qui ont été fixés pour nous. Il y aura certainement des moments de doute et d'incertitude. Il se peut aussi que notre objectif divin soit tout simplement incompatible avec la façon dont les autres personnes s'y prennent pour atteindre leurs objectifs. Le chemin qui mène à l'autonomisation n'est pas facile, car nous sommes si protecteurs de nous-mêmes. Je sais que ce chemin n'a pas été facile pour moi, il a été et continue d'être un défi pour moi.
Cependant, c'est ce que nous sommes appelés à faire et que nous pouvons faire – Pourquoi ? Parce que le Saint-Esprit lui-même nous donne les moyens de le faire.
Soyez bénis, car cette semaine vous allez donner du pouvoir aux autres. Pensez à aider les activités de notre ministère en vous abonnant à notre chaîne YouTube, en priant et même si vous vous sentez conduit par le Saint-Esprit à nous donner du pouvoir par un don financier.
Albert
www.worldwidechristianministries.org
www.youtube.com/c/AlbertMMartinWWCM