Sacrificing Truth Upon the Altar of Being Relevant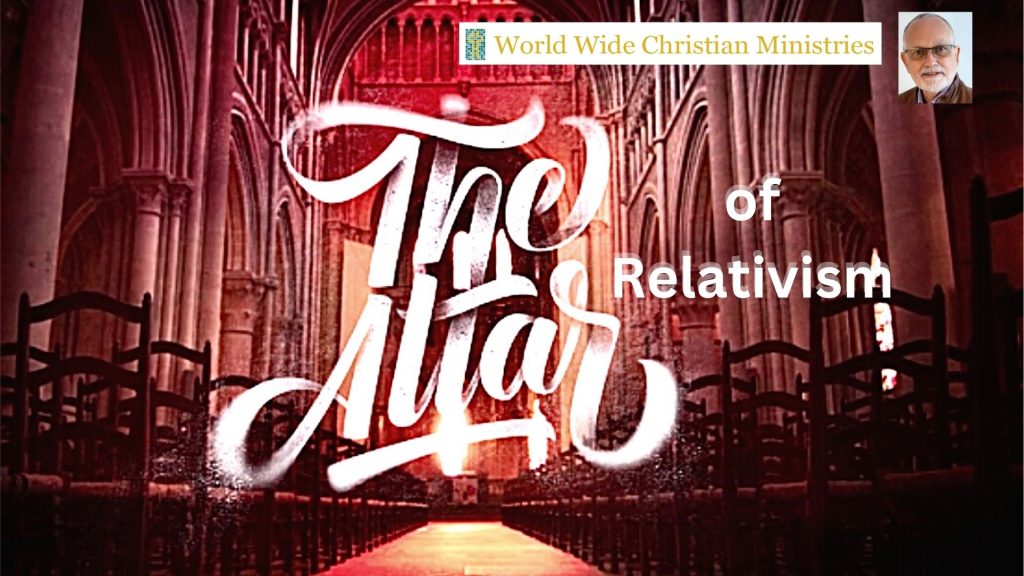 Preachers and the people of God in general have the propensity to put contemporary concerns ahead of biblical ones, which can be seen as a contradiction of "Who and What" they are.
While it is vitally necessary not to supply responses to questions that no one has asked, it is also vitally important to offer explanations that lead to new inquiries.
It is imperative that all of us go out to the pagan it's not a word generally utilised but biblically it references – non-Christian family members, neighbours, co-workers, and anybody else in our lives who is not a Christian and helps them understand that God is eternally relevant because He transcends time.
The Bible does not need to be modernised, twisted and contemporised or reinterpreted in any way for it to continue to be or become relevant. Jesus is the Word, and the Word is applicable to any setting, irrespective of culture or circumstance, at any time and in any place.
The Bible is more prophetic than literary and more alive than anything else. As such, it is not bound by the patterns of the temporal since it speaks to the part of our being that is eternal, and it continues to be true that "…God has set eternity in the heart…" as we are told in "Ecclesiastes 3:11." Everything found in the Bible, then still applies today.
We live, especially in the "west" in a sort of stupor and coma that has been created by political correctness. What is the inevitable consequence of this? The temptation to be ambiguous in areas where God has been explicit and to conceal vital information out of fear of upsetting and offending other people. If we believe the truth of the Gospel, we are not to be offensive but it in itself will always offend and it is designated as such to do so.
What effect do our lives, testimonies, and, especially, our words have? They are living depictions of the reality of our beliefs and demand transformation from the core of our thoughts, emotions, and spirits. As God's Church, we are raised from the apathetic to the passionate, the reluctant to the radical, and the complacent to the commissioned through the preaching of the Word of God and living it in action and testimony.
Jesus stated, "You will know the truth, and the truth will set you free," and he meant every word of that statement found in "John 8:32." The Greek term for truth, "Aletheia – αλέθεια" refers to either the objective or the subjective consideration of truth.
Being contemporary, obtuse, modern, or ambiguous, as well as reducing the efficacy of God's plan for salvation (the Gospel), and limiting the reality of the truth, has never altered the course of anyone's life either the Child of God or the pagan.
Life Changes will only take place in us as God's Church when the Spirit of God within us connects with the Spirit of Truth in the Word of God, and similarly, Life Commencements (being Born Again) will only take place when the truth of God's Word ignites to life those around us (the pagan who are "dead in trespasses and sin.") Life Changes and Life Commencements (being Born Again) will only take place when the Spirit of God connects with the Spirit of Truth in the Word of God. Only the truth has the power to transform lives.
Your comments are invited – What elements do you think to make a great spoken or lived sermon and why?
---
Sacrificando a Verdade sobre o Altar de Ser Relevante
Os pregadores e o povo de Deus em geral têm a propensão de colocar as preocupações contemporâneas à frente das bíblicas, o que pode ser visto como uma contradição do "Quem e o quê" que eles são.
Embora seja de vital importância não fornecer respostas a perguntas que ninguém fez, é também de vital importância oferecer explicações que levem a novas indagações.
É imperativo que todos nós vamos ao pagão, não é uma palavra geralmente utilizada, mas biblicamente referenciada – membros da família não cristãos, vizinhos, colegas de trabalho, e qualquer outra pessoa em nossa vida que não seja cristã e os ajude a compreender que Deus é eternamente relevante porque Ele transcende o tempo.
A Bíblia não precisa ser modernizada, distorcida e contemporânea ou reinterpretada de qualquer maneira para que ela continue a ser ou se torne relevante. Jesus é a Palavra, e a Palavra é aplicável a qualquer cenário, independentemente da cultura ou circunstância, a qualquer momento e em qualquer lugar.
A Bíblia é mais profética do que literária e mais viva do que qualquer outra coisa. Como tal, não está vinculada aos padrões do tempo, pois fala à parte do nosso ser que é eterna, e continua sendo verdade que "…Deus colocou a eternidade no coração…", como nos é dito em "Eclesiastes 3:11". Tudo o que se encontra na Bíblia, então ainda hoje se aplica.
Vivemos, sobretudo no "ocidente", numa espécie de estupor e coma que foi criado pelo politicamente correto. Qual é a conseqüência inevitável disso? A tentação de ser ambíguo em áreas onde Deus foi explícito e de ocultar informações vitais por medo de perturbar e ofender outras pessoas. Se cremos na verdade do Evangelho, não devemos ser ofensivos, mas ele, por si só, sempre ofenderá e é designado como tal para o fazer.
Que efeito têm nossas vidas, nossos testemunhos e, sobretudo, nossas palavras? São representações vivas da realidade de nossas crenças e exigem transformação a partir do cerne de nossos pensamentos, emoções e espíritos. Como Igreja de Deus, somos elevados do apático ao apaixonado, do relutante ao radical, do complacente ao comissionado por meio da pregação da Palavra de Deus e vivendo-a em ação e testemunho.
Jesus declarou: "Vós conhecereis a verdade, e a verdade vos libertará", e ele quis dizer cada palavra dessa declaração encontrada em "João 8, 32". O termo grego para verdade, "Aletheia – αλέθεια" refere-se ou à consideração objetiva ou subjetiva da verdade.
Ser contemporâneo, obtuso, moderno ou ambíguo, assim como reduzir a eficácia do plano de salvação de Deus (o Evangelho), e limitar a realidade da verdade, nunca alterou o curso da vida de ninguém, nem o Filho de Deus nem o pagão.
Mudanças de vida só ocorrerão em nós como Igreja de Deus quando o Espírito de Deus dentro de nós se conectar com o Espírito da Verdade na Palavra de Deus, e de maneira semelhante, os Comícios de Vida (nascer de novo) só ocorrerão quando a verdade da Palavra de Deus acender a vida daqueles que nos rodeiam (os pagãos que estão "mortos em delitos e pecados"). Somente a verdade tem o poder de transformar vidas.
Que elementos o senhor acha que podem fazer um grande sermão falado ou vivido e por quê?
---
Sacrifier la vérité sur l'autel de la pertinence
Les prédicateurs et le peuple de Dieu en général ont la propension à faire passer les préoccupations contemporaines avant les préoccupations bibliques, ce qui peut être considéré comme une contradiction de "Qui et ce que" ils sont.
S'il est vital de ne pas fournir des réponses à des questions que personne n'a posées, il est également vital de proposer des explications qui conduisent à de nouvelles interrogations.
Il est impératif que nous allions tous vers les païens – ce n'est pas un mot généralement utilisé mais bibliquement il fait référence – membres de la famille, voisins, collègues de travail et toute autre personne dans nos vies qui n'est pas chrétienne et que nous les aidions à comprendre que Dieu est éternellement pertinent parce qu'il transcende le temps.
La Bible n'a pas besoin d'être modernisée, tordue et contemporaine ou réinterprétée de quelque manière que ce soit pour continuer à être ou devenir pertinente. Jésus est la Parole, et la Parole est applicable à n'importe quel contexte, indépendamment de la culture ou des circonstances, à tout moment et en tout lieu.
La Bible est plus prophétique que littéraire et plus vivante que toute autre chose. En tant que telle, elle n'est pas liée par les schémas du temporel puisqu'elle s'adresse à la partie de notre être qui est éternelle, et il reste vrai que "…Dieu a mis l'éternité dans le cœur…" comme il nous est dit dans "Ecclésiaste 3:11". Tout ce que l'on trouve dans la Bible, alors, s'applique encore aujourd'hui.
Nous vivons, surtout en "Occident", dans une sorte de stupeur et de coma qui a été créé par le politiquement correct. Quelle en est la conséquence inévitable ? La tentation d'être ambigu dans des domaines où Dieu a été explicite et de dissimuler des informations vitales par crainte de contrarier et d'offenser d'autres personnes. Si nous croyons à la vérité de l'Évangile, nous ne devons pas être offensants, mais l'Évangile en lui-même offensera toujours et il est désigné comme tel pour le faire.
Quel effet ont nos vies, nos témoignages et, surtout, nos paroles ? Elles sont des représentations vivantes de la réalité de nos croyances et exigent une transformation du cœur de nos pensées, de nos émotions et de nos esprits. En tant qu'Église de Dieu, nous sommes élevés de l'apathique au passionné, du réticent au radical, et du complaisant au mandaté par la prédication de la Parole de Dieu et en la vivant en action et en témoignage.
Jésus a déclaré : "Vous connaîtrez la vérité, et la vérité vous rendra libres", et il pensait chaque mot de cette déclaration trouvée dans "Jean 8:32". Le terme grec pour la vérité, "Aletheia – αλέθεια" fait référence à la considération objective ou subjective de la vérité.
Être contemporain, obtus, moderne ou ambigu, tout en réduisant l'efficacité du plan de salut de Dieu (l'Évangile) et en limitant la réalité de la vérité, n'a jamais modifié le cours de la vie de quiconque, que ce soit l'enfant de Dieu ou le païen.
Les changements de vie n'auront lieu en nous, en tant qu'Église de Dieu, que lorsque l'Esprit de Dieu en nous se connectera à l'Esprit de Vérité dans la Parole de Dieu, et de même, les commencements de vie (naître de nouveau) n'auront lieu que lorsque la vérité de la Parole de Dieu allumera à la vie ceux qui nous entourent (les païens qui sont "morts dans les offenses et le péché".) Les changements de vie et les commencements de vie (naître de nouveau) n'auront lieu que lorsque l'Esprit de Dieu se connectera à l'Esprit de Vérité dans la Parole de Dieu. Seule la vérité a le pouvoir de transformer les vies.
Vos commentaires sont les bienvenus – Quels sont, selon vous, les éléments qui font un grand sermon parlé ou vécu et pourquoi ?
---