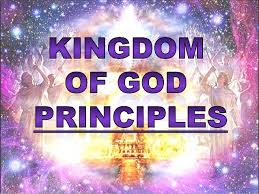 Kingdom Principles
"Back to Basics"
Isn't it interesting that some books of the Bible are books that remind us of 1st Principles (Kingdom Principles)? Deuteronomy is one of them. I've noticed some very interesting things in Deuteronomy 4.
The Chapter starts off by stating that if we are to – Possess – that which God has given to us and to – Enter Fully into it plus find it to be an enjoyable place to dwell – that the KEY IS – Listening Too and Doing – the statutes and judgements of the Lord. Common sense really but a good reminder of Kingdom Principles.
Verse 4 – 5 tells us that in cleaving (interestingly the same word is used in respect of becoming one flesh) we enjoy life and in – Listening and Doing – as Kingdom People we can Possess ALL THE LAND where we habitat. That to me means in my journey with the Master that:
Where there is Fear We declare it a liar
Where there is Depression We become Overcomers

Don't Stay Locked in He is come to Set Us Free
Come Out from behind your hands and look to Christ

Where there is Defeat We become Conquerors

If we live in a Land of Pain We find a Pain Taker
If we find ourselves Lost We find a Way Maker
If we find ourselves in a Land of Captivity or need Saving We find a Chain Breaker
and in the experience of Paul / Silas they discovered that Jesus was as a Prison Shaking Saviour. These places are the lands in which we find ourselves from time to time in our journey of faith and walk in the Spirit.
He is the Ground beneath our feet when earthquakes of experience hit us and it is then that He makes the Land we tread upon firm. When we are faced with temptation we find afresh by remembering the – Statues and Judgements – that we can enjoy the recognition that the grip of sin is released, we can discover that "even in the Fire we are not left Stinking of Smoke."
He makes us Survivors, He is our Fighter – these all become ours (as it were our land) WHY because we Listen, we Do and we Cleave.
Verse 20 – Reminds us of the magnificence of our Salvation – He has taken us out of the Egypt of our past unregenerate life, released us from the Iron Furnace of the enemy's captivity.
Why? It brings tears to my eyes and chokes me up to recognise this afresh today – to be – Part of what He declares His inheritance.
In the Land in which we individually dwell – all are different – and yet very similar we discover that –
He Knows
He Understands
He is in Control of what appears to be chaos
He is never Surprised
He is never Confused
He never worries or loses a night's sleep
He never walks off the job to take a rest
He never gets so busy with one thing that He neglects another
He never plays favourites.
Verse 29 and 31 reminds us that if we seek Him we will find Him and that He will be – Merciful, never Destroy or Forsake us and He will not forget the Covenant that He has in Christ by His blood written for us – He has sworn all this by Himself – Hallelujah.
In telling us this He says Verse 32 – that those things once hoped for and now are gathering dust or feel have been destroyed by time and the difficulties in our land can – be asked for again (wonderful) – we need to remind ourselves that when the enemy comes and tells us that – all is lost and forget it – that he is a liar and has been since the beginning.
The enemy tries to tell us that we are – Not loved, Not Beautiful, Not Worthy, Not Right, Not Strong Enough to put up the good fight of faith – Remember He is a Liar. The enemy tells us – That we are Dirty and should be Ashamed, that we are Trouble and will always be alone, that we should keep Running Away because we will never find a Spiritual Home and that we could be the one that grace could never change – Remember He is a liar. When he takes our breath away and stops us in our tracks, when he tries to steal our happiness and our sleep at night – Remember He is a liar.
Jesus tells us – "John: 16:33″ – I have told you these things, so that in Me you may have (perfect) peace and confidence. In the world you have tribulation and trials and distress and frustration; but be of good cheer (take courage; be confident, certain, undaunted) For I have overcome the world. (I have deprived it of power to harm you and have conquered it for you.)"
Why does He do it all? besides the fact that He loves us so much – Verses 7/8 tells us – "That His glory will be seen in the people of God and that all will recognise that God is – All in All."
May you be blessed today – He is glorious and faithful – it's so magnificent to be a Child of God.