Kingdom People Understanding our True Identity
Text
"But ye are a chosen generation, a royal priesthood, an holy nation, a peculiar people; that ye should shew forth the praises of him who hath called you out of darkness into his marvellous light: Which in time past were not a people, but are now the people of God: which had not obtained mercy, but now have obtained mercy." – "1 Peter 2:9-10"
Introduction
It's a significant delight to me today to be able to be with you and my earnest desire is by the end of our time together is to through the grace of God to have been a means of Inspiration and Encouragement and to have Spurred You on to Greater Discoveries in God (Espoleó a los mayores descubrimientos en Dios).
I have been much in prayer and others have likewise joined with me in order that I can bring a Rhema Word to you. I don't know any of you, we have never met before and I don't know your situation or circumstances – but one thing I am convinced in my spirit about is this: –
"This year ahead God wants us to be Established in our spiritual identity! God wants to so Establish our spiritual identity in the root of our souls to cause us to recognise and be Established in our identity in Him.
 In doing so no lie or deception of the enemy will be able to convincingly prevail against us. You and me, I believe are going to know who we are in Christ and from that place the Kingdom of God, in its Power, Authority and Effectiveness is going to be Established in and through us."
I want you to know, that whatever your situation is right now, however you feel that your relationship with God is like right now – NOW is the time to ask the Lord what it would mean for you to be a kingdom person."
Church, please take this on-board (a bordo), let it Percolate in your spirit (Perlate en tu espíritu), let the Holy Spirit Marinate your thoughts (Marinate tus pensamientos) let it be your reason for Getting up in the Morning (Levantarse por la mañana).
No matter what you've heard, I want to encourage you today and say that the reality is that you are: –
Irreplaceable
Unmistakable
Incomparable
This is what you're worth – More than all the money or the diamonds and pearls in this world. More than all the gold in Fort Knox.
Hear me today when I say this – this is who you are.
When you look in the mirror in the morning and your shaving or applying your make-up what you see is a poor reflection of what God sees.
When you look in the mirror in the morning – Men as you are shaving Recognise it – Ladies as you apply your makeup Believe It – It is a concept that will Revolutionise your walk with Christ.
You are a Hero as far as God's Plan is for you.
You were born at the right time (en el momento adecuado) – "For Such a Time as This".
You are alive now at the right time. (en el momento adecuado)
When you need strength to face the future it will be there at the right time. (en el momento adecuado)
The Devils greatest ploy and weapon against the child of God is to instil and prolong a wrong and twisted image of who they are. He takes great pleasure it.
When we are not aware of our real identity in Christ, then the devil has a field day.
The Establishment of this Truth in your spirit is and will be the Holy Spirits means of: –
"Changing (Cambiando) the way we Think
"Changing (Cambiando) our Attitudes
"Changing (Cambiando) our Perspective
and especially
"Changing (Cambiando) our Priorities"
One thing I can tell you today with absolute certainty is that the enemy works overtime to distort and hinder our identity. If he can hinder our identity, he can hinder our destiny.
Our Life, Actions, Behaviour, and Relationships all flow out of our inward identity. Identity is formed by how we think and feel about ourselves. The enemy I can assure you doesn't play fair.
As the Children of God, we need to recognise that it is Not the External View Point that is important – WHY! Because when we became Christians we Became New People. There was a Miraculous Transformation – Old became New – "The old has gone, the new is here" – "2 Corinthians 5:17" NIV and when the Scripture says HERE it means Right Now.
God before the very foundation of the World planned your salvation, He knew the Destiny He had for you, in "Romans 8:29" it says "God knew what he was doing from the very beginning. He decided from the outset to shape the lives of those who love him along the same lines as the life of his Son" The Message.
God saw and still sees the Inward Promise there is in Every Child of God and that Promise being Outworked is not Constrained, Restrained or Restricted by Human Reasoning – Only by a Wrong Evaluation.
God wants us to be the "Best we can be" and that "Best is greater than anything we can begin to conceive".
The Magnitude (Magnitud) of it is off the scale its Greater than any Natural Earthquake in fact it would be such as to Turn the World Upside Down!
The sheer immensity of this truth removes all limits on what God can do through us. The truth of this means that God's kingdom has absolutely no boundaries. The truth of this means that the Kingdom of God in you is so big and broad, and it defies our wildest imaginations.
Its fullness can never be attained.
It resources are never depleted.
Its season is never over.
Outside of the Redeeming Work of Jesus in our lives we are and will always remain a Product of Our Culture and the Environments we dwell in but In Christ we are Rescued. How do I know that? Well! The truth of Scripture tells me in "1 Peter 2:24" – "He himself bore our sins in his body on the cross, so that we might die to sins and live for righteousness; by his wounds you have been healed." NIV (Él mismo, en su cuerpo, llevó al madero maestro's pecados, para que muramos al pecado y vivamos para la justicia. Por sus heridas ustedes han sido sanados.) – 1 Pedro 2:24
1) Choosing to Believe the Truth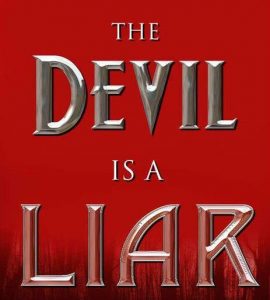 The devil is a liar! He has been from the very beginning, he is declared to be the be the "Father of Lies" – "When he lies, he speaks his native language, for he is a liar and the father of lies" – "John 8: 44" NIV and his sole intention is to Implant Engrained Lies into your thinking and into your spirit.
"The thief comes only to steal and kill and destroy……" – "John 10:10a" NIV (El ladrón no viene más que a robar, matar y destruir…." – "John: 10:10a"
There is an old expression "You are what you eat" (Eres lo que comes) and this is especially true when it comes to believing the truth set out in the Bible. We decide to believe the Truth or believe the Lie. The thief (Jesus is of course speaking of the devil here) has one intention and its broken down into three components and they are: –
To Steal away from you the Truth of What You Are
To Kill every expression of the Truth of What You Can Be
To Destroy the Outworking of the Truth of What Your Potential Is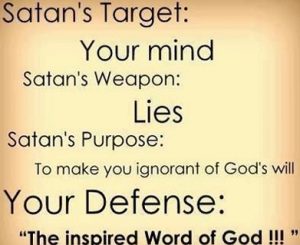 How does the enemy achieve his goals? He uses the words and actions of those around us to try to Distort the Image of God in us and to again             Re-Shape us back into his image. Once we allow ourselves to come into agreement with what the enemy says about us, he then has stronghold formed in our soul and mind.
It is those strongholds that enable him to keep the Child of God bound in false identity. The Child of God remains – Unhealed of Past Wounds, Wrong Belief Systems and the Entrenched Lies of the Past – These hinder us from stepping into our full potential in God.
The work of Jesus on the Cross put a Stop to all this – When He declared "It is Finished" in "John: 19:28b" (Esta terminado) He meant "What He Said" and likewise "Accomplished What He Said".
"The Son of God appeared for this purpose, to destroy the works of the devil." – "1 John 3: 8" NASB This is the declaration of the truth. Jesus went on to say in – "John 4:18" – "He has sent me to proclaim freedom for the prisoners and recovery of sight for the blind…" NIV and today the Jesus of the Holy Spirit is to establish that truth in our hearts and minds.
What does the Devil do?
Satanás conoce tu nombre, pero él te llama por tu pecado
Pero Dios conoce tu pecado, pero Él te llama por tu nombre
Today – Jesus by the Holy Spirit is wanting to Remove the Strongholds of False Teaching and the Strongholds of False Identities.
Today – His desire is to Release you from your Blindness and to reveal afresh to you the Glorious Horizons of the Spiritual Kingdom of God that Dwells within You.
2) Your Potential Terrifies the Devil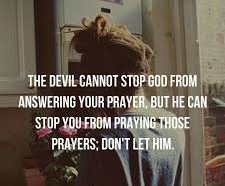 Let me say something to you just now "The Devil doesn't know everything". It's true he has read the Bible, he knows the Ending and it certainly does not please him. His determination is to break down everything that God established in God's Plan of Salvation and, he knows he cannot succeed.
The knowledge however does not deter him from doing everything he can – On his way to the flames – to destroy everything in his pathway (And That Includes You).
The Devil when he saw you find Saving Faith and you were Born Again knew that you were no longer his slave. Yes! I did say slave – The Bible is very clear on that when it says: – "John 8: 44" – "You belong to your father, the devil, and you want to carry out your father's desires." NIV
I can tell you – However, that all changed when Jesus became your Saviour. "He's not at all pleased" about that and as he gets a glimpse of the divine plan and purpose God has for you, he is genuinely terrified by that potential.
He was terrified by the birth of Jesus and tried by the slaying of the infants to thwart God's purposes and likewise in the birth of Moses; in both instances he tried to prevent the coming Messiah with all that He Jesus would bring into being.
The Devil will do the same with us and he will try to stop the destiny God has prepared for us before it comes to fruition. The enemy is terrified of the Divine Potential Inside of You. That's why he constantly opposes everything good in our lives and fights so hard to bind us up in different areas of our lives.
 3) Your Kingdom Future Defines You – Not Your Past
It's a glorious thing to know that even in the midst of your struggle if you look forward to the things ahead of you there is a wonderful discovery it is that "Your Future Is Not Defined, Determined or Directed" by your past. I said earlier that "The old has gone, the new is here" – "2 Corinthians 5:17" I also mentioned from "Romans 8:29" that "God knew what he was doing from the very beginning. He decided from the outset to shape the lives of those who love him along the same lines as the life of his Son".
What does that therefore mean? Well! Let me tell you. When the enemy comes against you with sabotaging thoughts and negative emotions saying: –
Lie 1: God doesn't really care about you.
Lie 2: You'll never measure up to what He expects.
Lie 3: The world is a scary place and God isn't concerned with the details of your life
It's all lies directed at getting you to Define Your Life by Your Standards and Not by God's.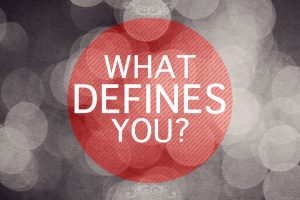 God does not define us based on what other people say about us or even by what we say about ourselves.
God doesn't define us based on our past or even on our present situation and circumstances. NO! He defines us based on the image He has shaped for us and the person in that future He knows us to be. He defines us with absolute truth and based on the fullest potential that He has birthed within us.
Let me give you a prime example of what I mean. In "Judges 6:15" we discover a man by the name of Gideon. In our review of him remember that the Angel spoke to Gideon, not as he was now but according to what he would be in the future.
Gideon is typified as a man who doubts God's promises and questions His work. He was Destined to become a Great Hero (Hebrews 11:32) but needed to learn how. It's true to say – "None of us are born wise – we live and learn".
Gideon was a fear filled man; and it would be true to say that he is pictured as one of the most fearful and doubtful individuals in the entire Bible.
When you look at his story there is no other Bible Character to my knowledge who required and received more divine assurance than Gideon.
When Gideon looked in the mirror he saw himself as weak, fearful and insignificant – that was his definition of himself – BUT – God saw something different. God saw Gideon as a Mighty Man of Valour – He was destined to deliver an entire nation.
Gideon defined himself in the words – "He said to Him, 'O Lord, how shall I deliver Israel? Behold, my family is the least in Manasseh, and I am the youngest in my father's house." – "Judges 6:15" (¿cómo voy a salvar a Israel? Mi clan es el más débil de la tribu de Manasés, y yo soy el más insignificante de mi familia).
God defined Gideon based on his Future however, not on his past or the present moment.
The background story is that the Midianites had been a plague upon Israel for years and as a result everyone had become fearful over the oppression.
The people cry out to God but God does something unorthodox.
1st He sends an unnamed prophet to rebuke His people

"Judges 6:7–10"

– If you look at it, it's like a stranded motorist calling a garage for assistance and the garage sending a philosopher instead of a mechanic.
2nd Israel needs deliverance and the God sends them a Prophet.
3rd Israel asks for an act of God's power and He sends them a preacher who reminds them of the grace He has always shown to them hearses His grace "Judges 6:8b & 9" and repeats His demands "Judges 6:10".
Why was this happening – The reason was that Israel needed more than instant relief; there primary need was to understand why they are oppressed.
Likewise, in many cases we need understanding before we receive relief.
We may want to escape from our circumstances while God wants us to interpret our circumstances in light of the Identity We Have in Christ.
As the story moves on the sharp focus then is found in "Judges 6:33 thru 7:18", in which the theme of deliverance is momentarily suspended to allow for another development.
The primary matter in the Gideon narrative is not the deliverance itself but rather something more personal, namely, Gideon's struggle to believe God's promise.
Gideon was a Work in Progress in the same way as we are and thus we should not point the finger to severely at him. He had suffered through trauma, rejection, and negative words time and time again as the enemy had assaulted his identity.
Gideon was called a "Mighty Man of Valour" Why? Because he was willing to believe the Truth that God Spoke of Him rather than believe a lie that his past and all around him told him.
Conclusion
"Matthew 13:11" – "And He (Jesus) answered them, to you it has been given to know the secrets of the kingdom of heaven, but to them it has not been given."
 Knowing our unique identity is one of those secrets. Knowing it may reset our priorities. It may give us priorities for the first time – but rest assured, God does have a reason for making us the way He did, and His plan for our lives is the best one.
In the Kingdom of God that dwells within us we discover that the kingdom's sheer immensity removes all limits on what God can do through us. The heart of our Father is truly ignited when we enter into His Promise Invested in Us.
It's about Jesus, giving us His kingdom as a gift so that we can live a life that has true meaning, a life that makes a difference, a life that works for the King to spread the Good News of what Jesus has done for us.
It's been said that "Experience is not what happens to you, it is what you do with what happens to you", and the challenge that is presented to us today is what will you do with your experience.
The Bible tells us that "He came into the world that we might have life and have it more abundantly" – "John 10: 10" – are you today enjoying an abundance of life or merely existing from day to day. There is no need for you to live life as if you are "half dead" (medio muerto) because in the salvation of Jesus and the indwelling of His Resurrection Life you can live like you are "twice alive" (vivo dos veces).
God wants us to come as we are to this exciting adventure. It's quite possible that today you're feeling too empty right now in your life to give God much to work with. Well! That's OK.
God's kingdom finds growth in the hearts of those who are tired and spent. The Bible is filled with examples of men and women God met at their thirstiest – and led them to streams of living water.
Maybe you're feeling disillusioned and frustrated by nothing happening. Well! It's never too late to begin seeking afresh the kingdom of God. And there could be many other reasons that the enemy can tell you, each matching your particular situation.
But I want you to know, that whatever your situation is right now, however you feel that your relationship with God is like right now – NOW – is the time to ask the Lord what it would mean for you to be a Kingdom Person.
The Message of the Kingdom is a message of…
Salvation to all of those who are lost and without hope in this life.
Hope to all who have failed God in one way or another.
Restored faith and belief to those who have given up.
Joy and peace to those who are sinking in the mire of self-pity and despair.
Purpose and destiny to those who are without direction and meaning in this life.
Christ's compassion and mercy in His dealings with mankind.
Healing of the Body, Mind and Spirit.
If you want to do that, ask God right now, "Lord, what does it mean for me to be a Kingdom Person?"
I want you today to recognise that you are in a unique and momentous position because right now you stand at a doorway of opportunity that can transform and revolutionise your future. It is a moment that may never arise again and an opportunity that I would urge you to grab with both hands.
God wants you to walk in the fullness of your true identity in Christ.
He wants you to know who you really are.
When you know who you really are, no lie or deception of the enemy will prevail against you. You will be Free, Whole, Anointed and Filled with Joy and Power.
---

Starting With God
If today, you have decided to ask Jesus Christ into your life then congratulations, it's great to know you have joined the family of God.
What now?
If this were a religion, you could expect someone to give you all sorts of Rules. Rituals. Requirements. And maybe a lot of stuff to buy!
But when you asked Jesus into your life, you did not join a religion. Instead, you began a relationship with God. And that's pretty amazing.
You might be wondering, how do you get to know God better? How do you get to know God personally? If that is true then don't hesitate to contact us.
Subscribe and we will send to you a Gospel of John and assist you in your new journey of discovery.