The Gospel According to Jesus
 Text: – "If you declare with your mouth, "Jesus is Lord," and believe in your heart that God raised him from the dead, you will be saved. For it is with your heart that you believe and are justified, and it is with your mouth that you profess your faith and are saved." "Romans 19: 9-10" – NIV
Introduction: –
I have really tried to "humble my spirit" before the Lord as I contemplated my time together with you. Why? Because I recognise that I need to know the "Mind of God". I need to feel "The Heartbeat of the Father" and I need to be "Aligned with His Vision."
When these aspects are in our walk and devotion (inadequately as they may be outworked) then we discover and know the "Heart and Mind of the Lord." The words then spoken because they come from the heart of God are powerful and effective.
You are here today and at a crucial point of destiny in your life. This is no ordinary moment in your life's journey No! This point in history for you has been especially ordained. It is unique. It is a time that may never occur again and therefore should be looked at with the utmost of seriousness.
Now! Is the Place and Time when all of Heavens Ordination and all your Life's Journey have met together – Now! in your journey of life you are at a Gateway, a Door a Crossroads and I can assure you that you will never go out of this place the same as you came in Why? Because Today, Right Now you are in a meeting with God the Sovereign Judge and He is wanting to know what you are going to do with His Son Jesus Christ.
The "Most Far Reaching, Devesting Destructive, and Eternally Consequential Sin" that any person ever born can commit is to Reject Christs Invitation to Salvation – It seals Eternal Destinies and carries with it Perpetual Torments. Un-belief and the Rejection of Gods offer of Salvation and Redemption results in His Condemnation. The Bible tells us very clearly "anyone who refuses to trust him has long since been under the death sentence without knowing it. And why? Because of that person's failure to believe in the one-of-a-kind Son of God when introduced to him." – "John: 3:18" The Message
He is requiring of you a decision Either to Accept or Reject Him – There is no middle path and today like many you join the "multitudes in the valley of decision" – "Joel 3:14". God is saying to you "choose this day whom you will serve" – "Joshua 24: 15" AV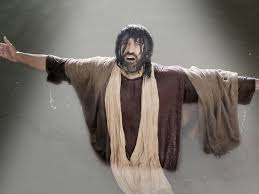 I don't know today, to use the words of Jesus in respect of John the Baptist – "What have you come out to see?" One thing I can assure you of is that it will not be: –
A Preacher Who preaches a Popularised Gospel
A Preacher Who Dilutes the Gospel
A Preacher Who Sugar Coates the Gospel
I'm here today, and I'm constrained in my spirit and I confess that I will be challenging you. I believe there are those here today who are going to be granted "Saving Faith". Those I believe "God is Calling Today" – There are those here today who will "Hear the Call of Their Creator, Calling their Name" to Rise and Start Anew.
The Bible makes a Bold but nevertheless a True Statement and it says very, very clearly: –
"Salvation is found in no one else, for there is no other name under heaven given to mankind by which we must be saved." – "Acts 4:12" NIV
It also goes on to say: –
"For I am not ashamed of the gospel, because it is the power of God that brings salvation to everyone who believes…." – "Romans 1: 16" NIV
The Gospel, the Message that Jesus brought from Heaven to us looks like many things to many people, but one thing is very sure today when I say: –
To the Captive, it looks like Freedom
To the Orphan, it looks and feels like Home
To the Sceptic, it might look and sound crazy to believe in a God who loves

But – It's the Cure for our Condition
But – It's the Good news for us all
But – It's Greater than religion

WHY? Because it is a Relationship that is eternal.
We live and dwell in a world, where hearts are breaking (maybe even yours today) and we feel lost in the mess we've made. You may feel that all around you is darkness well I have great news for you – The Gospel that Jesus Proclaimed appeared as a "Blinding Light".
In the dead of your night It's the "Gospel that lights the way" and it's the "power of the Cross that will give you your strength."
Let me say to both Christian and Non-Saved today – It's time to get back to the altar? It's time to come to the arms of the Saviour, it's time to get back to our first love – "It's Time to Realise that Jesus is Lord"
All the following may be true of you today: –
You are Broken but during your sense of Brokenness if you listen carefully He will be saying
You are filled with Fear and Sense of Rejection but during your Fear and Rejection if you listen carefully He will be saying
You are Feeling Parlayed, Stuck and at the End of your Strength but during all of this if you listen carefully you will hear Him saying
You are feeling that your Heart has Stopped Beating but during this sense of Breathlessness and Exhaustion He will be saying Come Back Alive and
Listen to me today. Hear the voice of your creator as He says Rise. In doing so You Will Again and Shine and the Radiance of His Light will again Shine through you. What does the Bible tell us it says – "Arise, shine; for thy light is come, and the glory of the Lord is risen upon thee. For, behold, the darkness shall cover the earth, and gross darkness the people: but the Lord shall arise upon thee, and his glory shall be seen upon thee." – "Isaiah 60: 1-2" KJV
God has made you for more than these things that I have listed that "Bring you Down and "Ruin your Future" GOD HAS MADE YOU FOR MORE – Hear me today please as I share the heart of God with you – GOD HAS MADE YOU FOR MORE.
1) The Truth of Jesus Gospel Message
It is vital for the wellbeing of us all here today now and perhaps more so than at any other time since Jesus walked the streets of Palestine to proclaim the "Gospel Message that Jesus Delivered to us through His life and ministry". There are many so called gospels in the World today which are the inventions of men.
A leader of the Christian Church the Apostle Paul once said – "I can't believe your fickleness – how easily you have turned traitor to him who called you by the grace of Christ by embracing a variant message! It is not a minor variation, you know; it is completely other, an alien message, a no-message, a lie about God." – "Galatians 1: 6-7" The Message
Today, I want to refute the Lie of the Devil and I want to tell you that the Variant Message, the Alien Message, the Lie about God is not what Jesus preached or taught.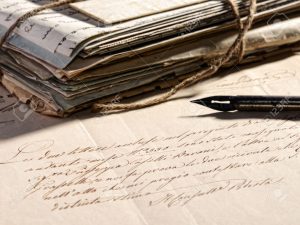 We live in a time when whilst there are many Preachers, the message that is being proclaimed has become a "Poor Imitation" of that which Jesus delivered and proclaimed. Today's proclamation of the message Jesus preached has in, so many places become simply an "Insipid Reflection" of what He said. It has become like a "Faded Document of Heavens Decree".
The message we hear in, so many places today is one that proclaims – Come to Jesus He will make you Happy, He will get you into Heaven, He will make you Prosperous, He will Heal your Body, He will Make Everything All Right" – Sure! These are the On-Going Results that many experience in their relationship with Jesus, BUT the REAL MESSAGE of Jesus is a CALL TO DISIPLSHIP and the ACKNOWLEDGING HIM AS LORD.
So many today go to Special Meetings or Evangelistic Crusades and they are calling them to Come to Jesus, or Accept Jesus into Your Heart and have fallen for a feel-good gospel that ministers to the Ache for Feeling Special, or Longing for Admiration from a God who Dances over them.
The satisfaction of having Needs Stroked and Affirmed is often a hindrance to the sinner's understanding of the True Message of Jesus Gospel.
There has arisen over the past 2 decades many contemporary evangelical preachers that are eager to tell the world that: –
God wants to bless them; in fact, that He has endless blessings just waiting to be received.
He wants to make them happy, and healthy, and trouble-free, and successful, and fulfilled, and full of personal purpose.
He even wants to bless them in ways that are designed around their own dreams, which they can speak into existence and He will accommodate them.
Nowhere in the Bible do we find Jesus asking people to "Receive Him or Take Him" His Call is –Follow Me – and that was clearly understood to be an acceptance of Discipleship which of necessity involved His Lordship.
Don't get me wrong – Many of These things are all true – But! The Reality is that the True Gospel of Jesus Christ (FIRSTLY CALLS FOR ACCEPTANCE OF HIS LORDSHIP) and not simply a believing in the Facts of Who Jesus Was and Did – It's not about knowing the facts and details about Jesus (It's about acknowledging Him as Lord".
When we believe the Gospel that Jesus proclaimed our Felt needs are Reoriented so that our True Needs become our Felt Needs. Our True Need is to recognise that "…. everyone has sinned, everyone falls short of the beauty of God's plan." – "Romans 3:23"
The net result is that we are producing – Many making Professions of Faith – but it is – Not Saving Faith.
Saving Faith is Faith that has at its centre His Lordship. It involves a turning around and an acceptance of His Kingship.

In the Religious, those who are Works Driven to gain Favour with God such as Jehovah Witnesses, Mormons, Buddhists, Moslems and Roman Catholics and in "Matthew 19: 21-22" where we find the Rich Young Ruler we see one who wanted to be a Follower of Jesus, but he was turned away by Jesus was – The man was "Spiritual, Hungry for Truth, Desiring a Gaping Hole in his Life to be Filled."

He apparently had everything, "Money, Fame, Position, Family, Health and Youth" -BUT- "he went away sad, because he had great wealth." Why! because the Call to Follow from Jesus involved – Lordship over everything and in his case especially his riches.
Preachers here today, Ministers here today, Leaders and Christians hear, hear me when I say "Yes! We must love people with compassion as our Saviour did, but we are not really loving sinners by meeting only their felt needs."
The proclamation of Jesus was about exposing our real needs. What are they first and foremost?
Our state of condemnation before God. Until a person is convicted by the Holy Spirit, that inner condemnation is to be the most urgent felt need.
The problem is lack of understanding of how God feels about us. In his holiness, he abhors our sin. Not how we feel about God, but We are born children of wrath "All of us also have been living …. at one time, gratifying the cravings of our flesh, …. following its desires and thoughts. Like the rest, we were by nature deserving of wrath." – "Ephesians 2:3" – NIV (My Paraphrase)
We MUST help them recognise they are in danger of the very real judgment Jesus warned about in "Matthew 25: 41" – "Then he will say to those on his left, 'Depart from me, you who are cursed, into the eternal fire prepared for the devil and his angels." NIV. You see Jesus was not saying They Did Not Do All those things No! What He was emphasising was that They Were Doing It To (Earn Merit and Salvation) and not out of a (Recognition of His Lordship) over them.
It is not truly loving to save a girl from the slave trade or provide a hungry family food in the name of Christ and to neglect to proclaim Him as the only One that can solve their sin problem.
The New Testament teaching and the Preaching of Jesus and especially the Book of Romans begins with our sin problem before it ever speaks of grace. Why? Well, because unless we understand our due penalty and death Christ's death in our place it really isn't good news.
We can be physically protected, fed, and clothed but that fixes a temporary problem. Jesus came to save us from so much more.
2) Gods Sovereignty 
There is not a place in all the universe where anyone can go and say, "This is my private realm." No button that anyone can press and say, "Here I step outside God's jurisdiction." There is not a square inch in God's creation over which Christ is not Sovereign, and that He cannot say, "This is mine."
What does the Bible say in respect of the World in which we live and the Condition of Man-Kind from God's Perspective? "Galatians:3: 13a" says, "Christ redeemed us from the curse of the law by becoming a curse for us…." NIV. Also, in "Romans:1:18" the Bible declares "For the wrath of God is revealed from heaven against" What? "all ungodliness and unrighteousness of men"
2a) A Question for You
Let me ask a question of you. I don't expect you to answer it out-loud but to honestly answer it in your heart today – "Is there anybody here today who has never broken a single divine command in their entire life, or never committed a sin? I'm going to state today – "I guess not." We all stand guilty of "Not Measuring Up to the Standard of Perfection" that God's Law demands.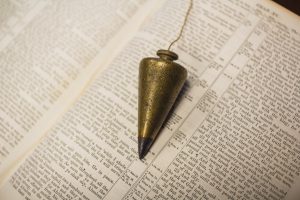 "and the Lord said unto me, Amos, what seest thou? And I said, A plumb line. Then said the Lord, Behold, I will set a plumb line in the midst of my people…." – "Amos 7:8a"
It is today the Plumb Line of the Perfection of Jesus Christ – The Sinless One
In fact, I could go further and say that the Bible declares… "For there is no distinction to be made anywhere: everyone has sinned, everyone falls short of the beauty of God's plan." – "Romans 3:23" J.B. Phillips and in "Ezekial 18: 20" we are told "The soul that sins, it shall die" – Jubilee Bible 2000
Thus, we understand that "The wrath of God is released against evil" His curse is upon it. Now I'll tell you something and it pains me so deeply to do so, but the truth is. We were all cursed. Oh! You might say, "Well! I'm so glad, and what a relief that's "Old Testament Hell Fire and Damnation Preaching." You would be true in saying that, BUT I must tell you today that it is equally applicable Right Here and Now.
If you listen to what God declares – "Galatians: 3:10" – we cannot help but recognise that its relevant to us right now. He says to us all "…anyone who tries to live by his own effort, independent of God, is doomed to failure. Scripture backs this up: "Utterly cursed is every person who fails to carry out every detail written in the Book of the law." – The Message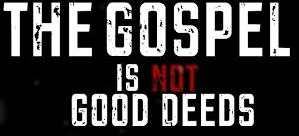 So, the unescapable truth is that Outside of Christ and an act of Saving Faith we are cursed.  We can try till the day we die to justify ourselves by inventing our own laws of goodness and righteousness (we can carry out every pilgrimage there is, we can perform every type of penance and establish for ourselves the greatest of reputations) for "Good Works and Acts of Charity" but in the end God declares "We are all messed up like a person compromised with impurity…"– The Message or "Our best efforts are grease-stained rags" – "Isaiah 64:6a" – The Voice
| | | | |
| --- | --- | --- | --- |
| Mohammed | Buddha | Joseph Smith | Genghis Khan |
| Hitler | Mussolini | Princess Diana | Bob Geldof |
Mohammed, Buddha, Joseph Smith, Genghis Khan, Hitler, Mussolini, Princess Diana, Bob Geldof and many others of notoriety and all of us stand in the same situation.
We cannot get any from the fact that the truth is that God Has Cursed the Entire Human Race. We can "Sugar Coat" this truth, we can avoid talking and preaching about it openly but that does not alter the truth of it.
In our Proclamation of the Good News of the Gospel if we hide or minimise the Harmful Ingredients – The Curse of God and all it brings with it as the Supermarkets do in their packaging of food products then Multitudes will be Doomed and then a Treble Curse will come into being.
Firstly, Cursed by Sin, Double Cursed by a Religious Works System (Denying the Truth) and Triply cursed by Preaching it (for Declaring a Lie.)
So, the reality is that we're really in trouble and God has every right to vent the fury of his curse against us.
2b) The Magnitude of God's Grace
It's such a black picture of gloom and doom that I am portraying but I am doing so in order that we might see that in the front of this back-drop there is something glorious and wonderful to behold and it is the grace and favour of God. The truth is: – In Jesus, we discover one bore the curse for us.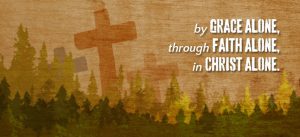 "By Grace alone, Through Faith alone and In Christ alone" we discover how the entire situation is turned around.
It's interesting to note that the only time that Jesus ever referred to God as anything other than Father was when He was hanging on the cross. We ask ourselves the question Why? And the answer is simple – The relationship that Jesus had with God as Father was shattered because of our sin as He took the full impact of God's wrath.
The weight of God's wrath and the burden of God's curse was so crushing, and so devastating, that Jesus cried, "My God, my God, why have you forsaken me?" – "Matthew 27:46" – Jesus declared this because at that moment God had turned His gaze away from Jesus. Why! Because all our sin and wrong doing was placed upon Him, He was marinated in our wretched sin and impurity. "Your eyes are too pure to look at sin. You cannot look on wrong." – "Habakkuk 1:13a" New Life Version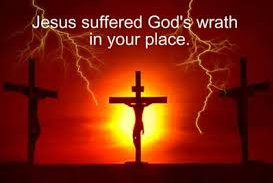 Who was it that cursed Him?  Believe it or not, it was God.  It was God that cursed Jesus Christ. God cursed Him for us.
God piled the whole big curse up and basically said, "Hey, if I vent this curse on those people they're damned."  And so, He vented the curse on Jesus and Jesus was made a curse so that we could be removed from its results. Such Was and Is the Love of God towards us.
3) Gods Offer of Grace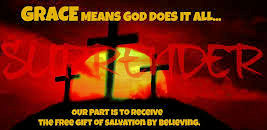 Christ hath redeemed us from the curse of the law, being made a curse for us. That we already know as we have seen "Christ redeemed us from that self-defeating, cursed life by absorbing it completely into himself. Do you remember the Scripture that says, "Cursed is everyone who hangs on a tree"? That is what happened when Jesus was nailed to the cross: He became a curse, and at the same time dissolved the curse." – "Galatians 3:13" The Message
The reality now is that this Gospel being preached is a visible expression of the Power of God. It is a manifestation of His Interest and Involvement in the lives of everybody.
The Gospel both written but especially proclaimed is a living force because it is a proclamation of He who is The Truth, He who is The Good News.
The declaration of "I AM that I AM" has not taken a Back-Seat – Jesus was a living portrayal of that and now His Gospel is an Out-Going Revelation of that in the lives of those who know Him as Lord and Saviour.
The Gospel Message to those that Jesus Preached and that have accepted His Lordship is a Transforming Work and is Changes them – "…. our lives gradually becoming brighter and more beautiful as God enters our lives and we become like him" – "2 Corinthians 3:18"
The Gospel Message however to the Unsaved is

"A Message that points to Christ on the Cross and it seems like sheer silliness to those hellbent on destruction, but for those on the way of salvation it makes perfect sense. This is the way God works, and most powerfully as it turns out."

–

"1 Corinthians 1:18"
This is the Gospel being proclaimed to you now.
Conclusion: –
In the Gospel we find –
Direction for our Journey
We Discover the Determination to "believe to the end"
We have Detailed out before us the Supremacy of His Grace at work.
The fact of being a Sinner is not in question, "all have sinned and are found short of Gods Standard" the fact of being under the "Curse of God is not the most pertinent matter" (the soul that sins will most certainly die) – No doubt about it?
The greatest sin that you can commit and would seal your Eternal Destiny and Torment would be – Un-belief and the Rejection of Gods offer today of Salvation and Redemption.  "how shall we escape if we ignore so great a salvation? This salvation, which was first announced by the Lord…" – "Hebrews 2:3a"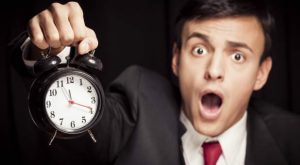 God has declared very clearly "John 3:18" – "Whoever believes in him is not condemned, but whoever does not believe stands condemned already because they have not believed in the name of God's one and only Son." – NIV
"I have no pleasure in the death of the wicked." – "Ezekiel 33:11" God cried through the eyes of of Jesus, who after pronouncing a curse on Jerusalem wept over Jerusalem.
Earlier we spoke of a Religious Leader who was turned away by Jesus because he would not accept His Lordship in stark contrast is a guy called Matthew – He was a Tax Gatherer and likewise wealthy but he on hearing – Follow Me – immediately left the very desk he was working from and did so – "Matthew 9:9" Repentance, Discipleship and acceptance of Christs Lordship was obvious, conclusive and life changing.
What will you do today?
---

Starting With God
If today, you have decided to ask Jesus Christ into your life then congratulations, it's great to know you have joined the family of God.
What now?
If this were a religion, you could expect someone to give you all sorts of Rules. Rituals. Requirements. And maybe a lot of stuff to buy!
But when you asked Jesus into your life, you did not join a religion. Instead, you began a relationship with God. And that's pretty amazing.
You might be wondering, how do you get to know God better? How do you get to know God personally? If that is true then don't hesitate to contact us.
Subscribe and we will send to you a Gospel of John and assist you in your new journey of discovery.