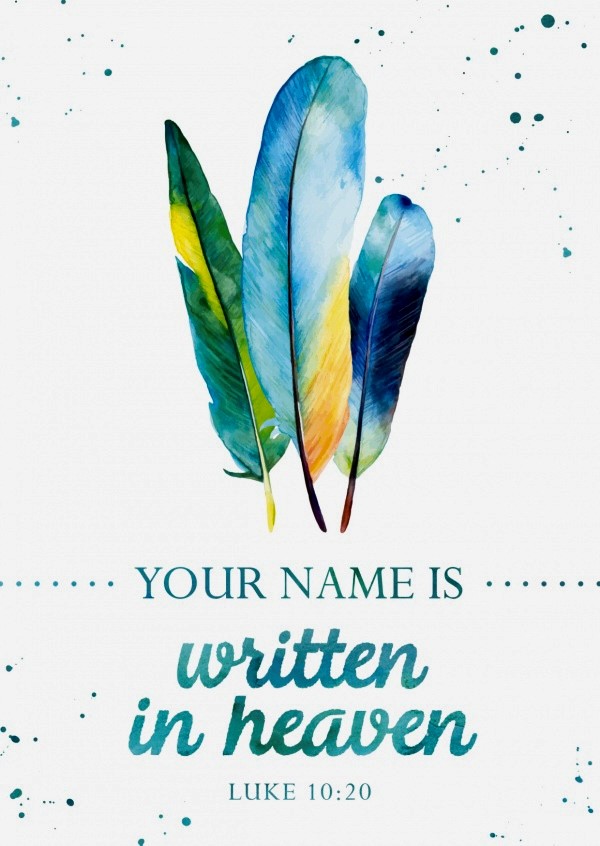 "Divine Calligraphy"
How Our Names Are Penned in Heaven's Register
Introduction:
There is one reality that reigns supreme in a universe that is replete with wondrous things and miraculous occurrences that take one's breath away, and that reality is that our names, as Christians, are recorded in heaven. This unbelievable fact stands out like a ray of light in the middle of all the confusion and anguish that surrounds us.
It is a gift that is beyond comprehension since Jesus does not owe us anything, but out of his limitless love, He bestows all things upon us. Come along with me on this exciting adventure as we investigate briefly in this meditation the significance of having our names recorded in heaven and the influence that this has on our everyday lives.
Beyond the Ordinary: Unlocking the Power of Miraculous
On numerous times, I have been present as God miraculously healed people's bodies and delivered them from the most incredible situations. But let me tell you, dear friends, that the most astounding miracle that still leaves me in amazement is the fact that my name is recorded in heaven, and it is written in the unerasable ink of the blood of my Saviour. This is what still leaves me in awe. It is a name that, by His grace, carries weight and meaning, a name that reveals my identity as a child of God who is loved by him.
Scripture teaches us that those who have saving faith will be rewarded with miracles and signs. It is a force that defies death and brings forth life. We possess resurrection power within us, (believe it my friends, cherish it.) Resurrection life flows through your veins as it does mine. But even in the face of these great marvels, the fact that our names are written in the celestial register ought to be enough to keep our hearts captivated and forever in love with Jesus.
Unexpected Blessings: Embracing the Grace That Transforms Lives
Let's find joy in the fact that Jesus owes us nothing, yet He gives us everything and we should celebrate that fact. We were brought into the World already corrupted by sin and estranged from God and live in a World corrupted by sin. He took the weight of our sins upon Himself, justifying us before the Father. Our inadequacies and faults are a demonstration of the fact that we are not worthy. And yet, in an act of generosity that is beyond our comprehension, Jesus rewrote the chapters of our lives. He accepted the punishment for our crimes onto Himself, thereby establishing our right standing with the Father. Even though He is aware of our shortcomings, failures, and every foible, He still considers us to be his friends.
The Scriptures serve to remind us of the righteousness that we have received through Christ because it is "by Jesus Christ the Righteous" that we are justified. Because of what Christ has done for us, we are no longer identified by the sins of the past; rather, we are clothed in the righteousness that comes from him. What a magnificent message to share with the world!
The Practise of Celebration: Recognising and Embracing the Power of Happiness and Gratitude
As Children of God let's assemble to worship and praise. We were purchased with the priceless blood of our Redeemer, and we were washed clean in the waters of baptism. Let's raise our voices in jubilation as we sing the praises of the Father, the Son, and the Holy Spirit. Our God, who has already started a good job in us, will undoubtedly see it through to its conclusion. He will never turn his back on us or leave us to fend for ourselves in this world because he is trustworthy and steadfast. He has wonderfully equipped us with persevering faith.
When we think about how great it is to have our names inscribed in heaven, we are reminded that our work here on earth is not yet over. If we are still here, it means that God is not yet finished with his work in our lives. He has better things in store for us than we could ever imagine.
Let us proclaim, with unflinching conviction, that we believe in the unlimited possibilities that lie ahead.
The bottom line is:
To sum everything up, my cherished friends, let's never lose sight of the most marvellous gift of all, which is the engraving of our names in the Lambs Book of Life – "Philippians 4:3" – "Revelation 3:5" – "Revelation 13:8" – "Revelation 17:8" – "Revelation 20:12" – "Revelation 20:15" – Revelation 21:27." It is a demonstration of the undeserved kindness and limitless love that our Lord and Saviour Jesus Christ has for us.
Because of what He did for us on the cross, our histories have been changed, and we can now stand blameless before the Father. Let's live in the reality of this truth and celebrate with hearts that are full of life, for we know that our God will be faithful to finish the work that He has started. We can look forward to the future with unflinching optimism and unbridled joy because greater things are still to come.
Rejoice, for your name is written in heaven!
---
Portuguese

"Caligrafia Divina"
Como nossos nomes são escritos no registro do céu
Introdução:
Há uma realidade que reina suprema em um universo repleto de coisas maravilhosas e ocorrências milagrosas que nos deixam sem fôlego, e essa realidade é que nossos nomes, como cristãos, estão registrados no céu. Esse fato inacreditável se destaca como um raio de luz no meio de toda a confusão e angústia que nos cerca.
É um presente que está além da compreensão, pois Jesus não nos deve nada, mas, por seu amor ilimitado, Ele nos concede todas as coisas. Venha comigo nessa emocionante aventura enquanto investigamos brevemente nesta meditação o significado de termos nossos nomes registrados no céu e a influência que isso tem em nossa vida cotidiana.
Além do comum: Desvendando o poder do milagroso
Em várias ocasiões, estive presente quando Deus curou milagrosamente os corpos das pessoas e as livrou das situações mais incríveis. Mas deixe-me dizer aos senhores, queridos amigos, que o milagre mais surpreendente que ainda me deixa maravilhado é o fato de que meu nome está registrado no céu, e está escrito com a tinta inarrável do sangue do meu Salvador. Isso é o que ainda me deixa admirado. É um nome que, por Sua graça, tem peso e significado, um nome que revela minha identidade como um filho de Deus que é amado por Ele.
As Escrituras nos ensinam que aqueles que têm fé salvadora serão recompensados com milagres e sinais. É uma força que desafia a morte e traz vida. Possuímos o poder da ressurreição dentro de nós (acreditem nisso, meus amigos, valorizem-no). A vida da ressurreição flui em suas veias, assim como na minha. Mas mesmo diante dessas grandes maravilhas, o fato de nossos nomes estarem escritos no registro celestial deve ser suficiente para manter nosso coração cativado e para sempre apaixonado por Jesus.
Bênçãos inesperadas: Abraçando a graça que transforma vidas
Vamos encontrar alegria no fato de que Jesus não nos deve nada, mas Ele nos dá tudo e devemos celebrar esse fato. Fomos trazidos ao mundo já corrompidos pelo pecado e afastados de Deus e vivemos em um mundo corrompido pelo pecado. Ele tomou sobre si o peso de nossos pecados, justificando-nos perante o Pai. Nossas inadequações e falhas são uma demonstração do fato de que não somos dignos. Ainda assim, em um ato de generosidade que está além de nossa compreensão, Jesus reescreveu os capítulos de nossas vidas. Ele aceitou a punição por nossos crimes para Si mesmo, estabelecendo assim nossa posição correta perante o Pai. Embora esteja ciente de nossas deficiências, fracassos e todas as nossas fraquezas, Ele ainda nos considera seus amigos.
As Escrituras servem para nos lembrar da justiça que recebemos por meio de Cristo, pois é "por Jesus Cristo, o Justo" que somos justificados. Por causa do que Cristo fez por nós, não somos mais identificados pelos pecados do passado; em vez disso, somos revestidos da justiça que vem dele. Que mensagem magnífica para compartilhar com o mundo!
The Practise of Celebration (A prática da celebração): Reconhecendo e adotando o poder da felicidade e da gratidão
Como filhos de Deus, vamos nos reunir para adorar e louvar. Fomos comprados com o sangue inestimável de nosso Redentor e fomos lavados nas águas do batismo. Vamos erguer nossas vozes em júbilo ao cantarmos os louvores ao Pai, ao Filho e ao Espírito Santo. Nosso Deus, que já começou um bom trabalho em nós, sem dúvida o levará até o fim. Ele nunca nos dará as costas ou nos deixará à mercê de nós mesmos neste mundo, pois é confiável e firme. Ele nos equipou maravilhosamente com uma fé perseverante.
Quando pensamos em como é bom ter nossos nomes inscritos no céu, somos lembrados de que nosso trabalho aqui na Terra ainda não terminou. Se ainda estamos aqui, isso significa que Deus ainda não terminou seu trabalho em nossas vidas. Ele tem coisas melhores reservadas para nós do que jamais poderíamos imaginar.
Vamos proclamar, com convicção inabalável, que acreditamos nas possibilidades ilimitadas que temos pela frente.
O resultado final é o seguinte:
Para resumir tudo, meus queridos amigos, nunca percamos de vista o presente mais maravilhoso de todos, que é a gravação de nossos nomes no Livro da Vida do Cordeiro – "Filipenses 4:3" – "Apocalipse 3:5" – "Apocalipse 13:8" – "Apocalipse 17:8" – "Apocalipse 20:12" – "Apocalipse 20:15″ – Apocalipse 21:27". É uma demonstração da bondade imerecida e do amor ilimitado que nosso Senhor e Salvador Jesus Cristo tem por nós.
Por causa do que Ele fez por nós na cruz, nossas histórias foram mudadas e agora podemos nos apresentar sem culpa perante o Pai. Vamos viver na realidade dessa verdade e celebrar com o coração cheio de vida, pois sabemos que nosso Deus será fiel para concluir a obra que começou. Podemos olhar para o futuro com otimismo inabalável e alegria desenfreada, porque coisas maiores ainda estão por vir.
Alegre-se, pois seu nome está escrito no céu!
---
French
"Calligraphie divine
Comment nos noms sont inscrits dans le registre du ciel
Introduction :
Il y a une réalité qui règne en maître dans un univers qui regorge de choses merveilleuses et d'événements miraculeux à couper le souffle, et cette réalité, c'est que nos noms, en tant que chrétiens, sont inscrits dans le registre du ciel. Ce fait incroyable apparaît comme un rayon de lumière au milieu de la confusion et de l'angoisse qui nous entourent.
C'est un cadeau qui dépasse l'entendement, car Jésus ne nous doit rien, mais par son amour sans limite, il nous accorde tout. Accompagnez-moi dans cette aventure passionnante alors que nous examinons brièvement dans cette méditation la signification de l'enregistrement de nos noms au ciel et l'influence que cela a sur notre vie quotidienne.
Au-delà de l'ordinaire : Dévoiler le pouvoir du miraculeux
À de nombreuses reprises, j'ai été présent lorsque Dieu a miraculeusement guéri le corps de personnes et les a délivrées des situations les plus incroyables. Mais laissez-moi vous dire, chers amis, que le miracle le plus stupéfiant qui me laisse encore dans l'étonnement est le fait que mon nom est enregistré dans les cieux, et qu'il est écrit à l'encre ineffaçable du sang de mon Sauveur. Voilà ce qui me laisse encore dans l'admiration. C'est un nom qui, par sa grâce, a du poids et du sens, un nom qui révèle mon identité d'enfant de Dieu aimé de lui.
L'Écriture nous enseigne que ceux qui ont une foi salvatrice seront récompensés par des miracles et des signes. C'est une force qui défie la mort et fait naître la vie. La vie de résurrection coule dans vos veines comme dans les miennes. Mais même face à ces grandes merveilles, le fait que nos noms soient inscrits dans le registre céleste devrait suffire à garder nos cœurs captivés et éternellement amoureux de Jésus.
Bénédictions inattendues : Embrasser la grâce qui transforme les vies
Trouvons la joie dans le fait que Jésus ne nous doit rien, mais qu'il nous donne tout et que nous devrions nous en réjouir. Nous sommes venus au monde déjà corrompus par le péché et éloignés de Dieu, et nous vivons dans un monde corrompu par le péché. Il a pris sur lui le poids de nos péchés, nous justifiant devant le Père. Nos insuffisances et nos fautes démontrent que nous n'en sommes pas dignes. Et pourtant, dans un acte de générosité qui dépasse notre entendement, Jésus a réécrit les chapitres de notre vie. Il a accepté la punition de nos crimes pour lui-même, établissant ainsi notre droit de cité auprès du Père. Bien qu'il soit conscient de nos défauts, de nos échecs et de nos moindres faiblesses, il nous considère toujours comme ses amis.
Les Écritures nous rappellent la justice que nous avons reçue par le Christ, car c'est "par Jésus-Christ le Juste" que nous sommes justifiés. Grâce à ce que le Christ a fait pour nous, nous ne sommes plus identifiés par les péchés du passé, mais nous sommes revêtus de la justice qui vient de lui. Quel magnifique message à partager avec le monde !
La pratique de la célébration : Reconnaître et embrasser le pouvoir du bonheur et de la gratitude
En tant qu'enfants de Dieu, rassemblons-nous pour adorer et louer. Nous avons été achetés par le sang inestimable de notre Rédempteur et nous avons été lavés dans les eaux du baptême. Élevons nos voix dans la jubilation en chantant les louanges du Père, du Fils et du Saint-Esprit. Notre Dieu, qui a déjà commencé un bon travail en nous, le mènera sans doute jusqu'à son terme. Il ne nous tournera jamais le dos et ne nous laissera jamais nous débrouiller seuls dans ce monde, car il est digne de confiance et inébranlable. Il nous a merveilleusement dotés d'une foi persévérante.
Lorsque nous pensons à la grandeur de notre nom inscrit au ciel, nous nous rappelons que notre travail sur terre n'est pas encore terminé. Si nous sommes encore ici, c'est que Dieu n'a pas encore terminé son œuvre dans nos vies. Il a en réserve pour nous des choses bien meilleures que nous ne pourrions jamais l'imaginer.
Proclamons, avec une conviction inébranlable, que nous croyons aux possibilités illimitées qui nous attendent.
La conclusion est la suivante :
En résumé, mes chers amis, ne perdons jamais de vue le plus merveilleux des cadeaux, qui est la gravure de nos noms dans le Livre de Vie des Agneaux – "Philippiens 4:3″ – Apocalypse 3:5" – "Apocalypse 13:8" – "Apocalypse 17:8" – "Apocalypse 20:12" – "Apocalypse 20:15" – "Apocalypse 21:27". C'est une démonstration de la bonté imméritée et de l'amour illimité que notre Seigneur et Sauveur Jésus-Christ a pour nous.
Grâce à ce qu'il a fait pour nous sur la croix, notre histoire a été changée et nous pouvons désormais nous tenir irréprochables devant le Père. Vivons dans la réalité de cette vérité et célébrons avec des cœurs pleins de vie, car nous savons que notre Dieu sera fidèle pour achever l'œuvre qu'il a commencée. Nous pouvons regarder vers l'avenir avec un optimisme inébranlable et une joie débridée, car de plus grandes choses sont encore à venir.
Réjouissez-vous, car votre nom est écrit dans les cieux !