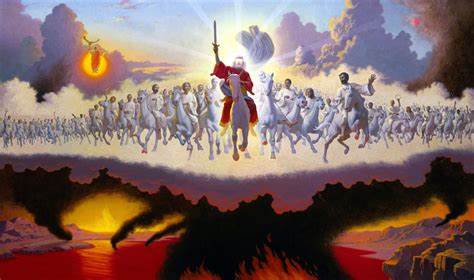 Maranatha!
Behold the vibrant essence of the Aramaic term for "the Lord is coming" – "maranatha" – a spirited cry that resonates with the fervour of a thousand suns. Its translation, "come, O Lord," dances on the lips of believers, echoing through the corridors of time. Picture yourself in the early church, where the path of a Christian was treacherous, a voyage amidst tempestuous seas and formidable Roman rule. In this epoch, Caesar's divine mantle draped across the empire, proclaimed with resounding unanimity. Oh, the tribulations that awaited those who dared defy this proclamation!
The early Christians, with unwavering conviction, stood strong, steadfast in their refusal to acknowledge Caesar as their "Lord." They clung to the eternal truth, for within their hearts burned the knowledge that there exists but one God, one Supreme Ruler – Jesus Christ, the true Lord. Alas, their unwavering faith led them down a perilous road, where persecution loomed like a relentless tempest, threatening to extinguish their flickering flames of devotion.
Yet, amidst this tumultuous storm, a beacon of hope illuminated their spirits. The anticipation, the yearning for their Lord's return, infused their souls with an indomitable resilience. With "Maranatha!" on their lips, they cast aside the customary Jewish salutation of "shalom," exchanging it for a battle cry, a rallying call that resonated through their ranks. They remembered the words of their beloved Saviour, Jesus, who had foretold the coming trials and the absence of tranquillity, admonishing them with words of caution.
But alongside this warning, a profound solace took root within their hearts – the reassurance that their Lord would return, forging an empire of divine dominion. This steadfast belief echoed through the ages, a recurring refrain in their lives. From the teachings of Jesus in "Luke 21:28" to the prophetic visions of "Revelation 22:12," the imminent return of their Lord intertwined with the very fabric of their existence. Jesus, a master storyteller, wove parables of preparation for the Second Coming, from the captivating "Matthew 25:1–13" to the thought-provoking "Luke 12:35–40."
In the present era, followers of Jesus Christ, with hearts ablaze, embark upon their daily pursuits, cognisant of His impending return. As the hour draws near, we stand poised, ready to heed the celestial summons. Every passing day invites us to anticipate His arrival, to yearn for it ceaselessly. "Maranatha!" beckons us, compelling our gaze towards the realm of the Spirit, where enduring treasures reside. Let us not succumb to the allure of fleeting material possessions, for their embrace only begets torment within our minds.
Gaze downward, and the Earth unfolds before your eyes, a realm of transient existence. But cast your sight further, attune your perception, and lo, the imminent return of our Lord Jesus Christ reveals itself. To those burdened with sorrow, I declare, "Maranatha!" For those encumbered by worry, behold, today is the day of "Maranatha!" Let the anxieties that plague your heart dissipate, for the Lord's triumphant advent draws near.
---
Portuguese
Contemple a essência vibrante do termo aramaico para "o Senhor está chegando" – "maranatha" – um grito animado que ressoa com o fervor de mil sóis. Sua tradução, "venha, ó Senhor", dança nos lábios dos crentes, ecoando pelos corredores do tempo. Imagine-se na igreja primitiva, onde o caminho de um cristão era traiçoeiro, uma viagem em meio a mares tempestuosos e ao formidável domínio romano. Nessa época, o manto divino de César cobria todo o império, proclamado com uma unanimidade retumbante. Oh, as tribulações que aguardavam aqueles que ousavam desafiar essa proclamação!
Os primeiros cristãos, com convicção inabalável, permaneceram fortes e firmes em sua recusa em reconhecer César como seu "senhor". Eles se apegaram à verdade eterna, pois em seus corações ardia o conhecimento de que existe apenas um Deus, um Governante Supremo – Jesus Cristo, o verdadeiro Senhor. Infelizmente, sua fé inabalável os levou por uma estrada perigosa, onde a perseguição se aproximava como uma tempestade implacável, ameaçando extinguir suas chamas tremeluzentes de devoção.
No entanto, em meio a essa tempestade tumultuada, um farol de esperança iluminou seus espíritos. A expectativa, o anseio pelo retorno do senhor, infundiu em suas almas uma resistência indomável. Com "Maranatha!" nos lábios, eles deixaram de lado a saudação judaica habitual de "shalom", trocando-a por um grito de guerra, um chamado de união que ressoou em suas fileiras. Eles se lembraram das palavras de seu amado Salvador, Jesus, que havia predito as provações vindouras e a ausência de tranquilidade, admoestando-os com palavras de cautela.
Mas, além dessa advertência, um profundo consolo se enraizou em seus corações – a certeza de que o Senhor retornaria, forjando um império de domínio divino. Essa crença inabalável ecoou através dos tempos, um refrão recorrente em suas vidas. Desde os ensinamentos de Jesus em "Lucas 21:28" até as visões proféticas de "Apocalipse 22:12", o retorno iminente do Senhor se entrelaçou com a própria estrutura de sua existência. Jesus, um mestre contador de histórias, teceu parábolas de preparação para a Segunda Vinda, desde a cativante "Mateus 25:1-13" até a instigante "Lucas 12:35-40".
Na era atual, os seguidores de Jesus Cristo, com o coração em chamas, embarcam em suas atividades diárias, cientes de Seu retorno iminente. À medida que a hora se aproxima, ficamos preparados, prontos para atender ao chamado celestial. Cada dia que passa nos convida a antecipar Sua chegada, a ansiar por ela incessantemente. "Maranatha!" nos acena, atraindo nosso olhar para o reino do Espírito, onde residem os tesouros eternos. Não sucumbamos à sedução de bens materiais efêmeros, pois seu abraço só gera tormento em nossa mente.
Olhe para baixo e a Terra se desdobrará diante de seus olhos, um reino de existência transitória. Mas se o senhor olhar mais longe, sintonize sua percepção, e eis que o retorno iminente de nosso Senhor Jesus Cristo se revela. Para aqueles que estão sobrecarregados de tristeza, eu declaro: "Maranata!" Para os que estão sobrecarregados de preocupações, eis que hoje é o dia do "Maranatha!" Deixe que as ansiedades que atormentam seu coração se dissipem, pois o advento triunfante do Senhor se aproxima.
---
FRENCH
Voyez l'essence vibrante du terme araméen signifiant "le Seigneur vient" – "maranatha" – un cri fougueux qui résonne avec la ferveur de mille soleils. Sa traduction, "Viens, Seigneur", danse sur les lèvres des croyants et résonne dans les couloirs du temps. Imaginez-vous dans l'Église primitive, où le chemin du chrétien était semé d'embûches, un voyage au milieu de mers déchaînées et de la redoutable domination romaine. À cette époque, le manteau divin de César s'étendait sur tout l'empire, proclamé avec une unanimité retentissante. Oh, les tribulations qui attendaient ceux qui osaient défier cette proclamation !
Les premiers chrétiens, avec une conviction inébranlable, sont restés fermes, inébranlables dans leur refus de reconnaître César comme leur "Seigneur". Ils s'accrochaient à la vérité éternelle, car dans leur cœur brûlait la certitude qu'il n'existe qu'un seul Dieu, un seul chef suprême – Jésus-Christ, le vrai Seigneur. Hélas, leur foi inébranlable les a conduits sur un chemin périlleux, où la persécution se profilait comme une tempête implacable, menaçant d'éteindre les flammes vacillantes de leur dévotion.
Pourtant, au milieu de cette tempête tumultueuse, une lueur d'espoir illuminait leurs esprits. L'attente, le désir ardent du retour de leur Seigneur, insufflait à leurs âmes une résistance indomptable. Avec "Maranatha" sur les lèvres, ils abandonnèrent la salutation juive habituelle de "shalom", la remplaçant par un cri de guerre, un appel de ralliement qui résonnait dans leurs rangs. Ils se souviennent des paroles de leur Sauveur bien-aimé, Jésus, qui avait prédit les épreuves à venir et l'absence de tranquillité, les avertissant par des paroles de prudence.
Mais parallèlement à cet avertissement, un profond réconfort a pris racine dans leurs cœurs – l'assurance que leur Seigneur reviendrait, forgeant un empire de domination divine. Cette conviction inébranlable s'est répercutée à travers les âges, comme un refrain récurrent dans leur vie. Des enseignements de Jésus dans "Luc 21:28″ aux visions prophétiques d'"Apocalypse 22:12", le retour imminent de leur Seigneur s'entremêlait dans le tissu même de leur existence. Jésus, maître conteur, a tissé des paraboles sur la préparation de la seconde venue, depuis le captivant "Matthieu 25:1-13" jusqu'au stimulant "Luc 12:35-40".
À l'époque actuelle, les disciples de Jésus-Christ, le cœur enflammé, se lancent dans leurs activités quotidiennes, conscients de l'imminence de son retour. À mesure que l'heure approche, nous nous tenons prêts à répondre à l'appel céleste. Chaque jour qui passe nous invite à anticiper sa venue, à la désirer sans cesse. Le "Maranatha" nous fait signe et attire notre regard vers le royaume de l'Esprit, là où résident les trésors éternels. Ne succombons pas à l'attrait des biens matériels éphémères, car leur étreinte ne fait qu'engendrer des tourments dans notre esprit.
Regardez vers le bas, et la Terre se déploie sous vos yeux, un royaume à l'existence éphémère. Mais portez votre regard plus loin, accordez votre perception, et voilà que le retour imminent de notre Seigneur Jésus-Christ se révèle. À ceux qui sont accablés par le chagrin, je dis : "Maranatha !". À ceux qui sont accablés par l'inquiétude, voici qu'aujourd'hui est le jour de "Maranatha". Laissez se dissiper les inquiétudes qui assaillent votre cœur, car l'avènement triomphal du Seigneur est proche.