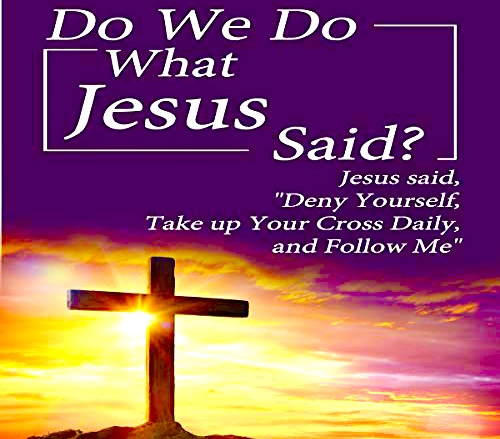 Discipleship's Cost in a Consumer-Driven World
In a culture where consumerism reigns supreme and materialism adorns the throne, the call to discipleship is fraught with tremendous obstacles. As Christians, we are called to consider the cost of carrying our cross on a daily basis, a call that is as relevant today as it was when Jesus said it in "Luke 9:23." So, let us travel together through the treacherous landscape of faith and investigate the great problems that lie ahead.
Consider this: Jesus spoke to his disciples in the midst of ancient times, encouraging them to be smart builders. He told two remarkable parables in "Luke 14:28-33." One story reveals a lofty goal, a desire to construct a spectacular structure. But, before laying the first stone, Jesus says, "Will you not first sit down and estimate the cost?" Consider the following scenario: an architect with a vision, contemplating not only the beauty of the structure but also the resources required to accomplish it.
The other parable takes us to a kingdom on the verge of war. A king must weigh his forces and estimate his ability to fight a difficult foe. Before engaging in a battle of epic dimensions, he muses, "Am I able to oppose the one coming against me?"
Both stories repeat a timeless truth: the importance of being prepared. To begin this journey of discipleship, we must first calculate the costs. The repercussions of faltering in the middle can be severe, leading to ridicule and failure.
In our current environment, the symbolic "tower" can be replaced with our "home." Jesus is pleading with us to understand that the cost of discipleship includes not only following Him but also the consequences of deviating from the path. The consequences may show as a life devoid of fulfilment, gnawed by regret, and besieged by suffering, rather than just an unfinished project or defeat on the battlefield.
While the assurance of eternal salvation remains a firm promise, due to the grace gift of "persevering faith" the road of discipleship frequently travels through valleys of affliction. The work of sanctification provisioned by the Holy Spirit, like a master craftsman, carries out a chiselling and moulding of us, refining our faith through trials, tribulations, and even chaos.
Only steadfast commitment can weather these hardships, a commitment so extreme that it can require abandoning home comforts, foregoing financial security, and even risking persecution. Jesus invites us to give up all, and it is in that surrender that we find true discipleship.
Let us now turn our attention to modern culture. It's a culture that teaches consumption from birth to death. We are bombarded with marketing and societal forces that shape us into insatiable consumers, conditioned to seek self-fulfilment and enjoyment often at the expense of others.
Possessions and wealth are viewed as armour against life's uncertainties in this cultural narrative. To protect our possessions, we invest in insurance, locks, and alarms. We crave to fit in, to be admired and praised, and we work tirelessly for prestige and money.
We may believe as Christians that we are immune to these traps, but introspection reveals otherwise. We can become religious consumers, seeking emotional and spiritual fulfilment from worship services and sermons. We crave affirmation, reassurance, and self-esteem, and we are often in danger of wanting to leave church with a "pat on the back" and "our egos polished nicely."
We may mistakenly grasp for control over our lives, assets, and schedules, relegating church giving to the margins. We shelter ourselves from criticism, and we may even adopt a covert faith to blend in.
It's a subtle temptation in which family, status, and career may all become idols competing for our allegiance to Christ. We run the risk of loving Jesus superficially, which is equivalent to purchasing fire insurance to avoid hell. Remember the difficult question, "If you were put on trial for being a Christian, would there be enough evidence to convict you?"
Let's now set the goal of rising above this cultural undertow. Are we genuine disciples, willing to pay the prices, make the sacrifices, and stand firm for Christ in a world that screams for self-indulgence? Can we show our faith in our daily lives, demonstrating the unshakeable commitment that Jesus calls us to?
This path may be difficult, but it promises immense fulfilment. Remember, when paid with wholehearted dedication, the cost of discipleship pales in contrast to the vast riches of a life lived in the dazzling light of Christ's compassion and love.
May God's Blessing be yours in our journeys of faith together.
Albert.
If this and other meditations and messages have blessed you, please honour us by subscribing to our YouTube Channel at: www.youtube.com/c/AlbertMMartinWWCM – and please feel free to enjoy more materials located at: www.worldwidechristianministries.org.
If you prefer to listen to this message, using software I have acquired, it is just under 4minutes long rather than read it, please go to – https://speechify.page.link/r7DPH2ysxyjZ6vQFA
---
French
Le coût du discipulat dans un monde dominé par la consommation
Dans une culture où le consumérisme règne en maître et où le matérialisme orne le trône, l'appel à la vie de disciple se heurte à d'énormes obstacles. En tant que chrétiens, nous sommes appelés à considérer le coût du port de notre croix au quotidien, un appel qui est aussi pertinent aujourd'hui qu'il l'était lorsque Jésus l'a formulé dans "Luc 9:23". Alors, voyageons ensemble dans le paysage semé d'embûches de la foi et examinons les grands problèmes qui nous attendent.
Considérons ceci : Jésus a parlé à ses disciples au milieu des temps anciens, les encourageant à être des bâtisseurs intelligents. Il a raconté deux paraboles remarquables dans "Luc 14:28-33". L'une d'entre elles révèle un objectif ambitieux, un désir de construire une structure spectaculaire. Mais avant de poser la première pierre, Jésus dit : "Ne vas-tu pas d'abord t'asseoir et estimer le coût de la construction ? Imaginez le scénario suivant : un architecte avec une vision, contemplant non seulement la beauté de la structure, mais aussi les ressources nécessaires pour l'accomplir.
L'autre parabole nous emmène dans un royaume au bord de la guerre. Un roi doit peser ses forces et estimer sa capacité à combattre un ennemi difficile. Avant de s'engager dans une bataille aux dimensions épiques, il se demande : "Suis-je capable de m'opposer à celui qui vient contre moi ?
Les deux histoires répètent une vérité intemporelle : l'importance d'être préparé. Pour commencer ce voyage de disciple, nous devons d'abord en calculer les coûts. Les répercussions d'un faux pas au milieu du chemin peuvent être graves, conduisant au ridicule et à l'échec.
Dans notre environnement actuel, la "tour" symbolique peut être remplacée par notre "maison". Jésus nous supplie de comprendre que le coût de la vie de disciple comprend non seulement le fait de le suivre, mais aussi les conséquences d'une déviation du chemin. Les conséquences peuvent se manifester par une vie dépourvue d'accomplissement, rongée par le regret et assiégée par la souffrance, plutôt que par un projet inachevé ou une défaite sur le champ de bataille.
Bien que l'assurance du salut éternel reste une promesse ferme, grâce au don de la "foi persévérante", le chemin du disciple traverse souvent des vallées d'affliction. L'œuvre de sanctification accomplie par le Saint-Esprit, tel un maître artisan, nous cisèle et nous façonne, affinant notre foi à travers les épreuves, les tribulations et même le chaos.
Seul un engagement inébranlable peut surmonter ces épreuves, un engagement si extrême qu'il peut nécessiter d'abandonner le confort de la maison, de renoncer à la sécurité financière et même de risquer la persécution. Jésus nous invite à tout abandonner, et c'est dans cet abandon que nous trouvons la véritable vocation de disciple.
Intéressons-nous maintenant à la culture moderne. Cette culture enseigne la consommation de la naissance à la mort. Nous sommes bombardés de marketing et de forces sociétales qui nous transforment en consommateurs insatiables, conditionnés à rechercher l'épanouissement personnel et le plaisir, souvent aux dépens d'autrui.
Dans ce récit culturel, les possessions et la richesse sont considérées comme une armure contre les incertitudes de la vie. Pour protéger nos biens, nous investissons dans des assurances, des serrures et des alarmes. Nous avons envie de nous intégrer, d'être admirés et loués, et nous travaillons sans relâche pour obtenir du prestige et de l'argent.
En tant que chrétiens, nous pensons peut-être que nous sommes à l'abri de ces pièges, mais l'introspection révèle le contraire. Nous pouvons devenir des consommateurs de religion, recherchant une satisfaction émotionnelle et spirituelle dans les cultes et les sermons. Nous avons besoin d'affirmation, de réconfort et d'estime de soi, et nous risquons souvent de vouloir quitter l'église avec une "tape dans le dos" et un "ego bien poli".
Nous nous efforçons à tort de contrôler notre vie, nos biens et notre emploi du temps, reléguant les dons à l'église à la marge. Nous nous protégeons des critiques et nous pouvons même adopter une foi cachée pour nous fondre dans la masse.
Il s'agit d'une tentation subtile dans laquelle la famille, le statut et la carrière peuvent devenir des idoles en compétition pour notre allégeance au Christ. Nous courons le risque d'aimer Jésus superficiellement, ce qui équivaut à souscrire une assurance incendie pour éviter l'enfer.
Rappelez-vous la question difficile : "Si vous étiez jugé pour être chrétien, y aurait-il assez de preuves pour vous condamner ?".
Fixons-nous maintenant l'objectif de nous élever au-dessus de ce courant culturel. Sommes-nous d'authentiques disciples, prêts à payer le prix, à faire des sacrifices et à défendre fermement le Christ dans un monde qui crie à l'autosatisfaction ? Pouvons-nous montrer notre foi dans notre vie quotidienne, en faisant preuve de l'engagement inébranlable auquel Jésus nous appelle ?
Ce chemin peut être difficile, mais il promet d'immenses satisfactions. N'oubliez pas que, lorsqu'il est assumé avec un dévouement total, le coût de la vie de disciple n'est rien en comparaison des immenses richesses d'une vie vécue dans la lumière éblouissante de la compassion et de l'amour du Christ.
Que la bénédiction de Dieu soit la vôtre dans nos voyages de foi ensemble.
Albert.
Si ce message et d'autres méditations et messages vous ont béni, veuillez nous honorer en vous abonnant à notre chaîne YouTube à l'adresse suivante : www.youtube.com/c/AlbertMMartinWWCM – et n'hésitez pas à consulter d'autres documents à l'adresse suivante : www.worldwidechristianministries.org.
Si vous préférez écouter ce message en anglais, à l'aide d'un logiciel que j'ai acquis, il dure un peu moins de 4 minutes, plutôt que de le lire, veuillez vous rendre à l'adresse suivante : https://speechify.page.link/r7DPH2ysxyjZ6vQFA.
---
Portuguese
O custo do discipulado num mundo orientado para o consumo
Numa cultura em que o consumismo reina supremo e o materialismo adorna o trono, o apelo ao discipulado está repleto de obstáculos tremendos. Como cristãos, somos chamados a considerar o custo de carregar a nossa cruz diariamente, um apelo que é tão relevante hoje como era quando Jesus o disse em "Lucas 9:23". Assim, viajemos juntos pela paisagem traiçoeira da fé e investiguemos os grandes problemas que temos pela frente.
Pensemos nisto: Jesus falou aos seus discípulos no meio dos tempos antigos, encorajando-os a serem construtores inteligentes. Ele contou duas parábolas notáveis em "Lucas 14:28-33". Uma história revela um objetivo elevado, um desejo de construir uma estrutura espetacular. Mas, antes de colocar a primeira pedra, Jesus diz: "Não te sentarás primeiro e calcularás o custo?" Consideremos o seguinte cenário: um arquiteto com uma visão, contemplando não só a beleza da estrutura, mas também os recursos necessários para a realizar.
A outra parábola leva-nos a um reino à beira da guerra. Um rei deve pesar as suas forças e avaliar a sua capacidade de lutar contra um inimigo difícil. Antes de se envolver numa batalha de dimensões épicas, ele reflecte: "Serei capaz de me opor àquele que vem contra mim?"
Ambas as histórias repetem uma verdade intemporal: a importância de estar preparado. Para começar esta viagem de discipulado, temos primeiro de calcular os custos. As repercussões de um vacilo no meio do caminho podem ser graves, levando ao ridículo e ao fracasso.
No nosso ambiente atual, a "torre" simbólica pode ser substituída pela nossa "casa". Jesus pede-nos que compreendamos que o custo do discipulado inclui não só segui-lo, mas também as consequências de nos desviarmos do caminho. As consequências podem traduzir-se numa vida destituída de realização, roída pelo arrependimento e cercada pelo sofrimento, e não apenas num projeto inacabado ou numa derrota no campo de batalha.
Embora a certeza da salvação eterna continue a ser uma promessa firme, devido ao dom da graça da "fé perseverante", o caminho do discipulado passa frequentemente por vales de aflição. A obra de santificação proporcionada pelo Espírito Santo, como um mestre artesão, leva a cabo um trabalho de cinzelamento e moldagem de nós, refinando a nossa fé através de provações, tribulações e até caos.
Só um compromisso firme pode resistir a estas dificuldades, um compromisso tão extremo que pode exigir o abandono do conforto do lar, a renúncia à segurança financeira e até o risco de perseguição. Jesus convida-nos a dar tudo, e é nessa entrega que encontramos o verdadeiro discipulado.
Voltemos agora a nossa atenção para a cultura moderna. É uma cultura que ensina o consumo desde o nascimento até à morte. Somos bombardeados com marketing e forças sociais que nos transformam em consumidores insaciáveis, condicionados a procurar a auto-realização e o prazer, muitas vezes à custa dos outros.
Nesta narrativa cultural, as posses e a riqueza são vistas como uma armadura contra as incertezas da vida. Para proteger os nossos bens, investimos em seguros, fechaduras e alarmes. Ansiamos por nos integrarmos, por sermos admirados e elogiados e trabalhamos incansavelmente para obter prestígio e dinheiro.
Como cristãos, podemos acreditar que somos imunes a estas armadilhas, mas a introspeção revela o contrário. Podemos tornar-nos consumidores religiosos, procurando satisfação emocional e espiritual nos cultos e sermões. Ansiamos por afirmação, segurança e autoestima, e corremos muitas vezes o risco de querer sair da igreja com uma "palmadinha nas costas" e "o nosso ego bem polido".
Podemos, erradamente, agarrar-nos ao controlo das nossas vidas, bens e horários, relegando a doação à igreja para segundo plano. Protegemo-nos das críticas e podemos até adotar uma fé dissimulada para nos misturarmos.
É uma tentação subtil em que a família, o estatuto e a carreira podem tornar-se ídolos que competem pela nossa fidelidade a Cristo. Corremos o risco de amar Jesus superficialmente, o que equivale a comprar um seguro contra incêndios para evitar o inferno.
Lembrem-se da difícil pergunta: "Se fosses julgado por seres cristão, haveria provas suficientes para te condenar?"
Estabeleçamos agora o objetivo de nos elevarmos acima desta corrente cultural. Somos discípulos genuínos, dispostos a pagar os preços, a fazer os sacrifícios e a permanecer firmes por Cristo num mundo que grita por autoindulgência? Podemos mostrar a nossa fé na nossa vida quotidiana, demonstrando o compromisso inabalável a que Jesus nos chama?
Este caminho pode ser difícil, mas promete uma realização imensa. Lembre-se de que, quando pago com dedicação de todo o coração, o custo do discipulado é insignificante em comparação com as vastas riquezas de uma vida vivida na luz deslumbrante da compaixão e do amor de Cristo.
Que a Bênção de Deus seja a vossa nas nossas jornadas de fé juntos.
Albert.
Se esta e outras meditações e mensagens o abençoaram, por favor honre-nos subscrevendo o nosso canal do YouTube em: www.youtube.com/c/AlbertMMartinWWCM – e sinta-se à vontade para desfrutar de mais materiais localizados em: www.worldwidechristianministries.org.
Se preferir ouvir esta mensagem em inglês, utilizando um software que adquiri, com pouco menos de 4 minutos de duração, em vez de a ler, por favor vá a – https://speechify.page.link/r7DPH2ysxyjZ6vQFA