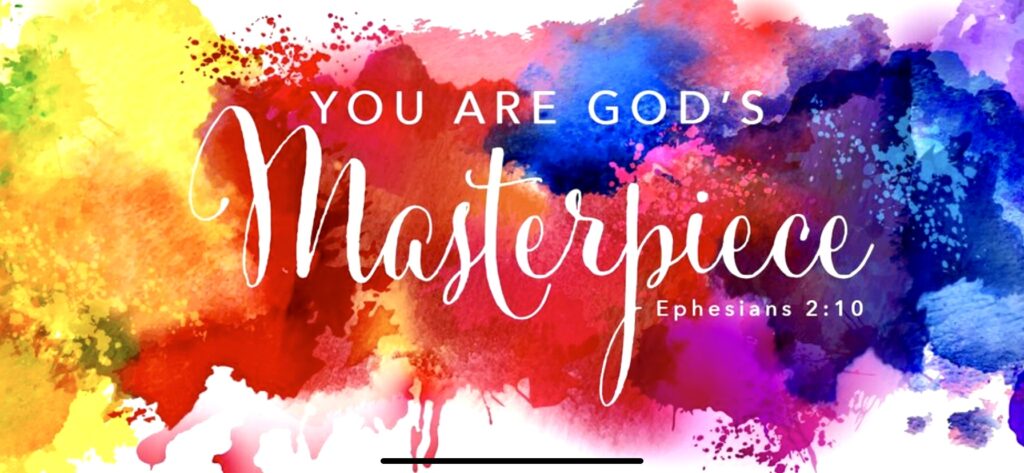 "For we are God's masterpiece. He has created us anew in Christ Jesus, so we can do the good things he planned for us long ago." – "Ephesians 2:10"
---
You and I are here because God had a plan when He created us. This means that God planned and orchestrated every aspect of our character, from our unique set of skills and abilities to our unique passions and methods of relating to the world. Furthermore, God has predetermined other activities for us to engage in that are perfectly suited to our personality and will bring us tremendous joy. As we pursue a life with Him, He will reveal those things to us. There is nothing left to do but put them into practice
As the author puts it, we are God's handiwork. In its native Greek, the term is spelt poema. This seems quite recognisable, doesn't it? Sure, it's the origin of the word we use today to describe written poetry. Like a sculptor works with stone, a carpenter with wood, or a painter with oils, ink, or water, so too does a poet he/she labours with words.
Quite simply, we are a masterpiece created by our Creator. That's incredible! The ability to fight off God's touch is the one thing that sets you and I apart as works of art. Materials like marble, wood, and paint will perform exactly how the artist intends. Each of us may become God's masterpiece, but only if we give God free rein to create us as he sees fit. The question is though – Do we know what this means for you and me?
Finding what God wants us to do in this life might be challenging, but it doesn't have to be. Put first things first and do what the Bible instructs. God will reveal more of his purpose for us as we bring our lives into harmony with Biblical teaching and as we seek the counsel of other Christians. Then, pay attention to the chances to follow Him that present themselves.
Maybe we might find the following suggestions helpful. Would you consider yourself a musician? Join the church choir or band and play at services. Do you enjoy making others comfortable? Sign up to be a welcomer. Does the plight of the homeless break your heart? Help out at a homeless shelter by giving your time. The list is infinite. Doing so will pave the way for other opportunities, and before you know it, you'll have a life that's rich with meaning.
We ask this in prayer: –
Dear God, I'm grateful that you planned my existence. Make it clear to me and equip me to bring you honour as I pursue the path you've laid out for me and grow into the person you created me to be. Lord, I adore you. Amen.
——————————————————————————————————————–
Você e eu estamos aqui porque Deus tinha um plano quando Ele nos criou. Isso significa que Deus planejou e orquestrou todos os aspectos do nosso caráter, desde nosso conjunto único de habilidades e habilidades até nossas paixões e métodos únicos de se relacionar com o mundo.
Além disso, Deus predetermina outras atividades para nos engajarmos que são perfeitamente adequadas à nossa personalidade e nos trarão uma tremenda alegria. Enquanto buscamos uma vida com Ele, Ele nos revelará essas coisas. Não há mais nada a fazer além de colocá-los em prática.
Como diz o autor, somos obra de Deus. Em seu grego nativo, o termo é poema escrito. Isso parece bastante reconhecível, não é? Claro, é a origem da palavra que usamos hoje para descrever poesia escrita. Como um escultor trabalha com pedra, um carpinteiro com madeira, ou um pintor com óleos, tinta ou água, assim como um poeta trabalha com palavras.
Muito simplesmente, somos uma obra-prima criada pelo nosso Criador. Isso é incrível! A habilidade de lutar contra o toque de Deus é a única coisa que diferencia você e eu como obras de arte. Materiais como mármore, madeira e tinta vão realizar exatamente como o artista pretende. Cada um de nós pode se tornar a obra-prima de Deus, mas só se dermos a Deus rédea livre para nos criar como ele achar melhor. A questão é: sabemos o que isso significa para você e para mim?
Encontrar o que Deus quer que façamos nesta vida pode ser um desafio, mas não precisa ser. Coloque as primeiras coisas em primeiro lugar e faça o que a Bíblia instrui. Deus revelará mais de seu propósito para nós à medida que trazemos nossas vidas em harmonia com o ensino bíblico e à medida que buscamos o conselho de outros cristãos. Então, preste atenção nas chances de segui-lo que se apresentam.
Talvez possamos achar as seguintes sugestões úteis. Você se considera um músico? Junte-se ao coro ou banda da igreja e toque em cultos. Você gosta de deixar os outros confortáveis? Inscreva-se para ser um bem-vindo. A situação dos sem-teto parte seu coração? Ajude em um abrigo de sem-teto dando seu tempo. A lista é infinita. Fazê-lo abrirá caminho para outras oportunidades, e antes que você perceba, você terá uma vida rica em significado.
Pedimos isso em oração: –
Meu Deus, sou grato por ter planejado minha existência. Deixe claro para mim e me equipe para lhe trazer honra enquanto eu persigo o caminho que você traçou para mim e cresça na pessoa que você me criou para ser. Senhor, eu adoro você. Amém.