Text: –
"But my servant Caleb – this is a different story. He has a different spirit; he follows me passionately. I'll bring him into the land that he scouted, and his children will inherit it." – "Numbers 14:24" – The Message
We concluded our previous session of a review of Caleb with the words: –
We need to Stand in Faith, Speak Victory and Move Forward in the Freedom and Blessing God has given to us!
"Truly I tell you, if anyone says to this mountain, 'Go, throw yourself into the sea,' and does not doubt in their heart but believes that what they say will happen, it will be done for them." – "Mark 11:23" NIV
Do we still believe that? Well! Do we? Are we still speaking out against our Giants, are we still shouting out loud against our Mountains?
Is our attitude still – Holy Spirit of God make us "Into Men & Women of a different spirit?"
"God is more concerned about your heart than your performance. If your heart is right, your performance will eventually catch up"
The Scripture is very plain in respect of God's desire. I will not for one moment minimise how important the heart is to God. In fact, it's true to say that our Success, Visible Fruitfulness, Abilities and Performance take 2nd place to it at all times – WHY – "Because our performance will eventually catch up if our hearts are right."
With that in mind let's now take a closer look into the Heart, Mind and Spirit of Caleb and see what we can discover. In doing so let's remember it was God's Declaration that "He has a different spirit; and that he follows me passionately"
However, before we do let me just recap a little: –
The Apostle Paul penned the following words – "Now all these things happened unto them for ensamples; and they are written for our admonition, upon whom the ends of the world are come" – "1 Corinthians 10:11". Paul also said especially in regard to looking into the Old Testament – "For whatsoever things were written aforetime were written for our learning, that we through patience and comfort of the scriptures might have hope" – "Romans 15:4".
What have we seen thus far? What were the Examples, What Admonitions do we Discover, What Do we Learn?
What is patently clear is that there were to distinct attitudes that were expressed between the 12 Spies.
ATTITUDE
The 10 Spies Attitude
The outlook of the ten spies was not very bright.
Their report was one of gloom.
They could only see the problems instead of the possibilities, the giants instead of God and defeat instead of victory.
Their attitude could certainly be called negative.
The inspired writer called it "an evil report" – "Numbers 13:32"
The 2 Spies Attitude
Caleb and Joshua were very optimistic.
Their report was one of hope.
They saw the possibilities instead of the problems, God instead of giants, and victory instead of defeat.
It was different from the ten spies because it was positive instead of negative.
God said Caleb "had a different spirit" – "Numbers 14:24"
Today, it's true to say that in the Church we also have these two groups of people and sometimes Leaders with the same attitude of Heart and Mindset. Some can see the opportunities to spread the gospel and the disposition that says, "we are able." While there are others who can only see the bad in people, the flaw in any idea and say, "we are not able."
Traits of the Ten Spies
Let us look a little closer into this negative attitude of the ten spies and see what traits composed their character.
Doubt – They said, "We are not able" – "

Numbers 13:31

" Doubt caused them to question their Gods resources to take the land, as well as their Inward Faith on who was leading them.
Self-depreciation – "

We are in our own sight as grasshoppers, and so we were in their sight

" "

Numbers 13:33

". They were like Children seeing themselves as teeny, tiny, little grasshoppers about to be squashed by the big, bad giants.
Fear – Joshua indicates in "

Numbers 14:9

" that they were afraid, even after they had seen what God had done for them, they were still terrified. Fear naturally will always be the bedfellow and companion of doubt and self-depreciation. Fear will paralyse and keep us from acting.
Critical Spirit – When people become negative and inactive, they turn to criticising others who want to move forward. The whole congregation was influenced by these terrible ten to murmur and complain against God's leaders, Moses and Aaron – "

Numbers 14:1-2

"
Rebellion & Ingratitude – The attitudes they expressed contributed to the spirit of rebellion against God. They said, "

Let us make a captain and return to Egyp

t" – "

Numbers 14:4

". Can you imagine being on the brink of the promised land, and then wanting to return to the land of slavery? Implied is also a spirit that was not thankful for their blessings. They failed to appreciate all that God had done for them in the two years after leaving Egypt.
Unbelief – All of the negative attitude traits can be summed up in one word – UNBELIEF. The writer of the Book of Hebrews in "

Hebrews 3:18-19

" tells us that it was this that kept them from entering into Canaan.
My Brothers and Sisters I don't know about you, but it scares me to death to look at these attitudes. I look into the mirror and say to God "God forbid that I allow these to reside in my spirit". These attitudes in the Church today hold us back, they divide our ranks, they cause us to wander in a wilderness of sin and keep us from entering fully into that which God has destined us for.
I want to really emphasis to you today. Why? Because I love and honour you that there can be no space in the Child of Gods Life where negativism is allowed to reside. However, I am a realist and I recognise that it is both a persistent and life attitude of many who we try to minister to.
It's an attitude that never stops talking down the work of God. It's expressed like a Prophet of Doom and Gloom. An attitude of negativism has nothing useful or beneficial to say. No matter what is considered whether it be Gospel Meetings or Crusades, Bible Teaching, Street Evangelism or Mission Activities, everything proposed is a waste of time, effort, and money.
I'm telling you today that negativism is like a barricade on the road to progress; its tantamount to a millstone around the neck of usefulness; it outworks itself like a cancer of the mind; and presents itself like an ice pack on the enthusiasm of the faithful.
What does negativism see before it? Thorns on a Rose Bush, never the Roses on the Thorn Bush. It derives its birth from its Parent Mr & Mrs Little Faith, the 1st Child is named Discouragement, the Grandchild is named Cantankerousness and its closest Cousin is called Stubbornness.
Traits of Caleb and Joshua
These two men were different. They had a different disposition, a different focus on life, and a different attitude toward God and his work. What were some of the attributes of their attitudes?
Faith – They said, "

We are well able to overcom

e" – "

Numbers 13:30

".

They believed in themselves.

They believed in their fellow Israelites.

Most importantly they believed in their God.
Confidence – Concerning the Canaanites Joshua said, "

The people are bread for us: their defence is departed from them, and the Lord is with us

" – "

Numbers 14:9

". They had the confidence in the outcome of this undertaking, because they knew they were doing the will of God.
Courage – Joshua said, "

fear them not

" – "

Numbers 14:9

". He was not afraid of the giants, the walled cities or the strength of the people.

Like David he declared that he would take his head – "

This day the Lord will deliver you into my hands, and I'll strike you down and cut off your head.

" – "

1 Samuel 17:46a

"
Action – Caleb said, "

Let us go up at once, and possess it

" – "

Numbers13:30

". Positive people say, "Let's go and do it now!"
Thankfulness – They understood the land was a gift from God, a blessing due to his delight in them – "

…. said to the entire Israelite assembly, "The land we passed through and explored is exceedingly good. If the Lord is pleased with us, he will lead us into that land, a land flowing with milk and honey, and will give it to us.

" – "

Numbers 14:7-8

"
Its noteworthy to recognise that "Numbers 3:32" tells us there were 603,550 Men of War and over and above that were the Levites, Wives and Children. Of that number only two, Caleb and Joshua, entered into Canaan – At the very least 603,548 died in their wilderness of sin and unbelief.
We are reminded of the words of Jesus who said only a few will enter and walk the straight and narrow way leading to life, while many will walk the broad way leading to destruction "Matthew 7:13-14" I recognise in context it is referencing the act of Salvation but it also in our context speaks volumes to us.
The question to us today as we move on is: – "Will we decide to develop the disposition like God's two heroes of old? Or will we be like those shameful spies who brought back the negative report?" – We can choose to be whiners! Or we can choose to be winners for God!
What distinctive things do we notice in Caleb: –
Caleb had a Worshippers Heart

It has always been Gods desire to find those who would worship Him in Spirit & Truth – Jesus Declared it and it was a fundamental characteristic of Caleb.
"But the hour is coming, and is now here, when the true worshipers will worship the Father in spirit and truth, for the Father is seeking such people to worship him. God is spirit, and those who worship him must worship in spirit and truth." – "John 4:23–24"
We love to rejoice in our Salvation, and it is right to do so. When we came to the cross, we heard in our spirits the words of Jesus that said – "If you are poor you can be made rich, If you are weak you can be made strong, If you are an outcast and lonely then you are welcomed" this has become our story and our song.
We look at those two verses in "John 4" and we transport ourselves intellectually to our present time and moment. However, the Holy Spirit from creation has been calling upon all to worship in spirit and truth. If you and I are attentive to the Holy Spirits call, we will hear Him calling with a lion's roar.
There is today and underlying has always been a river of beckoning from the Holy Spirit. We love the fact that we can enjoy reading and meditating upon Gods Word.
However, I tell you today that the Word of God is moving upon hearts like never before. It is breaking down boundaries and brining release – But! And I emphasis this – But! Only where it is declared in unadulterated clarity.
We declare today that "We love to worship Him, we love His Name to be Praised" but let's remember that "True Worship and Acceptable Worship" finds its relevance and acceptance ONLY when it is expressed in both spirit and truth.
John Piper said the following: – "Worship must be vital and real in the heart, and worship must rest on a true perception of God. There must be spirit and there must be truth. Truth without emotion produces dead orthodoxy and a church full (or half-full) of artificial admirers. On the other hand, emotion without truth produces empty frenzy and cultivates shallow people who refuse the discipline of rigorous thought. But true worship comes from people who are deeply emotional and who love deep and sound doctrine. Strong affections for God rooted in truth are the bone and marrow of biblical worship."
Hence, it is so vital that our hearts are right.
He had a Wondering Heart & Believing Heart
It's impossible, said pride.
It's risky, said experience.
It's pointless, said reason.

Give it a try, whispered the heart."
Caleb had spent years in slavery in Egypt and yet he had not lost his faith. Why? We may ask ourselves. Well! I believe it was because in the midst of the trials he went through – and there were many – one thing did not diminish and that was the Awe he held his God in – During his captivity, in the escape from Egypt and in his spying our Canaan he maintained his spirit of wonderment and faith in God.
The Bible clearly tells us – "But without faith it is impossible to please Him, for he who comes to God must believe that He is, and that He is a rewarder of those who diligently seek Him." – "Hebrews 11:6"
What was it that Caleb declared after he and Joshua returned from scouting out Canaan?
"If the Lord delights in us, then He will bring us into this land and give it to us … Only do not rebel against the Lord, nor fear the people of the land, for they are our bread; their protection has departed from them, and the Lord is with us." – "Numbers 4:8-10"
That sounds to me like "Faith filled fighting talk" it's the sort of talk that both a Warrior and a Wonderer would have.
"Faith Tastes the fruit before it's in the Hand"
In that same spirit of faith that Joshua and Caleb had we fight our own battle against the sin in our nature.
Nothing is taken without a fight, but when we fight, there is nothing that we cannot take. One by one the enemies will fall before us. Then we will do more than see the "fruit of the land" from a distance. Love, joy, peace, and all the virtues – we will hold them in our grasp and taste them. The Promised Land will be ours.
In Caleb we see the following: –
The Wonder of Divine Expectation – He believed God would be true to His promises.
The God we see revealed in the Scriptures isn't the grotesque image that a fallen world has created. No! The real God of the Bible is one who desires that people no matter their Age, Culture, Spiritual Persuasion, Position in Life will approach him and with childlike wonder discover who He is.
That's why it's so important that we preach the good news of the Gospel because in it "

The Son

who is

is the image of the invisible God

" – "

Colossians: 1:15

" is revealed.

Our separation, our Alienation has an answer that is discovered through its proclamation – "

Once you were alienated from God and were hostile in your minds because of your evil deeds. But now He has reconciled you by Christ's physical body through death to present you holy, unblemished, and blameless in His presence

" – "

Colossians 1:21-23

"
As Gods Servants today, and in reality, this applies to the entire Church of Jesus Christ, we need to re-think our attitudes. If you consider a Child's Faith, we notice it is full of enthusiasm, and its accompanied by an innocent receptivity. That's exactly how we should approach God and His work. Children expect the best from God, we should do the same.

How eager are you? Are you anticipating that God will pour His miraculous power into your life?
I can assure you that God will generously pour out His grace and blessings upon you.
The Wonder of God's Presence – He believed that God would always be with the faithful.
God constantly offers to us amazing glimpses of His presence with us in our world. Yet, all too often, we fail to notice. Why? Because we're so preoccupied with the details of our lives that we don't look beyond them to what God is both doing and showing us. We "Don't see the wood for the trees".
Let me ask a searching question of us all today – "Where is our mind?" the reason I ask is that it is an undeniable fact that "If you want to know where your heart is, then look to where your mind goes" – Wherever mind goes your heart will follow"
The Scripture says to us: – "Finally, brothers and sisters, whatever is true, whatever is noble, whatever is right, whatever is pure, whatever is lovely, whatever is admirable if anything is excellent or praiseworthy think about such things." – "Philippians 4:8" NIV
Life is hard most of the time, I recognise that. We struggle through sometimes wondering if we are going to make it through the day. However, I want to say to you as an encouragement that if your focus has shrunk to the level of "just trying to get through each day", then it's time to enlarge your perspective so you can enjoy the abundance of a life that's filled with wonder.
God is with you even during the worst circumstances. When a crisis shocks your world and you feel like asking "Why?" then decide to ask "Who?" instead because the Scripture tells us in "Philippians 2:13" – "for it is God who works in you to will and to act in order to fulfil his good purpose." – NIV. He will constantly be with you, helping you every step of the way?
Once you become aware of God's presence with you during tough times, you will be able to laugh with joy instead of crying, because you'll know that God's power will help you overcome.
Remember my Brothers and Sisters – God is on our side – Let me hear you say – "God is on my side" and as such He wants us to Enjoy Him and Discover Him afresh.
The Wonder of Creation – He was amazed at the fruitfulness of Canaan.
"

And they came to the Valley of Eshcol and cut down from there a branch with a single cluster of grapes, and they carried it on a pole between two of them; they also brought some pomegranates and figs.

" – "

Numbers 13:23

"
According to the Guinness World Records' the largest modern cluster of grapes was grown by a man in Chile and it only weighed almost 21lbs (9.52kilos). That is the weight of a small child. Assuming that two men had to carry the cluster from the promise land I think it is safe to assume that the cluster referred to was heavier than 21lbs.
Although the World in which we live has been decimated by mans greed and inherent sinfulness it is still in many places a beautiful place. Joshua and Caleb were amazed and blown away by the beauty and fruitfulness of the land of Canaan.
Let me just say here as an aside that I believe that God has a Land of Fruitfulness in store for those who believe. His abundance and His creation in us are such that if we give Him our hearts then the Garden of our Hearts will bear fruit in abundance and we will be astonished at the creation He has birthed in us.
The Wonder of Rest & Restoration – He knew that there was "Yet a place of rest In God and In Canaan".
Caleb having seen the Land of Canaan recognised that it was Gods land of Restoration and Rest from the labours of war and fleeing bondage. Sure, there were Giants to face, there were people groups to be destroyed who defied Gods rule – But in the midst of that there was rest and restoration.
Is your life busy? Is it hectic? Does it at times seem to be so frenetic that you wonder if you'll ever be able to find a place to relax, refresh and breath anew? If so, then I can tell you that you are the Life Member of a very big Club.
It seems that there are not enough hours in the day at times and there is not an end to our labours. If that is how we are then I tell you today that we are "Not walking in the Spirit". Is that an amazing statement? Do you think I'm being heretical in my exposition of the Scriptures? Well! Before you cast me out let me explain.
In "Galatians 5:16-18" we read the following – "So I say, walk by the Spirit, and you will not gratify the desires of the flesh. For the flesh desires what is contrary to the Spirit, and the Spirit what is contrary to the flesh. They are in conflict with each other, so that you are not to do whatever you want. But if you are led by the Spirit, you are not under the law." – NIV
There is a natural law at work in us, even when we are born again which the Apostle Paul tells us wars against the gentle spiritual rhythms of life in God. What does it demand? It demands that we – Compare ourselves to others – Caleb declared in respect of the Giants, People Groups – "…. their protection has departed from them, and the Lord is with us." – "Numbers 4" and I want to say to us today that it is no different for us.
You my Brother, my Sister are not bound to live in a place of impoverishment. God has not destined to be impotent. We can today like Caleb declare over those things that cling to our lives and hang on our ankle's like chains that "…. their protection has departed from them, and the Lord is with us."
We need to recognise the opportunities that God extends for us to join Him in the work He is doing to restore people's broken lives in this fallen world. We need to see possibilities rather than just problems in our lives and the lives of others.
Jesus says to us – "Come to me all you who labour and are heavy laden and I will give you rest" – "Matthew 11:28"
The writer of the Book of Hebrews repeats for us –"Today if you hear his voice, do not harden your hearts." . . . There remains therefore a Sabbath rest for the people of God. For the one who has entered His rest has himself also rested from his works, as God did from His." – "Hebrews 4:9-10"
You see, when we walk in the Spirit like Jesus, we will not be Stressed Out, but we will walk a Restful Walk of acknowledgment that it is The Fathers Will and Desires that matter the most and not Society, Ambitions and the Approval of others.
The Wonder of Friendship – He through the years had learned the friendship of God and that of others.
Friendship is defined as a state of enduring affection, regard, closeness, and trust between two individuals. In all societies, friendships are essential connections throughout an individual's lifespan. Friendships assume a critical part in healthy human growth and development and alteration over a life expectancy.
Leadership is a lonely business – Am I right? Well! If that is true, then Why is it? One of the problems we face and its both Christian and Non-Christian alike is the fear of ……. The Homosexual/Lesbian fears being Outed. The Thief fears being Revealed, the Scholar fears being found to be Ignorant and the Manager fears being discovered as Incompetent. Why is this? It's because of the fear of others and their opinions.
For the Christian Leader its no different. How much do I pray? How much Study of the Word of God do I do? How is my Love for the Lost? Do I administer the Church God has given me proficiently? And I could go on.
These things can drive a person mad with anxiety and stress. They lead to Performance based Leadership and in particularly they lead to Control Based Leadership.
How do we counter this.? In Caleb's life he had found an obviously close friend in Joshua. We need to do the same. We might inwardly say to that as a subconscious thought – "No way, I'm not going to expose myself to that sort of vulnerability" if we live like that, we will be of most men Most Miserable.
Augustine said "What is a friend? A single soul dwelling in two bodies."
Muhammad Ali said "Friendship is the hardest thing in the world to explain. It's not something you learn in school. But if you haven't learned the meaning of friendship, you really haven't learned anything."
Walter Winchell the American newspaper and radio gossip commentator said, "A real friend is one who walks in when the rest of the world walks out."
I have a friend, who I have been in friendship for over 50yrs. I don't talk to him as often as I should, and we don't meet as often as I would like but I know he is there for me as I am for him.

I see his friendship as one of Gods grace gifts in my life and he truly has been one who when others walked away, he remained.
I have another friend who I haven't seen for over 18yrs. However, I know there was a time of darkness in my life when all seemed lost and I was truly about to end it all – Without condemnation or judgement he was there for me.
I want to urge you to discover the wonder of friendship in your lives. I don't mean collect acquaintances – They are here today and gone tomorrow. No, I mean as in the story of David and Jonathan develop a Jonathan in your life.
Make a point of inviting people into your life, don't as we are naturally prone to do push them away. You can trust that God will guide and protect you as you do so. If your worried that they might see your brokenness well don't worry about that keep in mind that God's grace can bring broken people together and build strong friendships and after all we are all broken in one way or another.
God doesn't give you the people you want, he gives you the people you need. To help you, to hurt you, to leave you, to love you and to make you the person you were meant to be.
The Wonder of Forgiveness – Caleb had made mistakes but knew that God forgave.
Forgiveness is defined as a conscious, deliberate decision to release feelings of resentment or vengeance toward a person or group who has harmed you, regardless of whether they actually deserve your forgiveness.
During Caleb's journey of faith, he would have undoubtedly upset a few people, he would have ruffled a few feathers and at times made a few enemies. He wasn't the sort of Shrinking Violet Character who could avoid it. However, to get to where he did and to have Gods Accolade of Praise, he must have learned to both to Forgive and be Forgiven.
There are lots of human characteristics – In Compassion there is seen Nobility, in Empathy there is Beauty but in Forgiveness we see Grace. Grace is part of the on-going work of Christ in our lives.
If we find it difficult to Forgive or receive Forgiveness its well to remember all the sins for which God has forgiven us. We at times need to ask the Spirit of God to remind us about how much He has forgiven us, and then let our gratitude motivate us to forgive both ourselves and others.
The Wonder of Gratitude – He was always filled with a sense of gratitude to God.
We should always be grateful. Gratitude is the key attitude to any degree of success. Being grateful for all we have will invariably lead to greater abundance. So many people both in Church and Out tend to focus their mind on what they don't have rather than being grateful for what they do have.
When we look at Caleb as he entered the Promised Land it would be crazy for us to suggest that he wasn't filled with gratitude. It's thought that at least 1,078,000 Israelites including, Men, Women, Levite Men & Levite Women plus other adults and what was called the mixed multitude died during the wilderness wandering over the 40 years. Yet he made it through.
Likewise, we should learn to give thanks in all situations. Miracles happen at times when we do. Remember Paul and Silas. There they were in the Prison Cell with their feet in the stocks Singing and Praising God and what happened an Earthquake and a Release from their Bondage – "Acts 16:16-40"
Its quite possible today that you are in some difficulty, or some form of bondage – If so God in the midst of your Praise and expression of your Gratitude is I'm sure prepared to bring an earthquake into your situation, bringing release and the salvation of souls.
The Wonder of an Abundant life – He knew that before him there was an amazing abundance to be found.
Jesus Said: – "The thief does not come except to steal, and to kill, and to destroy. I have come that they may have life, and that they may have it more abundantly." – "John 10:10" NKJ
When Caleb looked at the Grapes, I'm sure his mouth watered at the thought of sinking his teeth into their luscious sweet taste. In addition to that he had seen what was described as a land of Milk and Honey and he recognised there was an Ample and Full Abundance to be enjoyed in Gods Land for them all.
Are we guilty sometimes of forgetting the abundance that we have in Jesus? If we are not careful, we can become like the Elder Brother in the story of the Prodigal Son. We are able to enjoy all that the Father has but think we need to earn it when in reality it is freely given in abundance to us. Remember We Own the Farm and are not hirelings.
You and I have potential far beyond our imaginations. I'm over 65yrs and still enthusiastic to discover the abundance that I have before me. I still have Wild and Large Dreams I still find myself Captivated by my Aspirations in God.
Right now, I'm facing the mountain of getting older. I see new grey hairs on my head and feeling aches in my body that I've never felt before. It seems that I was 17 years-old just yesterday! And yet, I have a vision of aging well.
I Speak this blessing over myself and over you also: –
"The righteous shall flourish like a palm tree, He shall grow like a cedar in Lebanon. Those who are planted in the house of the Lord Shall flourish in the courts of our God. They shall still bear fruit in old age; They shall be fresh and flourishing, to declare that the Lord is upright; He is my rock, and there is no unrighteousness in Him." – "Psalm 92:12"
Allow yourself my friends to dream again and to take risks to help make those dreams come true. Ask God to remove the obstacles that stand in your way and take stock of the Giants you are allowing to inhabit your life and land.
Cry out afresh – "Give me this mountain"
He had a Waiting Heart
"It is not yet time for the message to come true, but that time is coming soon; the message will come true. It may seem like a long time, but be patient and wait for it, because it will surely come; it will not be delayed." – "Habakkuk 2:3" New Century Version
Caleb did not just one morning wake up and all the characteristics we've been looking at were birthed in him. No! He like all "Men & Women of Faith" those God will declare to be "Heroes" develop and mature into these characteristics.
Now, here is something that must be too hard for all of us to do; being patient. In a world where instant gratification is glorified, being patient and waiting for the LORD is too difficult and even discouraging at times. However, we can learn from the life of Caleb the meaning of real patience.
Notice that God said that Caleb, along with Joshua, will enter the Promised Land. However, the timing was not next week, next month, or next year. He needs to wait until 40 years were finished and all the current generation of Israel will die in the wilderness!
God Promised, Caleb Waited. For 45yrs. Just imagine all the thoughts would have run in the mind of Caleb?
Why should it be too long, God?
Why can't I have my reward right now?
Isn't it good enough that I stood out from the crowd and became your representative to these people?
And the list of questions might have gone on and on for entire 45 years!
However, this what sets apart Caleb from others. He was patiently waiting for the Lord! Doubts may have entered Caleb's mind, he was human after all. However, that didn't stop Him from believing the words of God.
In "Matthew 24:13" we read "But the one who perseveres to the end will be saved" God will certainly provide Persevering Faith to enable us to go to the Finishing Line but equally He will sustain us in our journey also.
Caleb had a Warriors Heart
"There we saw the giants (the descendants of Anak came from the giants); and we were like grasshoppers in our own sight, and so we were in their sight." – "Numbers 13:33" NKJ
When the 12 Spies went out to scout the land, they all saw the same thing – Giants. To 10 of them there was immediate Fear to 2 there was immediate Faith – Today I want to ask of us – Are we Fear or Faith People?
Let's talk about Warriors & Giants for a few moments together.
Caleb, Joshua & David were all well-known Giant Killers – But I want us to recognise today that Giant Killers are not Born that Way and neither do they Start Out that Way. What they do know though is that the Reward is always Greater than the Risk.
In David's case we are told that he picked up 5 Smooth Stones one was to knock Goliath to the ground the other 4 already had the names of his 4 Brothers on them. A Giant never stands alone behind him or it lies his causes. In some it is Addiction, Abuse or Anger and all are supported by other issues such as Pain, Guilt, Loss or Shame.
If you are facing as a Warrior a Giant, then ask yourself the question – What lies behind the Giant today? Whatever it might be let me say right now to you that Giant Killers are not overwhelmed by the Challenges. Why? Because they recognise that "God has not given us a spirit of fear, but of power and of love and of a sound mind" – "2 Timothy 1:7" and therefore its vital that you don't let any failure of yesterday overwhelm today's faith.
What made Caleb the Warrior's perspective so different? It was because he was using the eyes of faith. The Bible tells us, "For we walk by faith, not by sight" – "2 Corinthians 5:7" We cannot avoid as Gods Children from coming across giants who will Stand in our Way and wherever possible Defy God. However, we are Warriors – Are we going to Turn Tail & Run or in Gods Power Stand Up Against the Giants.
The Bible clearly tells us – "..in all these things we are more than conquerors through him who loved us." – "Romans 8:37" NIV I recognise I'm taking it out of context but the truth of what it says is applicable to the giants we face every day.
In the time before we were Born-Again, and we became "New Creatures in Christ Jesus" the giants that we faced were common to all in one form or another. Of course, the majority of the time they are not made of flesh and blood. They come in many other forms – "Addictions, Character Flaws, Personality Shortcomings and Temptations to name but a few. In reality, anything that was Bigger than us, Stronger than us, Faster than us, more Powerful than us overcame us and continued to reign in us.
There were differing magnitudes of effect and consequences and all had the power and potential to Knock Us Down, Overpower Us and bring us into Bondage. There were times I'm sure when we felt that they had Knocked Us Senseless.
The giants very clearly remind us of how small and helpless we are. On our own, we can't beat them, and they outclass us in every conceivable way.
So, the tendency is to simply Run, Hide and Surrender before them sometimes even before the battle has started. We want to avoid the possibility of getting Hurt and looking like Losers.
It's an easy route and the same one the Israelites took thousands of years ago. Unfortunately, it's still the easiest route to take today.
As the people of God, we face a massive problem in doing so. Why? Because when we surrender to a giant especially one of the modern-day varieties, we give up more than just a fight. We in fact lose both the Fight, the Battle and the War and end up giving up control over our own lives, handing the reins over to Satan himself. If we decide not to fight, we start embracing stagnancy and accepting defeat as a lifestyle
However – It was for freedom that Christ has set us free.
Do you want to live that way? In reality Can you afford to live that way?
Caleb had a Warriors Heart. Whilst 12 spies all walked the same land, all saw the same giants, only two of them saw a battle they could win.
Why? The Strength of Faith
What was the major difference that separated Caleb & Joshua from the other 10 Leaders? It was not "What they Saw! No! it was "How they Saw it".
All the 12 Leaders / Spies looked at the giants and saw wicked men standing in the way of God's plan. 10 of the Leaders saw the giants and believed they could not win. Caleb and Joshua however looked at the giants and knew there was no way God COULDN'T WIN.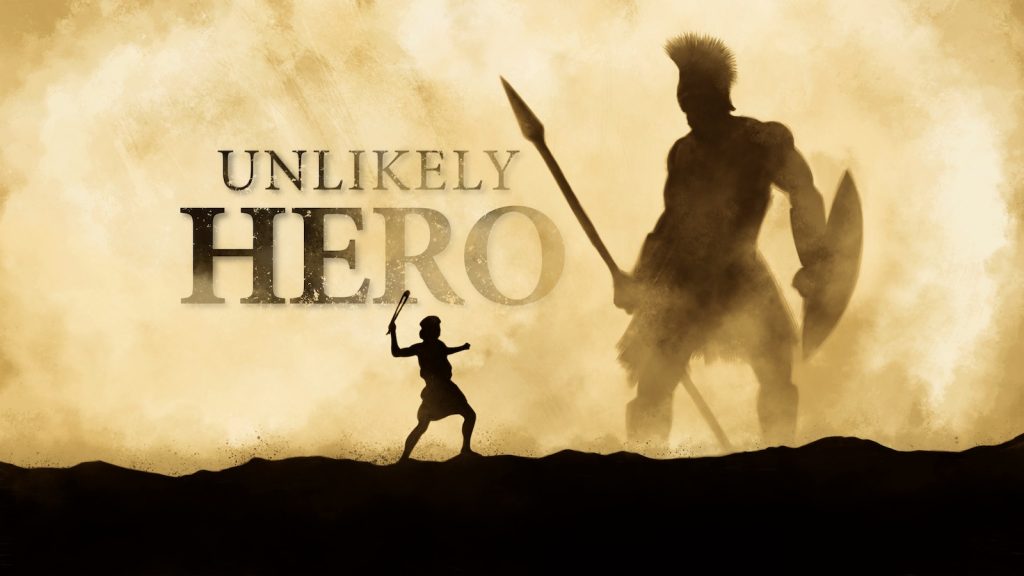 Do you remember the words of David when he stood before Goliath? If not, let me remind you. It's found in "1 Samuel:17". Here we have the people of God trembling in their boots on one side of the Valley of Elah and the Philistine Army on the other. "David said to the Philistine, "You come against me with sword and spear and javelin, but I come against you in the name of the Lord Almighty, the God of the armies of Israel, whom you have defied. This day the Lord will deliver you into my hands, and I'll strike you down and cut off your head. This very day I will give the carcasses of the Philistine army to the birds and the wild animals, and the whole world will know that there is a God in Israel. All those gathered here will know that it is not by sword or spear that the Lord saves; for the battle is the Lord's, and he will give all of you into our hands." – "1 Samuel 17:45-47"
The giants in your life, ministries and leadership roles are standing in the way of God's plan for you, and it's crucial how you look at them. How you look at them is going to radically change how you deal with them.
They're Bigger than you, no doubt. They're Stronger than you, absolutely. They could grind you under their feet like dust and not think twice about it, of course. But are they Bigger than God? Are they Stronger than God? Could they last even a moment in an arena with the Almighty?
David, Caleb and Joshua all knew the answer. They could all look back at the miracles God had performed in their lives and in the lives of all of Israel. The recognised beyond the shadow of a doubt, that God was able to give them every victory, no matter how Improbable, Unlikely or, yes, even Impossible.
"Matthew 19:26" – "Jesus looked at them and said, "With man this is impossible, but with God all things are possible." In the context it is relating to Salvation, but the truth remains true.
It was the spirit of that which enabled Caleb to tell companions to go up and seize the land, "for we are well able to overcome it." It was that spirit that enabled his trust in God throughout the wanderings to be maintained for 40 years. It was that spirit that age 85, he was ready and willing to work with God and remove the giants out of his mountain.
God is wanting you to Know of Miracles in your life. God is wanting to Part Seas in your life. God is wanting to Give You Manna from Heaven to Sustain You. "Cast all your anxiety on him because he cares for you" – "1 Peter 5:7"
If you are in a battle and facing giants today, then remember: "The weapons we fight with are not the weapons of the world. On the contrary, they have divine power to demolish strongholds. We demolish arguments and every pretension that sets itself up against the knowledge of God, and we take captive every thought to make it obedient to Christ." – "2 Corinthians 10:4-5" NIV
If you believe that you're not capable then take heart because Jesus says – "You can do all this through him who gives you strength." – "Philippians 4:13"
God is not an impartial observer having no vested interest in the battles you fight. He wants you to win. He wants you to grow and overcome; and what's more, He gives you the equipment and the strength to make it happen and you can be "confident of this very thing, that He who has begun a good work in you will complete it" – "Philippians 1:6"
We are all a good work in progress. That is God's plan. It's always been His plan; and no opponent, no enemy, no impossible giant is strong enough to stand in the way. Every giant is different, and there's no one-size-fits-all solution.
"From Hebron Caleb drove out the three Anakites – Sheshai, Ahiman and Talmai – descendants of Anak." (Joshua 15:14)
It's interesting that Scripture gives their names three times – "Joshua 15:14, Numbers 13:22; Judges 1:10" Why? Because their names were well known. Giants are what legends are made of, like Goliath of Gath.
You only name great opponents, and these giants were great enemies, they had great reputations to match. But Caleb fearlessly drove them out.
If you're going to break old habits and make changes in your life, you've got to speak to the giants that mock your victory. No matter what you may be facing, no matter how big those goals and dreams may seem, start changing your words and declare victory.
Don't talk about your mountain; talk to it!
Don't tell the world how big your problems are; tell them how big your God is!
Stand in faith, speak victory and move forward in the freedom and blessing God has in store for you!
"Truly I tell you, if anyone says to this mountain, 'Go, throw yourself into the sea,' and does not doubt in their heart but believes that what they say will happen, it will be done for them." – "Mark 11:23" NIV)
Then what are you waiting for? Name Your Giants and Go Drive them Out.
He had a Surrendered Heart
"I beseech you therefore, brethren, by the mercies of God, that ye present your bodies a living sacrifice, holy, acceptable unto God, which is your reasonable service. And be not conformed to this world: but be ye transformed by the renewing of your mind, that ye may prove what is that good, and acceptable, and perfect, will of God." – "Romans 12:1-2" NIV
Caleb's God given testimony came about because his heart was surrendered. Likewise, if we are to receive our "Well done good and faithful servant" – "Matthew 25:21" we will need to have surrendered hearts.
"… except Caleb son of Jephunneh. He will see it, and I will give him and his descendants the land he set his feet on, because he followed the LORD wholeheartedly." – "Deuteronomy 1:36"
There can be No Middle Ground when it comes to surrender – There are times when we feel that our feet are frozen on a middle ground. However, in that position where the water's warm invariably the fire's gone out. We find that by playing it safe for so long that the passion has left, and we have only regret. If that's true, all is not lost we can say to the Lord "I'm going all in Headfirst into the Deep End" and this time I'm not going to let the fear won't win.
The man or woman who is wholly or joyously surrendered to Christ can't make a wrong choice – any choice will be the right one.
"God is ready to assume full responsibility for the life wholly yielded to Him." A. W. Tozer
Conclusion: –
No matter what Nation we live in the same thing is true of all – God is Looking for Men & Women of Vision.
Caleb was certainly just such a man – He was a Man of Vision.
What is vision: –
Vision is that elusive thing that dares to dream big dreams about the future.
Vision has been called hope with a blueprint.
Vision is what an inventor has when he or she thinks outside the box to create something new.
Vision is what a mother has as she looks at her new-born baby and imagines all that child could grow up to become.
Vision has a way of ignoring its critics and chasing its dream regardless of how many people say it can't be done.
One thing is true Vision can be Underestimated let me give you some examples.
Thomas Watson, the chairman of IBM in 1943 said, "I think there is a market for maybe five computers in the world."
Ken Olson, president and founder of Digital Equipment Corporation said in 1977, "There is no reason why anyone would want a computer in their home."
Consider this Western Union memo from 1876: "The Telephone is has too many shortcomings to be seriously considered as a means of communication."
Consider the words of Decca Recording company, when why they turned down signing the Beatles in 1962: "We don't like their sound and guitar music is on the way out."
Charles Duell, commissioner of the U.S. Office of Patents said in 1899, "Everything that can be invented has been invented."
I think you probably have got the idea of what I'm trying to convey.
Vision has a way of ignoring those who say it can't be done and doing it anyway. Caleb said …. "We surely can …."
"But Caleb quieted the people before Moses and said, "Let us go up at once and occupy it, for we are well able to overcome it." – "Numbers 13:30" He knew that he and they could occupy the Land of Vision.
Faith means not looking at what is invisible but believing that God is Almighty.
Faith means being obedient even when we can't see the results.
Faith means action.
Yet we go through times when our vision fades. The flame of our vision begins to dim, its passion begins to ease, and its heat begins to cool.
Never be a "play it safe" group of leaders. You are visionary's, you are Gods Pioneers – Men and Women of a different spirit". "Ephesians 3:20" says, "By his mighty power at work within us, God is able to accomplish infinitely more than we would ever dare to ask or hope." NLT
Question: – How big is your vision. ….. If there be 100, 50, 20, 10 was Abraham's prayer when God was judging Sodom. – What's yours for the locality you are from today.
This different spirit was a spirit of Faith, Whole heartedness, Patience, Valour, Devotion.
There will always be a tension between our vision and the way things are. This is because if vision only described the status quo, it wouldn't be vision. So, the disparity between vision and the status quo creates tension, like a rubber band that's been stretched.
Often, we're tempted to let this tension pull the vision down to the status quo, to soften the vision and make it more palatable to the way things are.
However, instead, we should let the tension pull the way things are closer to the vision, creating the necessary changes in our lives needed to pull us toward what God has for us.
"I believe God wants to pull us closer to the vision He has given us. God wants a radicalised group of Leaders and His People who have a renewed vision for worship, prayer, service, and outreach."
Vision isn't renewed by just hearing a sermon or reading a book.
Vision for Worship is renewed by actually Worshipping.
Vision for Prayer is renewed by actually Praying.
Vision for Service is renewed by actually using our Gifts to Serve.
Vision for Outreach is renewed by actually Testifying about Jesus.
Let's be Men & Women of Vision and those of whom it is declared – "They have a different spirit"