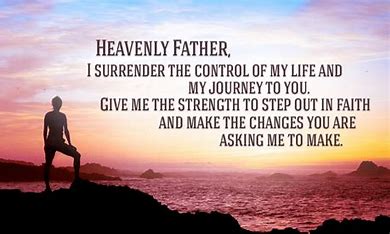 How to Grow in Your Faith by Letting Go, Accepting Failure, and Giving It to Jesus
I don't know about you but as I journey on in this pathway of faith, I come face to face with challenges. I've now been a child of God since the 4th of April 1968 and at 21:50hrs I was born again.
For me, and if we are honest all of us giving up control and putting our trust in Jesus is not only an essential but an imperative aspect of our daily discipleship. It implies having faith in God and submitting to His will as we move forward. It's not easy to give up, especially when we've already experienced some disappointment or setback.
That's where a willingness to accept defeat comes in. The Christian faith teaches its followers to accept setbacks as inevitable. We all fall down and make blunders occasionally. To avoid being disheartened by setbacks, though, we should view them as educational experiences.
Accepting defeat is realising our own frailties and limits and seeking God's help and strength in spite of them. When we give our lives to Jesus, we may rest assured that He will transform us from the inside out.
How therefore can we, when our own efforts prove futile, completely abandon ourselves to Jesus? To get started, let's go to God with our questions. We can also read the Bible and connect with other Christians for counsel and encouragement.
The ups and downs of life are a reminder that surrendering to Jesus is a journey, not a destination. It calls for meekness, trust in God's plan, and the surrender of my own will.
Finally, when we fail, it might be very difficult to surrender to Jesus. But, by accepting defeat and putting our faith in God's plan, we can strengthen our convictions and mature into the persons God intended us to be. Learning to let go, accept defeat, and put one's trust in Jesus is an ongoing process, but one that is well worth the effort.
If this short meditation has been a blessing to you then please honour us by subscribing to our YouTube Channel at – www.youtube.com/c/AlbertMMartinWWCM – and feel free to enjoy further resources at our web site at – www.worldwidechristianministries.org.
Bless You
Rev Albert M Martin
---
Portuguese
Como crescer em sua fé, deixando ir, aceitando o fracasso e dando-o a Jesus
Não sei a seu respeito, mas à medida que caminho por esse caminho de fé, enfrento desafios. Sou filho de Deus desde o dia 4 de abril de 1968 e às 21h50 nasci de novo.
Para mim, e se formos honestos, todos nós desistimos do controle e depositamos nossa confiança em Jesus é não só um aspecto essencial, mas um aspecto imperativo de nosso discipulado diário. Implica ter fé em Deus e submeter-se a Sua vontade, à medida que avançamos. Não é fácil desistir, especialmente quando já experimentamos alguma decepção ou retrocesso.
É aí que entra a vontade de aceitar a derrota. A fé cristã ensina seus seguidores a aceitar os reveses como inevitáveis. Todos nós caímos e cometemos erros de vez em quando. Para não nos desanimarmos com os contratempos, porém, devemos considerá-los como experiências educacionais.
Aceitar a derrota é perceber nossas próprias fragilidades e limites e buscar a ajuda e a força de Deus, apesar delas. Quando entregamos nossa vida a Jesus, podemos ter certeza de que Ele nos transformará de dentro para fora.
Como podemos, então, quando nossos próprios esforços se mostram inúteis, abandonar-nos completamente a Jesus? Para começar, vamos a Deus com nossas perguntas. Podemos também ler a Bíblia e nos conectarmos com outros cristãos para obter conselho e encorajamento.
Os altos e baixos da vida nos lembram que a rendição a Jesus é uma viagem, não um destino. Isso exige mansidão, confiança no plano de Deus e a rendição de minha própria vontade.
Finalmente, quando falhamos, pode ser muito difícil nos rendermos a Jesus. Mas, aceitando a derrota e colocando nossa fé no plano de Deus, podemos fortalecer nossas convicções e amadurecer nas pessoas que Deus quis que fôssemos. Aprender a deixar ir, aceitar a derrota e colocar a confiança em Jesus é um processo contínuo, mas que vale bem a pena o esforço.
Se essa breve meditação foi uma bênção para o senhor, então, por favor, honre-nos assinando nosso canal no YouTube – www.youtube.com/c/AlbertMMartinWWCM – e sinta-se à vontade para desfrutar de mais recursos em nosso site, no endereço – www.worldwidechristianministries.org.
Bendito seja V. Excia.
Rev. Albert M Martin
---
French
Comment grandir dans votre foi en lâchant prise, en acceptant l'échec, et en le donnant à Jésus
Je ne sais pas pour vous, mais au fur et à mesure que j'avance sur ce chemin de la foi, je suis confronté à des défis. Je suis maintenant un enfant de Dieu depuis le 4 avril 1968 et à 21 h 50, je suis né de nouveau.
Pour moi, et si nous sommes honnêtes, nous tous, abandonner le contrôle et mettre notre confiance en Jésus est non seulement un aspect essentiel mais impératif de notre vie quotidienne de disciple. Cela implique d'avoir foi en Dieu et de se soumettre à sa volonté à mesure que nous avançons. Il n'est pas facile de renoncer, surtout lorsque nous avons déjà connu une déception ou un revers.
C'est là qu'intervient la volonté d'accepter la défaite. La foi chrétienne enseigne à ses adeptes à accepter les revers comme inévitables. Nous tombons tous et faisons tous des gaffes de temps en temps. Mais pour éviter d'être découragés par les revers, nous devons les considérer comme des expériences éducatives.
Accepter la défaite, c'est prendre conscience de nos propres fragilités et limites et rechercher l'aide et la force de Dieu en dépit de celles-ci. Lorsque nous donnons notre vie à Jésus, nous pouvons être assurés qu'Il nous transformera de l'intérieur.
Dès lors, comment pouvons-nous, lorsque nos propres efforts s'avèrent futiles, nous abandonner complètement à Jésus ? Pour commencer, allons voir Dieu avec nos questions. Nous pouvons également lire la Bible et entrer en contact avec d'autres chrétiens pour obtenir des conseils et des encouragements.
Les hauts et les bas de la vie nous rappellent que l'abandon à Jésus est un voyage, pas une destination. Cela demande de la douceur, de la confiance dans le plan de Dieu et l'abandon de ma propre volonté.
Enfin, lorsque nous échouons, il peut être très difficile de s'abandonner à Jésus. Mais, en acceptant la défaite et en mettant notre foi dans le plan de Dieu, nous pouvons renforcer nos convictions et devenir les personnes que Dieu a voulu que nous soyons. Apprendre à lâcher prise, à accepter la défaite et à mettre sa confiance en Jésus est un processus continu, mais qui en vaut la peine.
Si cette courte méditation a été une bénédiction pour vous, veuillez nous honorer en vous abonnant à notre chaîne YouTube à – www.youtube.com/c/AlbertMMartinWWCM – et n'hésitez pas à profiter d'autres ressources sur notre site Web à – www.worldwidechristianministries.org.
Soyez béni
Révérend Albert M Martin
---
Як зростати у вірі, відпускаючи, приймаючи поразки і віддаючи їх Ісусу
Не знаю, як ви, а я, мандруючи дорогою віри, зустрічаюся віч-на-віч з випробуваннями. Я є Божою дитиною з 4 квітня 1968 року, коли о 21:50 я народився вдруге.
Для мене, і якщо ми будемо чесними, для всіх нас, відмова від контролю і довіра до Ісуса є не тільки важливим, але й імперативним аспектом нашого щоденного учнівства. Це означає мати віру в Бога і підкорятися Його волі, коли ми рухаємося вперед. Нелегко здаватися, особливо коли ми вже пережили певне розчарування чи невдачу.
Ось тут і з'являється готовність прийняти поразку. Християнська віра вчить своїх послідовників приймати невдачі як неминучість. Ми всі час від часу падаємо і робимо помилки. Однак, щоб не засмучуватися через невдачі, ми повинні сприймати їх як навчальний досвід.
Прийняття поразки означає усвідомлення власних слабкостей і обмежень та пошук Божої допомоги і сили, незважаючи на них. Коли ми віддаємо своє життя Ісусові, ми можемо бути певні, що Він перетворить нас зсередини.
Як же ми можемо, коли наші власні зусилля виявляються марними, повністю віддати себе Ісусові? Для початку давайте звернемося до Бога з нашими запитаннями. Ми також можемо читати Біблію і спілкуватися з іншими християнами, щоб отримати пораду і підбадьорення.
Життєві злети і падіння нагадують нам про те, що віддання себе Ісусу – це подорож, а не пункт призначення. Це вимагає лагідності, довіри до Божого плану і відмови від власної волі.
Зрештою, коли ми зазнаємо поразки, може бути дуже важко віддатися Ісусові. Але, приймаючи поразку і довіряючи Божому плану, ми можемо зміцнити свої переконання і дозріти до того, щоб стати тими, ким Бог нас задумав. Навчитися відпускати, приймати поразки і довіряти Ісусу – це безперервний процес, але він вартий того, щоб докласти до нього зусиль.
Якщо ця коротка медитація була для вас благословенням, то, будь ласка, зробіть нам честь, підписавшись на наш канал YouTube за адресою: www.youtube.com/c/AlbertMMartinWWCM – і не соромтеся користуватися іншими ресурсами на нашому веб-сайті за адресою: www.worldwidechristianministries.org.
Благословляю вас
Преподобний Альберт М. Мартін