He Makes All Things New
The great thing about being a Child of God is that the truth of "
2 Corinthians 5:17

" which says "

Therefore if any man be in Christ, he is a new creature: old things are passed away; behold, all things are become new

" is an ongoing truth.
We tend to live in the "now" and our perspective focuses on what is happening "right now" and as the expression "can't see the wood for the trees" states we cannot see what's ahead with clarity.
In Christ we are wonderfully encompassed by His grace and the outworking of that grace enables us to regain both an emotional balance and also a spiritual balance.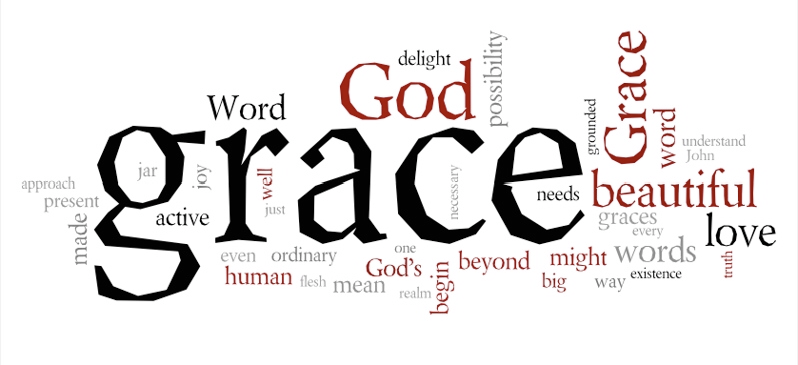 I am saved by Grace

– "

Ephesians 2:8

" – "

For by grace are ye saved through faith; and that not of yourselves: it is the gift of God:

"
"

Ephesians 1:7

" – "

In whom we have redemption through his blood, the forgiveness of sins, according to the riches of his grace;

"
I am Sure by Grace

– "

Romans 5:2

" – "

By whom also we have access by faith into this grace wherein we stand, and rejoice in hope of the glory of God.

"
I am Secure by Grace

– "

Romans 3:24

" – "

Being justified freely by his grace through the redemption that is in Christ Jesus:

"
I am Strengthened by Grace

– "

2 Corinthians 12:9

" – "

And he said unto me, My grace is sufficient for thee: for my strength is made perfect in weakness. Most gladly therefore will I rather glory in my infirmities, that the power of Christ may rest upon me.

"
"

2 Corinthians 9:8

" – "

And God is able to make all grace abound toward you; that ye, always having all sufficiency in all things, may abound to every good work:

"
I am Supplied by Grace

– "

Hebrews 4:16

" – "

Let us therefore come boldly unto the throne of grace, that we may obtain mercy, and find grace to help in time of need.

"
I am Somebody by Grace

– "

Ephesians 3:7-8

" – "

Whereof I was made a minister, according to the gift of the grace of God given unto me by the effectual working of his power. Unto me, who am less than the least of all saints, is this grace given, that I should preach among the Gentiles the unsearchable riches of Christ;

"
I am Satisfied by Grace

– "

Ephesians 2:7

" – "

That in the ages to come he might shew the exceeding riches of his grace in his kindness toward us through Christ Jesus.

"
I am Surprised by Grace

– "

1 Corinthians 15:8-10

" – "

And last of all he was seen of me also, as of one born out of due time. For I am the least of the apostles, that am not meet to be called an apostle, because I persecuted the church of God. But by the grace of God I am what I am: and his grace which was bestowed upon me was not in vain; but I laboured more abundantly than they all: yet not I, but the grace of God which was with me.

"
We live in a (Covid-19 Virus) environment, it's becoming the "new normal" and in this post-pandemic world many are left with fears, questions, and anxiety.
The toll taken on lives by the virus throughout the world medically and economically is enormous but there is a "new virus" that has infected in an even greater measure. The virus of anxiety and worry.
Legitimately our immediate attention focuses on the health of friends and loved ones. However, there is perhaps a greater need that of maintaining a regime of healthy emotional and spiritual "hygiene". All the Washing hands, PPE and Face Masks in the World cannot produce that form of hygiene.
Let's remember that as Gods Church we are "Resilient " (see https://www.youtube.com/watch?v=GsDlQpptTP4) – and we by our very nature carry a message of health and hope to a stressed-out, fearful world.
Today is a "new day" He is continuing to "make all things new" and we are on a remarkable and profound journey of discovery.
Today by the enabling of the Holy Spirit let's be encouraged to: –
Reassess our Dependency on God, our Creator, for everything.
Reassess our attitude of Surrender, giving to Him every worry, care, and concern.
Reassess our Faith to both believe and receive Believe God's promises for our lives.
Reassess the Development of the joy of the Lord in our daily walk with Him.
Let's today see the moments in our day with an eternal perspective and through an eternal view, rather than from what momentarily troubles us.
Let's determine to adjust our spiritual eyesight! Through the "Truth of Scripture" and "The Voice of the Spirit" to our hearts.
Today, we can encounter a new relationship with God and, as a result, His Peace, Power and enhances Presence in all areas of our lives.
Remember that no matter how difficult or depressing our circumstances are He is the Sovereign God, Our Father and is Walking the Journey with us – We Can Run, but we can't hide" so lets stop and..

Bless us all in our journey of faith.