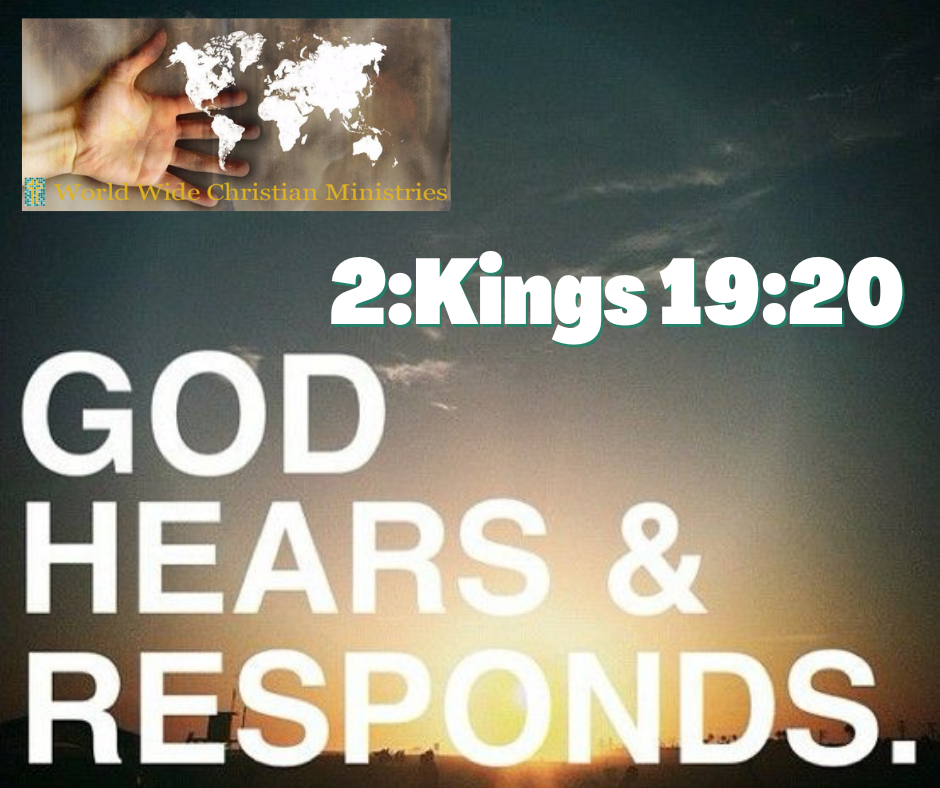 GOD HEARS & RESPONDS.
English – Portuguese – French – Urdu
Depending on your age range, a "telegram" may be completely foreign to your lexicon of everyday communication. The "Digital Age" we're currently in allows for nearly immediate, worldwide communication. To what extent does it benefit or hinder one's life? Well! That's something you'll have to figure out for yourself.
In contrast, the telegraph was once the quickest way to communicate, back in the pre-telephone, pre-Internet, pre-mobile phone era. However, telegrams were traditionally reserved for sending only the most crucial and time-sensitive information; hence, they were almost always associated with bad news. There is a proverb that reads, "The telegraph guy usually delivers terrible news."
And how does it relate to the meditation we're doing today, exactly? Well! Please turn to "2 Kings 19:9-20" in your Bibles. At the time of the events described in that verse, Hezekiah was king of Judah, and Israel was at war with its neighbours. As is so frequently the case, and as we can see in our own live history between Russia and Ukraine today, King Sennacherib of Assyria had resolved to assault and seize the city and lands of Judah.
He then urged King Hezekiah to submit through a letter, his version of "… telegraph boy usually delivers bad news." Hezekiah, in response to his predicament, called it "a day of affliction and reproach and humiliation" – "2 Kings 19:3."
In "Verses 11 to 13," we find Sennacherib, King of Assyria, bragging about his military successes while mocking and taunting the God of Israel. Does that remind us of anything from today's modern history?
Without a doubt, King Hezekiah went through a terrible and extremely nervous period. However, here is the fantastic part of the narrative that we should always remember. As soon as he received the "Bad News Telegram/Letter" from King Sennacherib, he "went up to the temple of the Lord and laid it out before the Lord," as we learn in "Verse 14." After opening the letter, he knelt down and prayed fervently, acknowledging, and calling upon God's authority over their dire circumstances. Just read "Verses 15-19;" they make up a beautiful prayer.
What occurred? "And it came to pass that night, that the angel of the LORD went out, and smote in the camp of the Assyrians a hundred fourscore and five thousand: and when they arose early in the morning, behold, they were all dead corpses. So, Sennacherib King of Assyria departed, and went and returned, and dwelt at Nineveh." Boy! That's quite a triumph, wouldn't you say?
If we are God's people, we will always have to deal with "The telegraph guy carrying awful news." Like He did for King Hezekiah. The great thing is though that we may be assured that God will be there to support and guide us through whatever comes our way. King Hezekiah sets a wonderful example with his behaviour in this event.
If you have received terrible news or are going through a difficult period in which it appears like "a day of sorrow and reproach and disgrace," I encourage you to do what Hezekiah did and lay it all out before the Lord, remembering that He is your Father and reigns in sovereignty. God's words of comfort to Hezekiah "I have heard your prayer" in "verse 20" will come flooding back to you at that same time.
May God's blessing be heavy upon you today in your walk of faith and may His grace be an overriding influence as you move on with God.
Bless You.
Albert
---
DEUS OUVE E RESPONDE
Dependendo de sua faixa etária, um "telegrama" pode ser completamente estranho a seu léxico de comunicação cotidiana. A "Era Digital" em que nos encontramos atualmente permite uma comunicação quase imediata, mundial. Em que medida isso beneficia ou dificulta a vida de alguém? Pois bem! Isso é algo que o senhor terá que descobrir por si mesmo.
Em contraste, o telégrafo foi outrora o meio mais rápido de comunicação, na era prételefônica, pré-internet, pré-móvel. No entanto, os telegramas eram tradicionalmente reservados para enviar apenas as informações mais cruciais e sensíveis ao tempo; portanto, estavam quase sempre associados a más notícias. Há um provérbio que diz: "O cara do telégrafo costuma dar notícias terríveis".
E como se relaciona isso com a meditação que estamos fazendo hoje, exatamente? Bem! Por favor, volte-se para "2 Reis 19,9-20" em suas Bíblias. Na época dos acontecimentos descritos nesse versículo, Ezequias era rei de Judá, e Israel estava em guerra com seus vizinhos. Como é tão freqüentemente o caso, e como podemos ver em nossa própria história viva entre a Rússia e a Ucrânia hoje, o rei Senaceribe da Assíria havia decidido atacar e confiscar a cidade e as terras de Judá.
Em seguida, exortou o rei Ezequias a apresentar, por carta, sua versão de "… o telegrafista costuma dar más notícias". Hezéquias, em resposta à sua situação difícil, chamou-o de "um dia de aflição e reprovação e humilhação" – "2 Reis 19:3".
Nos "versículos 11 a 13", encontramos Sennacheribe, rei da Assíria, gabando-se de seus êxitos militares enquanto zombava e zombava do Deus de Israel. Isso nos faz lembrar alguma coisa da história moderna de hoje?
Sem dúvida, o rei Ezequias passou por um período terrível e extremamente nervoso. No entanto, aqui está a parte fantástica da narrativa que devemos sempre lembrar. Assim que recebeu do Rei Sennacherib o "Telegrama/Letter da má notícia", ele "subiu ao templo do Senhor e o expôs diante do Senhor", como aprendemos no "Versículo 14". Depois de abrir a carta, ajoelhou-se e orou fervorosamente, reconhecendo e invocando a autoridade de Deus sobre suas terríveis circunstâncias. Basta ler "Versículos 15-19"; eles fazem uma bela oração.
O que aconteceu? "E aconteceu naquela noite, que o anjo do Senhor saiu, e feriu no arraial dos assírios cento e oitenta e cinco mil; e quando se levantaram de madrugada, eis que eram todos cadáveres. Então, Senaqueribe, rei da Assíria, partiu, foi e voltou, e habitou em Nínive". Caramba! Isso é um triunfo e tanto, não acha?
Se somos o povo de Deus, teremos sempre que lidar com "o telegrafista que traz notícias horríveis". Como Ele fez com o rei Ezequias. A grande coisa é que podemos estar certos de que Deus estará ali para nos apoiar e nos guiar em tudo o que vier a nosso encontro. O rei Ezequias dá um exemplo maravilhoso com seu comportamento nesse acontecimento.
Se o senhor recebeu notícias terríveis ou está passando por um período difícil em que parece ser "um dia de tristeza, de censura e de vergonha", encorajo-o a fazer o que Ezequias fez e a expor tudo isso diante do Senhor, lembrando que Ele é seu Pai e reina em soberania. As palavras de conforto de Deus a Ezequias: "Ouvi sua oração", no versículo 20, voltarão a inundá-lo ao mesmo tempo.
Que a bênção de Deus seja pesada sobre o senhor hoje em sua caminhada de fé e que Sua graça seja uma influência primordial à medida que o senhor seguir em frente com Deus.
Bendito seja V. Excia.
Albert
---
DIEU ENTEND ET RÉPOND
En fonction de votre tranche d'âge, un "télégramme" peut être complètement étranger à votre lexique de la communication quotidienne. L'"ère numérique" dans laquelle nous nous trouvons actuellement permet une communication presque immédiate et mondiale. Dans quelle mesure cela profite-t-il ou nuit-il à la vie d'une personne ? Eh bien ! C'est quelque chose que vous devrez découvrir par vous-même.
En revanche, le télégraphe était autrefois le moyen le plus rapide de communiquer, à l'époque où il n'y avait ni téléphone, ni Internet, ni téléphone mobile. Cependant, les télégrammes étaient traditionnellement réservés à l'envoi des informations les plus cruciales et les plus urgentes ; ils étaient donc presque toujours associés aux mauvaises nouvelles. Il existe un proverbe qui dit : "Le télégraphiste apporte généralement de terribles nouvelles."
Et comment cela se rapporte-t-il à la méditation que nous faisons aujourd'hui, exactement ? Eh bien ! Veuillez consulter "2 Rois 19:9-20" dans vos Bibles. Au moment des événements décrits dans ce verset, Ézéchias était roi de Juda, et Israël était en guerre avec ses voisins. Comme c'est souvent le cas, et comme nous pouvons le voir dans notre propre histoire en direct entre la Russie et l'Ukraine aujourd'hui, le roi Sennacherib d'Assyrie avait décidé d'assaillir et de s'emparer de la ville et des terres de Juda.
Il a alors exhorté le roi Ézéchias à se soumettre par le biais d'une lettre, sa version de "… le garçon du télégraphe apporte habituellement de mauvaises nouvelles." Ézéchias, en réponse à sa situation difficile, l'appelle "un jour d'affliction, d'opprobre et d'humiliation" – "2 Rois 19:3."
Dans les "versets 11 à 13", nous trouvons Sennacherib, roi d'Assyrie, qui se vante de ses succès militaires tout en se moquant et en raillant le Dieu d'Israël. Cela nous rappelle-t-il quelque chose de l'histoire moderne d'aujourd'hui ?
Sans aucun doute, le roi Ézéchias a traversé une période terrible et extrêmement nerveuse. Cependant, voici la partie fantastique du récit que nous devrions toujours nous rappeler. Dès qu'il a reçu le "télégramme/lettre de mauvaises nouvelles" du roi Sennacherib, il "est monté au temple de l'Éternel et l'a exposé devant l'Éternel", comme nous l'apprenons au "verset 14". Après avoir ouvert la lettre, il s'est agenouillé et a prié avec ferveur, reconnaissant et invoquant l'autorité de Dieu sur leur situation désastreuse. Lisez simplement les "Versets 15-19" ; ils forment une belle prière.
Que s'est-il passé ? "Cette nuit-là, l'ange de l'Éternel sortit et frappa dans le camp des Assyriens cent quatre-vingt-cinq mille personnes ; et quand ils se levèrent de bon matin, voici, ils étaient tous des cadavres. Alors Sennacherib, roi d'Assyrie, partit, s'en alla et revint, et s'établit à Ninive." Garçon ! C'est un sacré triomphe, n'est-ce pas ?
Si nous sommes le peuple de Dieu, nous aurons toujours affaire au "télégraphiste porteur de terribles nouvelles". Comme Il l'a fait pour le roi Ézéchias. La grande chose est cependant que nous pouvons être assurés que Dieu sera là pour nous soutenir et nous guider à travers tout ce qui se présente à nous. Le roi Ezéchias donne un merveilleux exemple par son comportement dans cet événement.
Si vous avez reçu de terribles nouvelles ou si vous traversez une période difficile dans laquelle il apparaît comme "un jour de tristesse, d'opprobre et de disgrâce", je vous encourage à faire comme Ézéchias et à tout exposer devant le Seigneur, en vous rappelant qu'il est votre Père et qu'il règne en souverain. Les paroles de réconfort que Dieu a adressées à Ezéchias "J'ai entendu ta prière" au "verset 20" vous reviendront en mémoire à ce moment-là.
Que la bénédiction de Dieu pèse sur vous aujourd'hui dans votre marche de la foi et que sa grâce soit une influence prépondérante alors que vous avancez avec Dieu.
Soyez béni.
Albert
---
خدا سنتا ہے اور جواب دیتا ہے
آپ کی عمر کی حد پر منحصر ہے، ایک "ٹیلیگرام" روزمرہ مواصلات کی آپ کی لغت کے لئے مکمل طور پر غیر ملکی ہوسکتا ہے. "ڈیجیٹل ایج" جس میں ہم فی الحال ہیں وہ تقریبا فوری طور پر ، دنیا بھر میں مواصلات کی اجازت دیتا ہے۔ یہ کس حد تک کسی کی زندگی کو فائدہ پہنچاتا ہے یا اس میں رکاوٹ ڈالتا ہے؟ ٹھیک! یہ ایک ایسی چیز ہے جو آپ کو اپنے لئے معلوم کرنا پڑے گی.
اس کے برعکس ، ٹیلی گراف ایک بار بات چیت کرنے کا تیز ترین طریقہ تھا ، پری ٹیلی فون ، پری انٹرنیٹ ، پری موبائل فون کے دور میں۔ تاہم ، ٹیلی گرام روایتی طور پر صرف انتہائی اہم اور وقت کے لحاظ سے حساس معلومات بھیجنے کے لئے مخصوص تھے۔ لہذا ، وہ تقریبا ہمیشہ بری خبروں سے وابستہ تھے۔ ایک کہاوت ہے کہ ، "ٹیلی گراف آدمی عام طور پر خوفناک خبریں فراہم کرتا ہے۔
اور اس کا آج ہم جو مراقبہ کر رہے ہیں اس سے کیا تعلق ہے؟ ٹھیک! براہ کرم اپنی بائبل میں "2 سلاطین 19:9-20" کی طرف رجوع کریں۔ اس آیت میں بیان کردہ واقعات کے وقت حزقیاہ یہوداہ کا بادشاہ تھا اور اسرائیل اپنے ہمسایوں کے ساتھ جنگ کر رہا تھا۔ جیسا کہ اکثر ہوتا ہے ، اور جیسا کہ ہم آج روس اور یوکرین کے مابین اپنی زندہ تاریخ میں دیکھ سکتے ہیں ، اسور کے بادشاہ سنہیریب نے یہوداہ کے شہر اور زمینوں پر حملہ کرنے اور ان پر قبضہ کرنے کا عزم کیا تھا۔
اس کے بعد اس نے بادشاہ حزقیاہ پر زور دیا کہ وہ ایک خط کے ذریعے اپنے بیان "… ٹیلی گراف لڑکا عام طور پر بری خبر دیتا ہے۔ حزقیاہ نے اپنی مصیبت کے جواب میں اسے "مصیبت اور ملامت اور ذلت کا دن" یعنی "2 سلاطین 19:3" قرار دیا۔
"آیات 11 تا 13" میں ہم اسور کے بادشاہ سنہیریب کو اسرائیل کے خدا کا مذاق اڑاتے اور طعن و تشنیع کرتے ہوئے اپنی فوجی کامیابیوں کے بارے میں شیخی بگھارتے ہوئے پاتے ہیں۔ کیا یہ ہمیں آج کی جدید تاریخ سے کچھ یاد دلاتا ہے؟
اس میں کوئی شک نہیں کہ بادشاہ حزقیاہ ایک خوفناک اور انتہائی اعصابی دور سے گزرا۔ تاہم ، یہاں داستان کا حیرت انگیز حصہ ہے جسے ہمیں ہمیشہ یاد رکھنا چاہئے۔ جیسے ہی اسے بادشاہ سنہیریب کی طرف سے "بری خبر ٹیلی گرام/ خط" موصول ہوا، وہ "خداوند کی ہیکل میں گیا اور اسے خداوند کے سامنے رکھ دیا،" جیسا کہ ہم "آیت 14" میں سیکھتے ہیں۔ خط کھولنے کے بعد، اس نے گھٹنے ٹیک دیے اور جوش و خروش سے دعا کی، تسلیم کیا، اور ان کے سنگین حالات پر خدا کے اختیار کو پکارا۔ بس "آیات 15-19" پڑھیں؛ وہ ایک خوبصورت دعا بناتے ہیں.
کیا ہوا؟ "اور اس رات ایسا ہوا کہ خداوند کا فرشتہ باہر گیا اور اسوریوں کے خیمہ میں ایک لاکھ چار سو اور پانچ ہزار کو مارا اور جب وہ صبح سویرے اٹھے تو دیکھو وہ سب مردہ لاشیں تھیں۔ پس اسور کا بادشاہ سنہیریب روانہ ہوا اور جا کر واپس آیا اور نینوا میں رہنے لگا۔ لڑکا! یہ کافی فتح ہے، کیا آپ نہیں کہیں گے؟
اگر ہم خدا کے لوگ ہیں، تو ہمیں ہمیشہ "خوفناک خبریں لے جانے والے ٹیلی گراف آدمی" سے نمٹنا پڑے گا۔ جیسا کہ اس نے حزقیاہ بادشاہ کے لئے کیا تھا۔ لیکن سب سے بڑی بات یہ ہے کہ ہمیں یقین دلایا جا سکتا ہے کہ خدا ہمارے راستے میں آنے والی ہر چیز کے ذریعے ہماری مدد اور رہنمائی کرنے کے لئے موجود ہوگا۔ بادشاہ حزقیاہ نے اس واقعہ میں اپنے طرز عمل سے ایک حیرت انگیز مثال قائم کی ہے۔
اگر آپ کو خوفناک خبر ملی ہے یا آپ کسی مشکل دور سے گزر رہے ہیں جس میں یہ "غم اور ملامت اور ذلت کے دن" کی طرح ظاہر ہوتا ہے تو ، میں آپ کو حوصلہ افزائی کرتا ہوں کہ حزقیاہ نے جو کچھ کیا وہ کریں اور یہ سب خداوند کے سامنے رکھیں ، یہ یاد رکھتے ہوئے کہ وہ آپ کا باپ ہے اور حاکمیت میں حکمرانی کرتا ہے۔ حزقیاہ کے لئے خدا کے تسلی کے الفاظ "میں نے تیری دعا سنی ہے" آیت 20 میں اسی وقت تمہارے پاس واپس آ جائیں گے۔
خدا کی برکت آج آپ کے ایمان کے چلنے میں آپ پر بھاری ہو اور اس کا فضل آپ کو خدا کے ساتھ آگے بڑھنے کے طور پر ایک غالب اثر ہو سکتا ہے.
رحمت ہو تم پہ.
البرٹ