Embracing Life's Unpredictable Journey
Finding Joy in the Midst of Chaos
Hey there, my amazing friends!
I'm sending you all my warmest greetings and well wishes. And if by any chance things aren't going as great as they could be, please know that you're in my thoughts and prayers.
Guess what? Yesterday, I stumbled upon this catchy little phrase: "Ducks in a Row." It struck such a chord with me that I couldn't resist grabbing my pen (or should I say, tapping my fingers on the keyboard) to create this uplifting meditation. I truly hope it brings you joy and inspiration.
Sending you lots of blessings!
Albert
---
English & French
---
Introduction: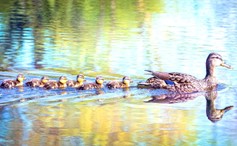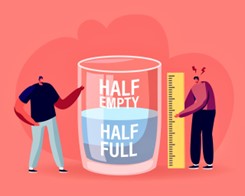 Two expressions we may be aware of: –
"Having all your ducks in a row"
"Half full glass"
Life has a funny way of throwing curveballs at us when we least expect it. It's easy to get overwhelmed and feel like our "ducks" are anything but in a neat and orderly row. But hey, guess what? That's perfectly okay! In fact, it's an opportunity for growth, resilience, and discovering the beauty of the unexpected. So, grab a seat, take a deep breath, and let's embark on a journey of encouragement, dynamism, and faith, using scriptures as our guideposts along the way.
1. Embracing the Unknown: –
Sometimes, it feels like we have no clue where some of our "ducks" are or if they even exist at all. The truth is, uncertainty is a part of life. However, we can find solace in the comforting words of "Proverbs 3:5-6" – "Trust in the LORD with all your heart, and lean not on your own understanding; in all your ways acknowledge Him, and He shall direct your paths." Remember, even when our plans falter, God's plan for our lives is always greater than we can imagine.
2. The Unexpected Blessings: –
Have you ever had a "duck" turn out to be a pigeon? Well, life is full of surprises! What may seem like a detour or mistake could actually be a hidden blessing waiting to be discovered. As "Romans 8:28"assures us, "And we know that in all things God works for the good of those who love Him, who have been called according to His purpose." So, be open to the unexpected, for it might lead you to a new and exciting path you never imagined.
3. The Half-Full Glass: –
In a world that often focuses on what's lacking, being a half-full glass kind of person is truly refreshing. You have already recognised the grace of God in your life, and that's something to be cherished. As "Psalm 23:5" proclaims, "You prepare a table before me in the presence of my enemies; You anoint my head with oil; my cup runs over." Rejoice in the abundance of God's blessings and let gratitude guide your perspective.
4. Finding Delight in Every Circumstance: –
Delight is contagious, and it has the power to transform our outlook on life. Despite the chaos, challenges, and unfinished "ducks," choose joy. As "Philippians 4:4" encourages us, "Rejoice in the Lord always. I will say it again: Rejoice!" Even when circumstances are far from perfect, delight in the fact that you have been given a glass—a symbol of God's provision and faithfulness in every season.
Conclusion:-
Life's journey may be unpredictable, and our "ducks" may never be in a perfect row. However, through faith and a positive outlook, we can navigate the twists and turns with courage, grace, and gratitude. Remember, the path of life is not about the destination; it's about the growth and transformation we experience along the way. So, let go of the need for control, embrace the unexpected, and find joy in every moment, knowing that God's plan for you is far greater than anything you could ever imagine. Cheers to an adventurous and fulfilling life!
---
French
Bonjour, chers amis !
Je vous envoie à tous mes salutations les plus chaleureuses et mes meilleurs vœux. Et si, par hasard, les choses ne vont pas aussi bien qu'elles le pourraient, sachez que vous êtes dans mes pensées et mes prières.
Devinez quoi ? Hier, je suis tombée sur cette petite phrase accrocheuse : "Ducks in a Row". Elle a touché une telle corde sensible que je n'ai pas pu résister à l'envie de prendre mon stylo (ou devrais-je dire, de taper des doigts sur le clavier) pour créer cette méditation édifiante. J'espère sincèrement qu'elle vous apportera joie et inspiration.
Je vous envoie beaucoup de bénédictions !
Albert
Embrasser le voyage imprévisible de la vie : Trouver la joie au milieu du chaos
Introduction :
Deux expressions que nous connaissons peut-être : –
– "Avoir tous les atouts en main".
– Le verre à moitié plein
La vie a une drôle de façon de nous envoyer des boulets au pied lorsque nous nous y attendons le moins. Il est facile de se sentir dépassé et d'avoir l'impression que nos "canards" sont loin d'être bien alignés. Mais devinez quoi ? C'est tout à fait normal ! En fait, c'est une occasion de grandir, de faire preuve de résilience et de découvrir la beauté de l'inattendu. Alors, asseyez-vous, respirez profondément et embarquons pour un voyage d'encouragement, de dynamisme et de foi, en utilisant les Écritures comme points de repère tout au long du chemin.
Parfois, nous avons l'impression de n'avoir aucune idée de l'endroit où se trouvent certains de nos "canards" ou même de leur existence. En réalité, l'incertitude fait partie de la vie. Cependant, nous pouvons trouver du réconfort dans les mots réconfortants de "Proverbes 3:5-6" – "Confie-toi à l'Éternel de tout ton cœur, et ne t'appuie pas sur ta propre intelligence ; dans toutes tes voies, reconnais-le, et il dirigera tes sentiers". Rappelez-vous que, même lorsque nos projets échouent, le plan de Dieu pour notre vie est toujours plus grand que ce que nous pouvons imaginer.
Les bénédictions inattendues: –
Vous est-il déjà arrivé qu'un "canard" se révèle être un pigeon ? La vie est pleine de surprises ! Ce qui peut sembler être un détour ou une erreur peut en fait être une bénédiction cachée qui attend d'être découverte. Comme nous l'assure "Romains 8:28", "nous savons qu'en toutes choses Dieu travaille pour le bien de ceux qui l'aiment, de ceux qui ont été appelés selon son dessein". Soyez donc ouvert à l'inattendu, car il pourrait vous conduire sur un chemin nouveau et passionnant que vous n'auriez jamais imaginé.
Le verre à moitié plein : –
Dans un monde qui se concentre souvent sur ce qui manque, être une personne au verre à moitié plein est vraiment rafraîchissant. Vous avez déjà reconnu la grâce de Dieu dans votre vie, et c'est quelque chose qu'il faut chérir. Comme le proclame le Psaume 23.5, "Tu dresses devant moi une table en présence de mes ennemis, tu oins d'huile ma tête, ma coupe déborde". Réjouissez-vous de l'abondance des bénédictions de Dieu et laissez la gratitude guider votre perspective.
Trouver la joie en toute circonstance : – La joie est contagieuse.
La joie est contagieuse et a le pouvoir de transformer notre vision de la vie. Malgré le chaos, les défis et les "canards" inachevés, choisissez la joie. Comme nous y encourage Philippiens 4:4, "Réjouissez-vous toujours dans le Seigneur". Je le répète : réjouissez-vous ! Réjouissez-vous !" Même lorsque les circonstances sont loin d'être parfaites, réjouissez-vous du fait que l'on vous a donné un verre, symbole de la provision et de la fidélité de Dieu en toute saison.
Conclusion: –
Le parcours de la vie peut être imprévisible et nos "canards" peuvent ne jamais être parfaitement alignés. Cependant, grâce à la foi et à une attitude positive, nous pouvons surmonter les difficultés avec courage, grâce et gratitude. N'oubliez pas que le chemin de la vie n'a rien à voir avec la destination, mais plutôt avec la croissance et la transformation dont nous faisons l'expérience en cours de route. Alors, laissez tomber le besoin de contrôle, accueillez l'inattendu et trouvez la joie à chaque instant, en sachant que le plan de Dieu pour vous est bien plus grand que tout ce que vous pourriez imaginer. À la santé d'une vie aventureuse et épanouissante !