BUILT ON THE ROCK CHRIST JESUS
Text: – "Upon this rock I will build my Church; and the gates of hell shall not prevail against it."
"Matthew 16:18"
Introduction: –
The words taken from my text today, and which I want to focus our thoughts upon are very well known. When looked at in the context of the time in which they were spoken, convey a strong sense of triumph and optimism and that same sense of triumph and optimism has not receded even in our own day and generation.
It was Jesus who spoke these words when He was at Caesarea Philippi and they were spoken directly to Peter; however, they are words that have rung down through the past 2000 years and are still ringing in our ears today. Jesus was about to enter the last phase of His earthly ministry and in His knowledge of the events that were before Him, supplied Him with a passion to prepare His disciples then and now for the times ahead.
The times they were to face were to be so uniquely different from all they had experienced in the years and months previously. Jesus was, and as a result the disciples were to share in it, about to enter a time when his popularity was to significantly diminish. Throughout the past 3yrs the crowds had thronged Him, and adulation was cast upon Him. The crowds had hung on every word. Now however, they were to depart and over and above that the shadow of the cross was to grow greater in His thinking.
In "Isaiah 50:7"– we read "Because the Sovereign LORD helps me, I will not be disgraced. Therefore, have I set my face like flint, and I know I will not be put to shame" and they convey the prophetical spirit of Jesus in His role as Prophet in respect of the times ahead of Him. He was expressing His complete confidence in God, declaring that He will not shrink back from His mission, despite severe suffering, opposition, and humiliation.
The figure of speech utilised of "setting one's face like a flint" is what the Prophet Isaiah used to describe the Messiah's (Jesus) unwavering determination to persevere in the excruciating task set before Him and it was voiced nearly 800 years before it actually happened.
Christ would and we now, reflect upon it in hindsight, endure humiliation on His journey to the cross to die for our sins. Let's not forget that He was human in every sense, as we are, and did not relish with joy the thought of his crucifixion.
Charles H. Spurgeon one of history's greatest preachers preached on the topic "The Redeemer's Face Set Like a Flint," and in it he strongly urged believers to imitate the Lord's steadfast determination. He said "My great object is to lead you to love Him who so loved you that He set His face like a flint in His determination to save you. O ye redeemed ones, on whose behalf this strong resolve was made, ye who have been bought by the precious blood of this steadfast, resolute Redeemer, come and think awhile of Him, that your hearts may burn within you, and that your faces may be set like flints to live and die for Him who lived and died for you!" (In The Metropolitan Tabernacle Pulpit Sermons, Vol. 47, p. 362.)
The events that were to transpire were going to be swift in their appearing and Jesus knew that He needed to prepare, His small band of disciples for the events that were surely to overtake them. They were about to enter a veritable crucible test of their faith.
The words of our text and the question "whom do men say that I, the son of man, am?" found in "Matthew 16:13" was the method He chose of actually preparing them? It is defined as the method of "preparation by recognition."
Let me explain this further to you by showing you the ways in which Jesus did it.
Preparation by Recognition.
Firstly, what Jesus does is to focus the minds of the disciples on the ideas of men around them, and in doing so brings out both the erroneous and conflicting opinions of who He Jesus was.
Secondarily, He then presents these conflicting opinions against the backdrop of their own confession of who He was.
The disciples told him, "Some say that you are John the Baptist, some Elias, and others Jeremias or one of the Prophets." This graphically portrayed the lack of unanimity in the worldly and religious views of those that surrounded them.
Peter, however, does not say to Jesus, well. This is John's view, and this is James view, and this is Andrews and my own differs from them all. No! We see Peter declaring. "Thou the Christ, the son of the living God." – "Matthew 16:16." It's reasonable to assume that this opinion unspoken opinion voiced the thought and opinion of every heart there assembled.
The confession of Peter didn't come about as a result of his own powers of insight or penetrating discernment, but by the revelation of God, and this revelation is one that the Godhead as a whole wished these disciples in particular and believing men and women in every age to know because in it there is the truth that our faith as the Church of Jesus Christ does not rest in as "1 Corinthians 2:5" tells us – "That your faith should not stand in the wisdom of men, but in the power of God."
The same principle is seen at work in the scripture that say, "for with the heart man believes unto righteousness and with a mouth confession is made unto salvation." that's found in "Romans 10:10"
The Significance of Declaration and Meaning
Jesus then proceeds to take the declaration of Peter and to unfold it and its significance and meaning in greater detail. He first shows its significance in relation to Peter himself.
Peter gets a new name,"And Jesus answered and said unto him, blessed art thou, Simon Barjona: for flesh and blood hath not revealed it unto thee, but my Father which is in heaven.And I say also unto thee, that thou art Peter, and upon this rock I will build my church; and the gates of hell shall not prevail against it." – "Matthew 16:17-18."
When there is a point to be made God often is seen in the business of changing names and in doing so indicates that they have a new standing with Him.
Here's some examples to meditate upon further: –
| | | |
| --- | --- | --- |
| 1 | Abram, meaning "high father" | to Abraham, meaning "father of a multitude of many nations" |
| 2 | Jacob, meaning "caught by the heel" | to Israel, meaning "God may prevail/he struggles with God/God preserves" |
| 3 | Jebediah, meaning "friend of God" | to Solomon, meaning "peaceful" |
| 4 | Sarai, meaning "argumentative" | to Sarah, meaning "princess" |
| 5 | Saul, meaning "prayed for" | to Paul, meaning "small/humble" |
| 6 | Simon, meaning "he has heard" | to Peter, meaning "the rock" |
| 7 | Joseph, meaning "He will add" | to Barnabas, meaning "son of encouragement" |
So, the name changing is an outward symbol of a new nature.
The Enduring Stability of the Church of Christ.
Jesus illustrates the confession of Peter by revealing that in his words he is manifesting the stability of the church
What is the major factor in the stability of any building? That's right! It is its foundation. It is here that Jesus first directs our attention. He says, "upon this rock, will I build my church." Now what rock was he speaking of?
Much controversy has raged over the meaning of these words, down through the centuries and even today. However, and much to the dismay of the Roman Catholics the Holy Ghost has inspired thought, study, and revelation, and it has been shown, that the rock is not Peter but the confession that he made or more precisely, the Christ that Peter confessed.
If we look at the words again that Peter spoke. When he said, "thou art the Christ, the son of the living God." we see a relationship being centred upon, i.e., the Sonship of Jesus to the living God. It is within the circle of that relationship that Jesus Christ claims to be the rock on which His church is founded.
It is the relationship that Jesus had to God Almighty as His father that Peter confessed, and it is on that basis of confession that Jesus establishes His relationship to the Church that He has created and continually sustains.
Jesus accepted the words of Peter. In doing so He accepted the confession of His deity and His eternal Sonship. We should note that the words "living God" were used by the Jews only to highlight the contrast they felt between the idols of the heathen nations and the sovereign self-existing creator, the one of whom Jesus says of Himself has life in. "For as the Father hath life in himself; so hath He given to the Son to have life in Himself" is what we find recorded in "John 5:26"
Two Areas of Implication.
Two specific things are implied in the thought of the Sonship of Jesus Christ.
One – Identity of Nature.
Two – Identity of Life.
They both help us to substantiate from the teachings of Jesus Himself. His claim to Deity and that He was God manifest in the flesh.
The Identity of Nature.
Jesus said in "John 5:26" – "For as the Father hath life in himself; so hath He given to the Son to have life in Himself." What significance did this have? The Jews in hearing these words recognised this to be the claim to divine nature, and thus they accused Him of blasphemy, saying in "John 5:18" – "Therefore the Jews sought the more to kill Him, because He not only had broken the sabbath, but said also that God was His Father, making himself equal with God."
Peter, when he made his declaration of Jesus being a Jew, also was sensitive to what the claim involved. The marvellous thing about that though is that it shows with an even greater forcefulness, the certitude of his conviction as to its truth.
2. The Identity of Life.
The Divinity of Jesus i.e., the knowledge that He is God is for us part of our theological thought structure. We have been taught from even before we received Him as Saviour, that Jesus Christ is God and was co-existent with God before the universe came into being, but we must remember that privilege was not Peter's.
Peter first knew Jesus as a man and as a man among men. He knew the place of his birth. He knew Mary his mother, and all of Jesus's brothers. Peter had seen him tired and weary. Peter had seen him mourn, weep, hunger, and thirst, just like every other man.
Peter knew of a familiarity with Jesus in everyday contact, and it is a fact that the sheer closeness of a relationship such as this can often blunt perception and blurred vision. However, in it all Peter seeing Jesus, the man recognised that here was the Son of God. Jesus said to Peter "Who do men say that I the son of man am?" and as heavens light flashed into Peter's soul, he realised the Son of Man standing right there in front of him was in reality the Son of God.
In another way also we see something of significance and that is that Peter's testimony not only referred to the Person of this Son, but also to His work.
In the two words "You are the Christ." is seen that this Jesus of Nazareth, this man among men was not only the Son of God, but also the Servant of Jehovah God. He was the ordained and anointed and sent one. He was the one promised in the Old Testament prophecies and seen in all the Israeli sacrifices and ceremonies. He was the one declared to be the hope of Israel, and Peter saw Jesus, not only for who He really was, but also for what He had come to do. Thus, going back to the thought of the enduring stability of the Church of Christ, we see that its foundation is rooted, not in the visions and the labours of men of faith, but in the person and work of the eternal Son Himself.
The life of the Church flows from the one who has a life in Himself and who, having life in Himself, had the authority to lay it down, and the ability to take it again, actively providing both the purchase price and the saving power to give eternal redemption. It is on this rock and that rock alone, where we find our stability and one that is eternal in its nature.
The Imaginary Structure of the Church of Christ.
The statement I will build my church shows to us in the thinking of Jesus and the three things that he considered about it.
It was a personal possession.
It was a living structure.
It was a structure that only Jesus Himself would build.
It was a personal possession.
Behind every building that is erected there is a person, who sees it in their mind's eye and makes plans and preparations for its building. That is precisely the emphasis that is applied here. In the words (my and I). Even though Jesus has established for Himself under Shepherds, who under the guidance of the Holy Spirit administer the affairs of His Church, He still considers it as His personal possession and deals with it in accordance with His thought. Jesus looks upon His building, not with the limited eyes of the world, but with the eyes of faith.
He saw not just the handful of followers that were with Him at that time. But countless multitudes that through the centuries would become part of the building. He contemplated the building in all its glory. He saw not only its foundation and its planning, but He also wonderfully saw its full realisation.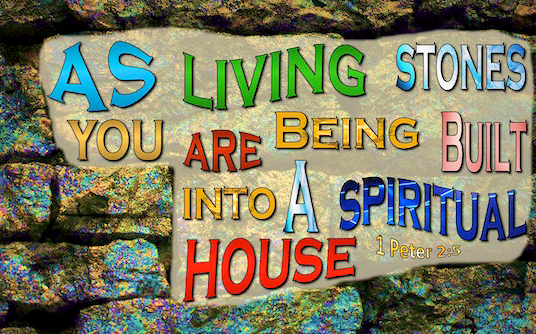 His vision was that the lively stones coming from every tribe and nation would comprise walls that were straight and stately and strong. He saw everyone hewn and shaped and fitting exactly in its place – "Ye also, as lively stones, are built up a spiritual house, an holy priesthood, to offer up spiritual sacrifices, acceptable to God by Jesus Christ. Wherefore also it is contained in the scripture, Behold, I lay in Sion a chief corner stone, elect, precious: and he that believeth on him shall not be confounded. Unto you therefore which believe he is precious: but unto them which be disobedient, the stone which the builders disallowed, the same is made the head of the corner, and a stone of stumbling, and a rock of offence, even to them which stumble at the word, being disobedient: whereunto also they were appointed. But ye are a chosen generation, a royal priesthood, an holy nation, a peculiar people; that ye should shew forth the praises of him who hath called you out of darkness into his marvellous light; Which in time past were not a people, but are now the people of God: which had not obtained mercy, but now have obtained mercy." – "1 Peter: 5-10"
He saw it one day in Eternity, crying out with one loud voice a song of acclamation, saying "After this I looked and saw a multitude too large to count, from every nation and tribe and people and tongue, standing before the throne and before the Lamb. They were wearing white robes and holding palm branches in their hands. And they cried out in a loud voice: "Salvation to our God, who sits on the throne, and to the Lamb!" – "Revelation 7:9-10."
Jesus was girdled about with the purpose of fulfilling the building of His church, and whilst it would mean the pathway of obedience, suffering and death, nevertheless He continued, and the Bible says of Him in "Hebrews 12:2" – "For the joy that was set before Him, He endured the cross, despising the shame."
What Jesus has imagined in regard to His Church He will without a doubt bring into being.
It was a living structure.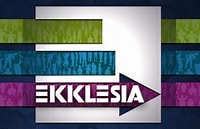 The Bible in its original language in regard to the word Church is a Greek word ekklésia and it means a group of people who are called out, i.e., in the world, but not of the world. In the New Testament sense of the idea of the church, and in the thinking of Jesus, the church isn't anything to do with a building or organisation. Even though we are surrounded by an ecumenical fervour, the Bible clearly teaches us that the true unity of the church is not a matter of what organisation a man might belong to, but whether by the grace of God, he or she has been called into the Living fellowship of the Church that Christ is building through the new birth experience.
It was a structure that only Jesus would build.
This really conveys a great sense of tenderness because when we see how Jesus dealt with people, we can be trusting and unafraid. The thought of one having absolute sovereignty over us can be quite overwhelming. But when we remember who yields the power, there is no need for fear. Jesus does not delegate the building of His Church to another. He has workmen, but it is He is building it.
Every time He touches our lives to shape us for the building, He shows this. Sometimes the hewing can be a sore process, but along with it, if we have an ear to hear, we will hear His voice saying "be not afraid, it is I."
This builder, unlike many others in the natural, will leave nothing undone. There will be no snagging list that Jesus has to accomplished in "Isaiah 42:4" we read – "He will not grow weak or discouraged before He has established justice on the earth. In His law the islands will put their hope." He will not falter or be discouraged till He establishes justice on earth. In His teaching the islands will put their hope." He will not falter or lose heart until justice prevails throughout the earth. and verse four, it says He shall not fail nor be discouraged" Hallelujah.
The Eternal Security of the Church of Christ.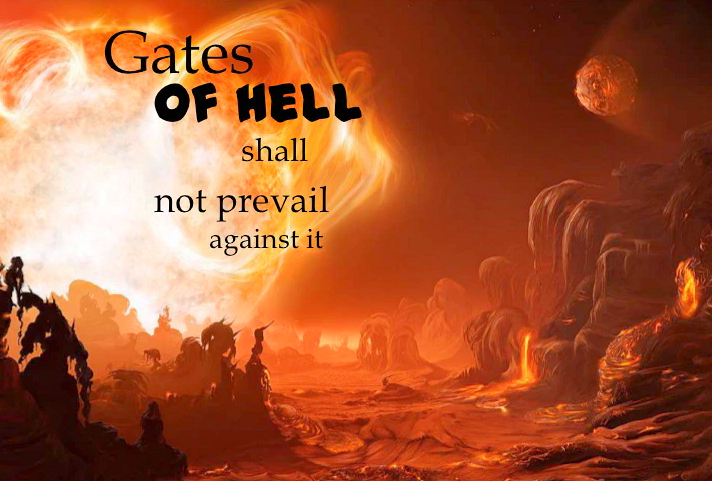 The expression that concludes our text is the "gates of hell shall not prevail against it", and the use of the word hell, many have diluted the word hell to simply indicate that it will not be beaten or disappear. However, the words are words of triumph and security.
The words Jesus used enshrine within them the plain idea of conflict. It is indicated forcefully in the word prevail. The word means to exercise control over, and the Thesaurus uses the words "dominate, bully domineer or rule." These words can be interchanged with prevail and in it we see Jesus reminding us that the devil will be persistent in his onslaught against the Church.
In Bible language, when the expression gates of the city were used, it meant the place where important business was carried out, where elders met to deliberate and pass judgements and hold councils of war. The words came to be understood to mean the place of collective wisdom experience and skill.
In understanding this we can see how strongly Jesus was speaking when He used the words. He was emphasising that all the resources of hell, the cunning evil and malice of the marshalled forces of Satan were to be pitted against His church, but to no avail.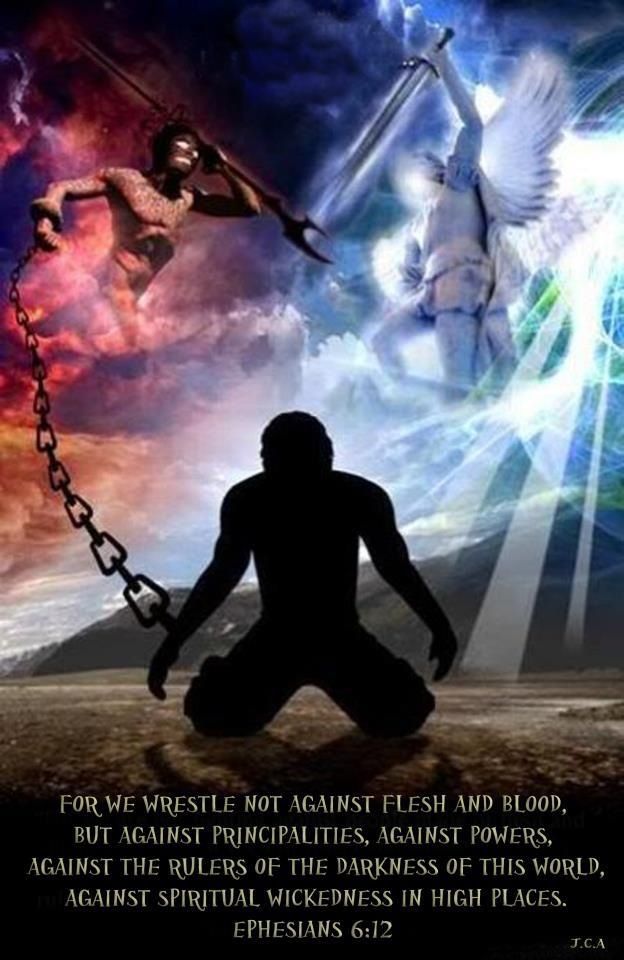 The Church of Jesus Christ does not contend against flesh and blood although at times it might seem that way, but against principalities and powers, and against spiritual wickedness in high places, we are told that clearly in "Ephesians 6:12" – "For our struggle is not against flesh and blood, but against the rulers, against the authorities, against the powers of this dark world and against the spiritual forces of evil in the heavenly realms." 
In it we all have the assurance of success.
The Bible provides us with reassurance by telling us that as our lives are hid with Christ in God then we are secure. We read in "Colossians 3:2" – "For you died, and your life is now hidden with Christ in God." and again, in "2 Timothy 2:19" – it says the "Lord knows them that are His" and in light of that we can rest in the fact that all the time we are in Christ we are eternally secure in Him, for none can pluck us from His hand.
Conclusion.
In conclusion, our text has showed to us three things of strength.
One the Foundation, (Jesus Christ.)
The Workmen, (Jesus Christ.)
The Building (The People of God in Jesus Christ.)
Jesus inaugurated the Church, He is the Master Builder who is continuing in its building, and He is the one who has declared that when He returns, He will come and find a Church like a bride without spot or wrinkle, but perfect in Himself.
Let me provide the following encouragement for you.
He always finishes what He starts.
The one who saved you is more than able to keep you till the end.
When you draw your very last breath, He will be there waiting for you.
To be absent from here and the body means to be present with Him.
Because Jesus lives you will you and me.
The ultimate question, therefore, which each of us must ask ourselves is, are we within the safety of the Church of Jesus Christ.