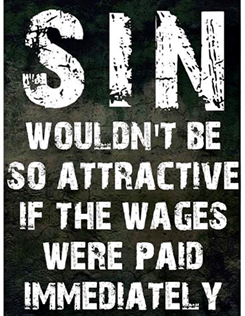 Sin is expensive. Incredibly expensive. But the price isn't always paid in cash. How then is it paid one could ask? The answer is simple, it's paid with the currency of mental, emotional, and especially spiritual pain. When God gave the Ten Commandments in "Exodus 20" its often thought of as a list of "Do's and Don'ts." However, it was not an arbitrary list to see if we would follow them. No! He was laying out for all essential guidelines for living day by day.
Gods anger towards – Lying, Cheating, Stealing, Coveting, Murder, Jealousy, the worst being Pride is all because these all destroy relationships, and they destroy the relationship with God Himself. Sin is an expression of pride and our defiant rejection of all of this in an effort to satisfy our own selfish desires.
The truth is that all the Bible labels as sin is something that God is intentionally trying to protect us from.
God desires us to experience – Love, Peace, Joy, Grace, and Harmony with all around us and particularly with Himself.
"The wages of sin is death but the gift of God is eternal life through Jesus Christ our Lord" – "Romans 6:23"