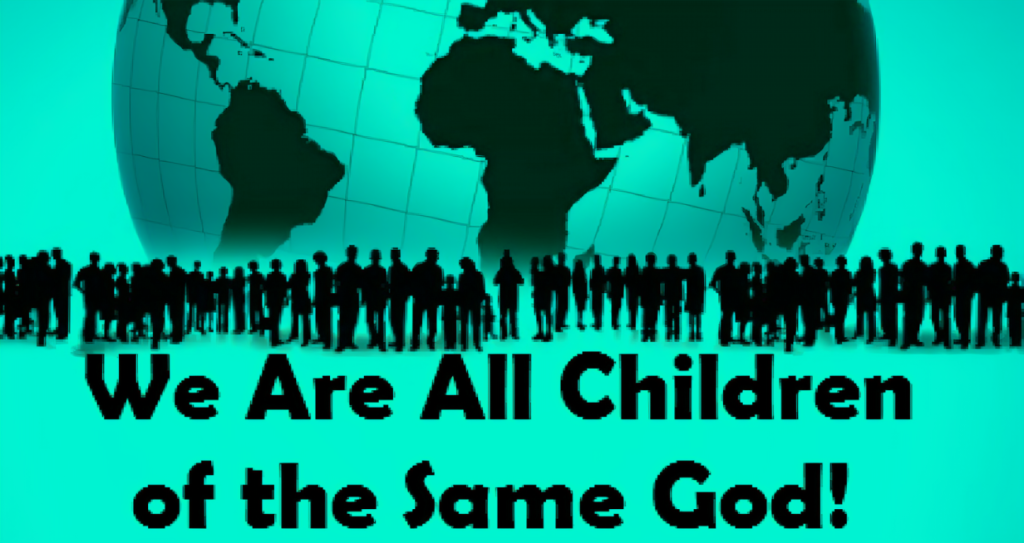 A short time ago I was tuning into a Christmas Service and was blessed by the actual service but heard the statement "We are All the Children of God," and it was one of those moments when the "hairs on the back of one's neck stand up" because it was so clearly not what the Bible teaches.
The statement would have been fine had it been unpacked a little to explain what was meant by the statement but unfortunately it was just left there "hanging in the air" as if it was truth.
We may ask "What's the problem with this remark?" Well! it's a very important problem because it leaves folks with a misunderstanding of the route to salvation and a false premise upon which to stake their eternal destiny.
Invariably, when folks are in a confrontation the remark "Remember, we are all God's children." is said with the best of intentions but it is patently wrong.
When I hear something that I believe will mislead others and especially cause them to be misled about their eternal destiny I feel compelled to correct it, after all that's what being "Salt & Light" imposes upon all who claim to be the "true Children of God".
Let me try to briefly unpack what it means to be "A Child of God" and which figured in the WWCM (Worldwide Christian Ministries) On-Line Bible School Session on Adoption.
There was a guy called Carl Gustav Adolf von Harnack – Born on the 7th of May 1851. He was a Baltic German Lutheran theologian and prominent Church historian. He produced many religious publications from 1873 to 1912.
He was renowned for writing a book in German entitled – Das Wesen des Christentums – which being translated is – "What Is Christianity." What he wanted to do was to look at all other religions and reduce Christianity to the same level and provide a common denominator between them all. He proposed that the very essence of the Christian Faith was based upon two suppositions: –
1) The Universal Fatherhood of God.
2) The Universal Brotherhood of Man.
As a theologian, and this is often the case the suppositions were adopted by many. However, there is a basic problem associated with them both and that is that neither of the suppositions are taught in the Scriptures.
Sure, it is true that God is the Creator of all people, and in that sense, there is a "Universal Fatherhood of God" and also that as all human beings share a common DNA from Adam there is a "Universal Brotherhood of Man."
However, we would be wrong to consider these ideas to have any bearing whatsoever in respect to what the New Testament teaches about being the "Children of God."
The Apostle John spoke in amazement when he declared in the words of "1 John 3:1" – "See what great love the Father has lavished on us, that we should be called children of God! And that is what we are! The reason the world does not know us is that it did not know him." He was trying amongst other things to define the difference between the "Universal Fatherhood of God" and the "True Fatherhood of God."
John recognised the difference between – The Universal Fatherhood of God and The Universal Brotherhood of Man and the glorious relationship we have as Gods Children through adoption.
The Bible is very clear that all people are God's creation, and that God loves the world but only those who are born again are children of God – Take a look at the following portions of Scripture if there is any doubt about it – "John 1:12" – "John 11:52" – "Romans 8:16" – "1 John 3:1-10".
There are lost Children and, in the Bible, the lost are never referred to as God's children. "Ephesians 2:3" says that before we are saved, we are from birth inheritors of sinful natures "by nature objects of wrath" even saying something like this offends the "God is Love" and "Let's Love Everyone" community but it's nevertheless the truth of God's Word. In "Romans 9:8" says that "it is not the natural children who are God's children, but it is the children of the promise who are regarded as Abraham's offspring."
Instead of being born as God's children, we are born in sin, which separates us from God and aligns us with Satan as God's enemies that is noticeably clear from "James 4:4" and "1 John 3:8."
Jesus said, "If God were your Father, you would love me, for I came from God and now am here. I have not come on my own; but he sent me" – "John 8:42." Then a few verses later Jesus told the Pharisees that they "belonged to their father, the devil, and want to carry out your father's desire."
The sad fact is that those who are not saved are not children of God is also seen in "1 John 3:10" – where it says "This is how we know who the children of God are and who the children of the devil are: Anyone who does not do what is right is not a child of God; nor is anyone who does not love his brother."
How can I then become a Child of God? We become God's children when we are saved because we are adopted into God's family through our relationship with Jesus.
The Apostle Paul said "those who are led by the Spirit of God are sons of God. The Spirit himself testifies with our spirit that we are God's children. Now if we are children, then we are heirs – heirs of God and co-heirs with Christ, if indeed we share in his sufferings in order that we may also share in his glory."
Unfortunately, we are not all children of God, but the opportunity is there right now to be so. We become children of God when we accept Jesus Christ as our Lord and Saviour.
Conclusion: –
I today pray for all who are lost that they will know what it is like to be a child of God, to have a personal relationship with Jesus Christ, and to experience His forgiveness and unconditional love.
You can be saved right now by praying the following prayer, it's not the actual words that save you but the saving faith you are given and the Lordship of Jesus Christ that you afterwards live out in your journey of faith.
However, I invite you to pray these words: – "Lord Jesus, I need You. Thank You for dying on the cross for my sins. I open the door of my life and receive you as my Saviour and Lord. Thank You for forgiving my sins and giving me eternal life. Take control of the throne of my life. Make me the kind of person You want me to be. Amen"
If you have prayed that prayer today – Please let me know by going to: –
www.worldwidechristianministries.org or by emailing me at – https://worldwidechristianministries.org/contact/
Why? Because I want to pray for you and provide you with resources that will help you as you determine to live your news life in Jesus Christ.